Update 01/12/2014: The New Game of Thrones slot is out now to play on your mobile phone tablet and desktop. Play now at GUTS casino »
Microgaming have released a full video of what we will get from the new Game of Throne video slot, including full features and a peak in to the bonus games. So why aren't we excited?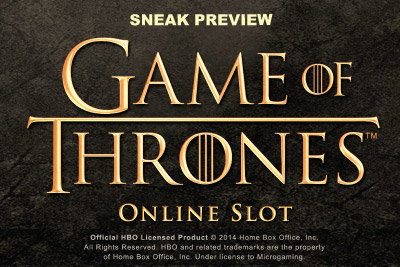 18+
We should begin by saying that back when we reported about this beautiful new slot machine was due to grace our screens, way back when we were journalistic pups in February 2014, we were as happy as a guest who got the flue and couldn't make it to the red wedding.
That sentence alone should tell you that we are fans of the epic brawl that occurs on our TV every week.
So when Microgaming released the latest promotional video of the new Game of Thrones video slot game, we waited a couple of days to bring it to you.
Honestly, because we had to re-watch it a couple of times and decide how we felt about it. It's so easy to love a product of your favourite [insert fandom here], but we realised that would be too easy.
And anyways, something was terribly, horribly, wrong.
The Game of Throne Slot Video Promo
Aaaah that music, that logo… how could it not bring excitement. It really, really, did. And then you see the doubly exciting words 'play with 15 lines' or '243 ways to win'.
That's new!
And then you get a shot of the new game to be.
How is the theme so boring?
It's freaking Game of Thrones slot! Even if every single one the actors refused to share their face, it should have dragons! And swords! And Ice zombies! Death, battles…!
Even just putting some boobs in there would have made it more relevant to the HBO produced TV series.
Instead what do we get?
The sigils of each of the houses and the Iron Throne. Even if you're a super fan and recognise each of the coats of arms, that's still far too many 9, 10… Ace… boring ass symbols for our liking.
By the way, just so you know: Baratheon (stag) is the fat king from season one everyone forgot, Lannister (lion) are the incestuous blondies and the awesome dwarf, the Starks (dire-wolf) them with the big dogs, the bastard son and bad luck at weddings, and finally the Targaryen (multi-headed dragon) the kick ass dragon lady who is slowly conquering the world.
Just to jog your memory.

Covering all angles
Now, either Microgaming couldn't be bothered to try, or we suspect a couple of things happened.
Someone high up in the ranks realised that at best this show only has a couple of good years left in it. Removing all of the characters makes this Game of Thrones slot more generic for non-fans.
Seeing as everyone dies at some point in this show, there's no point putting anyones face in it as there's no guarantee they will still be around next time a player loads up the slot.
Either way, we still think they could have done something a little bit better than just some live screenshots of the show when the bonus round begins.
The really good news
Much like we hope that Tyron Lannister will never die, we have yet hope for this new Game of Thrones slot machine.
For one, being able to pick between 15 lines and a 243 ways to win slot is brilliant. It covers all manners of players, even though it doesn't affect the volatility of the slot – simply that with less lines you'll have slightly fewer hits but they will be worth a little more.
Pick Your Type of Slot Game Play
Choose between 243 ways to win, 15 paylines and 4 different free spins bonus games with multipliers
Then, there's the choice of free spin games. Again, it allows for all manner of players to really enjoy, from risk taking usurpers like Baratheon who will give you 8 free spins with a 5x multiplier, to the slow but steady Targaryen who will reclaim their stolen throne with 18 free spins and a 2x multiplier.
The really, really good news
We've managed to get a few statistics about this game.
Which is why, you may have noticed us saying that we 'know' this slot is going to be medium volatility. Our favourite kind.
Not so risky it eats away all your coins, but risky enough to get you some big wins.
The highest amount possible to win on the Game of Thrones slot is on the 243 ways to win, during the free spins, with a 5x multiplier. A total of 121,500 in cash.
Not a lot we hear you shout! Especially for fans of the likes of Isis or Mega Moolah slots.
Perhaps, but still a really decent amount when you consider the highest bet here is 6 in cash, making that a big max win 20,250 times your bet.
Yeah. Now we've got your attention.
The Game of Throne mobile slot
And this, we have to say, is the best news of the lot. For the first time in since we don't know when, Microgaming will be releasing the Game of Thrones mobile slot in HTML5 format at the same time as the online slot release.
We still haven't seen Terminator 2 or the Jurassic Park slot on our Android tablets and phones, so we weren't really expecting to be able to play Games of Thrones on mobile.
Yes, It Will Be Mobile
Finally Microgaming are set to release a top blockbuster slot on mobile at the same time as online
But, it has been confirmed that this will happen and we are glad for it.
It could also, perhaps, explain why it's so simple in graphics, except that if NetEnt can release the likes of the Aliens slot on phone, we don't see why Microgaming can't do the same.
Overall verdict?
We are… hopeful enthusiastic pessimists?
We love the Game of Thrones TV series too much not to look forward to the GOT slot. Of course we are.
Sure it seems a little simple. And yes, the graphics are nothing to shout about… but maybe the wins here will be as epic as all the blood and murder on screen? Leaving us feeling victorious after a fight well won?
It hurts that we have to ask the question instead of just saying 'YES! IT WILL BE SO!'.
The Game of Thrones slot machine will be released in the first week of December 2014 and you can start enjoying the Microgaming fun at the following casinos:
1. Guts Casino: 15 free spins bonus on sign up + 3 reload bonuses
2. Leo Vegas: 20 free spins on sign up + 180 free spins after your first deposit
3. BGO: 20 free spins on registration + 200% first deposit bonus
Never has the sentence 'Winter is coming' been so excitingly true.