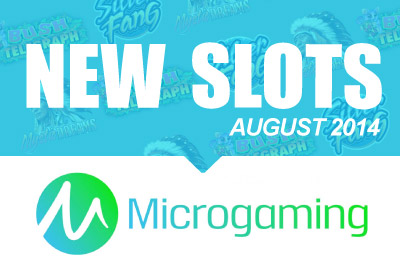 18+
Recently we've been pretty excited about the new slot game Jurassic Park. So much so in fact, that we predicted it would come in July. Then we found out it was actually coming in August and we'd hoped this was because they were going to make it mobile.
Yes we know it was hopeful of us, but we are eternal optimists.
So no, we only get Jurassic Park on PC. We've written plenty about it on the link above, including a video preview, so we won't repeat ourselves here.
Instead, let's look at the new slots for mobile coming out in the first week of August 2014 by software provider Microgaming and try and swallow our disappointment.
Silver Fang
A 2010 online video slot, Silver Fang is one of those releases you may have missed way back when it first came out. Not to say that it was bad, it just wasn't revolutionary. So you might have played it once or twice and forgotten about it.
Well, here's your chance to rediscover this slot game now that it's coming to handheld screens. A 50 paylines game, Silver Fang mobile slot will be fairly low variance. Still, it boasts 15 free spins with a 5x multiplier, which granted is unlikely to hit high often, but does have a maximum payout of 125, 000 in cash when you bet the maximum. So there's that.
As far as the theme is concerned, this Microgaming slot machine is for those of us living in incredibly warm countries and dreaming of winter. You'll be chasing the wild wolves in the Arctic tundra through a frozen silvery forest, tracking their scattered footprints through the white winter landscape, hoping to triggers those multiplying free spins.
Want similar game-play till then? Try Lion's Pride mobile slot.
Update: You can now play Silver Fang mobile slot at Guts casino »
Bush Telegraph
This online slot is oooooooold. And we mean old. 2005 old in fact. We were still foolish enough to drink vodka flavoured jelly shots back then, but thank-fully we've grown out of those headache inducing habits and moved on.
A lesson Microgaming should learn from us. Why are they releasing the old unknown Bush Telegraph mobile slot whilst the exciting Jurassic Park and the recently release Terminator II slot isn't on our phone?
A psychedelic multi-coloured African jungle hurts your eyes as you open this online slot, and we doubt putting it on our HD smartphone screens is going to improve it any.
Bush Telegraph video slot only offers 10 free spins with a 3x multiplier. Nothing particularly impressive. It does come with a fairly unimpressive pick me bonus where you pick a bongo drum for instant cash prizes. On one hand, we haven't had to review a good pick me bonus in a while but on the other hand, we doubt this one falls under 'good'.
Uninspiring choice Microgaming. Don't try a slot like this, play the NextGen Super Safari slot if the African theme is what you are after. A much better game.
Update: You can now play Bush Telegraph mobile slot at Guts casino »
Mystic Dreams
All right! Here's something a little more interesting. Although another strange theme for these summer months. We can only suspect that with the recent release of Beach Babes and Summertime slot, Microgaming have decided that things were getting a little too hot to handle.
So here we have another wintery mountain theme, but this time we are in the North American Rockies with a wise red Indian guide taking us through a dream like journey full of… wolves and snow.
So yeah. There might be some comparison to Silver Fang. However here is where the comparison ends as this Mystic Dreams slot game has different mechanics that makes it more interesting than the other two releases.
You'll get 10 to 20 free spins depending on how many scatters you trigger, but that's not what makes it interesting. The wilds have different multipliers depending on which reel they fall – from 2x to 4x. These accumulate, so if you win with several wilds you'll get a bigger multiplier even still. The highest you can hit is a 24 times multiplier on your line bet win. But… how easy these will be to hit is what will make or break this mobile game. You'll have to read our Mystic Dreams slot review for that.
Meanwhile, if big multipliers and risky slots are your thing, then  Isis mobile slot should be right up your alley.
Update: You can now play Mystic Dreams mobile slot at Guts casino »
Where will I be able to play these new slots?
At all good Microgaming mobile casinos as usual.
Go Wild is a pretty solid choice and you get an exclusive £7 free no deposit bonus to try any of their Microgaming games.
If you prefer a multi-platform casinos with the likes of NetEnt, IGT and NextGen sitting next to these games, then you can't go wrong with Guts casino. They have super fast cash-outs, 3 deposit bonuses and 100 free spins to welcome you in. Plus the free spins have no wagering requirements against them.
You've got to love having choice don't you? But don't wait till 7th of August for these three releases; head over to one of our recommended mobile casinos now and get playing.