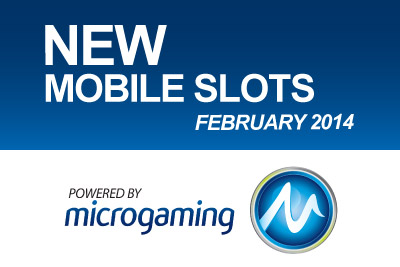 18+
And yet, in our hearts, it's not the two mobile slots we are about to describe below that really excites us this February, but Microgamings online release of Avalon II. But it won't be mobile and as we like to write about the weird and wonderful world of Android, tablet and on the go slots we can't say much about Avalon II… other than the teaser videos we posted in the past because damn it, we are slot players and it's too good a release to pass up. Watch the making of video here and the intro video of Avalon II here.
Ok, we are done about non-mobile slots, we promise.
Surprise, surprise, the two new Microgaming mobile slots for February are old slot machines turned mobile. You are starting to get predictable in your old age Microgaming. Still the themes are particularly apt, after all, how else would you pass Valentines Day if not with a little twisted romance?
What can we tell you about these new mobile slots?
Well, we could tell you to go play them at Go Wild or Jackpot City in the online versions of the slot games, but that would be cheating right? So here is what we know about these video slots.
Sit in the romantic moonlit garden, with your romantic ruffle shirt wearing gentleman and elegant gown wearing lady as you create a romantic mood for romantic multipliers. Get the theme yet? Are we being too subtle?
This low volatility, 30 payline, 5 reels video slot will probably be fairly enjoyable if the theme is not too syrupy for you. Personally, it's never been a game we've been all that attracted to, but that's just us. The 14 free spins with 2x multiplier and a click me bonus feature with a maximum win of €90,000 will certainly interest many.
Update: You can now play Starlight Kiss at Guts mobile casino
If, like so many of us, you are not in the mood for Romance on the most over hyped holiday of the year (yes, we are one of those people. Sorry hopeless romantics out there.) then Microgaming still has something to offer you. Namely fire breathing and snake cavorting circus freaks and midgets. Now that's a Valentine we can get behind.
The Twisted Circus, is a 243 ways to win online mobile video slot which has a similar betting level as Starlight Kiss, but far larger chances of big wins. With medium volatility this should appeal to those of us who are not quite ready to jump to the high risk slots, but want the chance of a big win. The bonus mini game is good fun and the 13 free spins available may not be a huge amount but they come with a 3x multiplier.
Update: You can now play Twisted Circus at Jackpot City mobile casino
Worth getting excited about?
Twisted Circus should render nicely on the smaller screens and Starlight Kiss does have some decent wins for a low risk slot. Chances are both of these will get at least a 3 stars, if maybe not a 4 star review, should they look and sound as beautiful as we expect.
We'll say it before and we'll say it again: we just wish Microgaming would put some time in releasing their brand new mobile slot games into mobile at the same time as online. But until that happens, we will have to be content with them cherry picking the slots they love most for us mere mortals.
If you are looking to play the latest new Microgaming slots we can think of three mobile casinos that are likely to get all these games (including Avalon II!) as soon as they are released.