Microgaming has announced that they will be continuing their successful partnership with the Playboy brand and release a new PlayBoy Gold slot on 7th of March 2018. Here's everything we know.
If you are a fan of Microgaming slot studio, you've probably, at some point played on the Playboy online game.
A 243 ways to win video slot it's got great features and had that 'luxurious' feel that the Playboy brand was all about.
However, it lacked a little something: it wasn't really that sexy. Granted, the cartoon ladies slowly revealed more of themselves the longer you played, but by the time you got there, it lost a lot of the appeal.
Also, you know… cartoons.
We have a feeling that the new Playboy Gold mobile slot is going to change all of that.
All we know about the upcoming Playboy Gold Slot
Microgaming has been surprisingly open about this casino game; giving us lots of details, including this beautiful shot of the new game.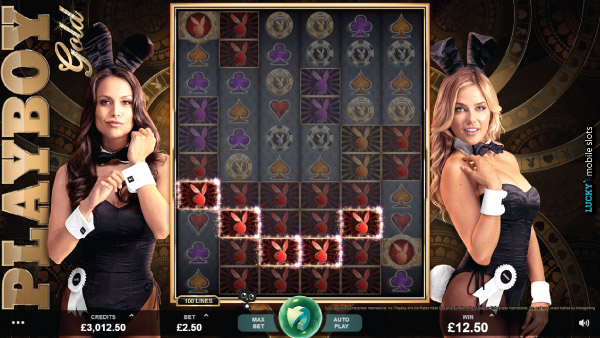 Which isn't much, but we don't call ourselves slot journalists (totally a thing and not made up) for nothing.
Our Top UK Casino Bonuses
Take a look at our no deposit bonuses, free spins and welcome bonuses from our best UK casinos
18+ begambleaware.org
And much like any good striptease, half the fun is in the anticipation, so let's take a look at what we have and what we can infer from this new Microgaming slot release.
1. The first of its kind: a 6×10 reel grid slot
We know everyone is dying to know about the two beautiful ladies who will be your host, but… let's start with the really sexy bit.
The slot game mechanics.
What? You mean slot machine spins don't make you all hot and bothered under the collar? Ha. Well. It doesn't to us either then. Ahem.
This is the first new Microgaming game to have 6 reels and 10 rows with 100 paylines. It's not necessarily "new" to mobile gaming, but it is new to this gaming giant; which is exciting.
After all, if Big Time Gaming can make the brilliant 117,649 Megaways to win Bonanza slot, imagine what a software like Microgaming can do with this new format.
2. Only it's not actually going to be a Microgaming slot
Wait. What? But we just said…
We know we just said, but you mustn't forget that Microgaming is a behemoth of a company, and what big companies like to do is swallow smaller ones.
In this case it's a new independent casino game provider called Triple Edge Studios who are only creating content exclusively for Microgaming.
They have promised "a host of base game and bonus features to keep players entertained while embracing the iconic and global brand to the fullest" so let's not despair just yet.
Get 100% up to €300 + 20 Free Spins
Get up to €300 in bonus money on your first deposit plsu 20 free spins on sign up
18+ New customers only. Wagering and Full T&Cs apply.
Microgaming wouldn't give out their biggest brand deal to just anyone. If they think Triple Edge Studios is their guy it's because they can do something special and different.
These are the guys behind one of our favourite Microgaming releases of 2017: the 108 Heroes Multiplier Fortune classic slot.
There they managed to re-invent our expectations of the 3 reelers, so let's give them a chance and see what they can do with 100 paylines.
3. And yes, we will get two actual real-life playmates on the reels
A Playboy slot machine without Playmates felt like cheating the first time we opened the original game 5 years ago.
So it's nice to see that Microgaming has listened to players and realised that whilst the Playboy brand is technically about a certain lifestyle, in reality, it's a lot more about the girls.
The girls in question are Raquel Pomplun (the brunette) and Audrey Aleen Allene (the blonde), who will be by the side of the reels, a welcome distraction if this game doesn't pay out.
You gotta love the look and style though right? Strong, fierce, but still classy.
Will we get more of the two Playboy slot Playmates?
Only time will tell, but we suspect that those who want more risque shots of the girls will have to go to their playmate page instead.
We investigated these for the sake of the story of course (but you are welcome).
The Playboy Gold slot will stick with company line
Ie. the bunnies, the lifestyle, the luxury.
If you are a woman reading this and have never opened a Playboy in your life, it's basically no more or less than a Cosmo magazine; articles on how to be successful at business next to the top 10 ways to do bondage correctly.
Get 100 Gemix Free Spins
Sign up to Vera&John casino to play their full range of slot games with 100 free spins on Gemix
18+ New customers only. Wagering and Full T&Cs apply.
The shots of the ladies are rarely more abrasive than something you'll find on Instagram these days.
We are not trying to defend the Playboy brand, but let's be honest, this Playboy Gold slot machine will not be rude, crude, or offensive.
"For decades, gaming has been one of the most popular and iconic parts of the Playboy Lifestyle," said Valerie Golson, Playboy's Senior Vice President of Gaming and Location Based Entertainment. "From our successful Playboy Clubs and Casinos… to our VIP player events and our online gaming properties, Playboy's unique and exciting take on the world of gaming have been some of the most successful."
Gambling, girls, and gold, that's the way Playboy rolls.
It makes sense: this is a new Microgaming game for all
Whilst we are not going to sit here and pretend that the audience here isn't primarily male, Microgaming is smart to make this classy rather than brash.
Have a look at the screenshot above? If you were caught with this open on your laptop whilst playing, and your girlfriend walked in, you'd have nothing to be ashamed of.
David Reynolds, Games Publisher at Microgaming, comments: "To work with Playboy again has been a real pleasure. They are one of the most recognised and popular consumer brands in the world. The game is hosted by Playmates Raquel and Audrey and delivers non-stop action."
In fact, if you are a woman and fancy a spin on some of these complicated reels, you'd be no more offended than when playing on Royal Masquerade slot with all it's bouncing bosoms.
Don't wait until March 2018 for the Playboy Gold Slot
The 7th of March 2018 will be upon us faster than we can say "Playboy Beach Fridays", but for many, it can feel like a long long time away.
For you guys, we'd recommend you try the original Playboy video slot online, which even if it won't be quite as sexy as Playboy Gold is still one of the best Microgaming gambling games.
And if the classic 3 reel slot of 108 Heroes Multiplier Fortune doesn't appeal, then we have more good news for you.
Triple Edge Studios are also responsible for the success story that is the Halloween movie slot – available to play at all good Microgaming casinos.
Our favourite at the moment?
Has to be Go Wild on mobile which gives you a huge 3 deposit bonus offer of:
100% bonus up to £€$333 on your first deposit – T&Cs Apply
50% bonus up to £€$200 + 25 Wild spins
100% bonus up to £€$500 + 25 Wild spins
Giving you the chance to play for longer on all their Microgaming slots, or any of their many great software and games.
Start Playing at Go Wild »
Get 100% up to €$333 Welcome Bonus + 33 Free Spins
T&Cs Apply