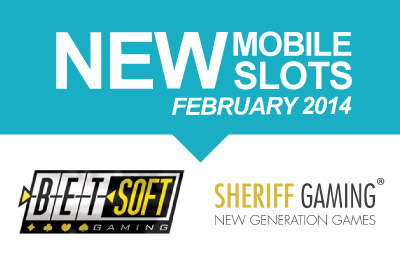 18+
How quickly they work is another matter entirely, but there is potentially some interesting mobile 3D slots due out this month. Sheriff Gaming has managed to provide a few slots that have impressed us more so than Betsoft, but still. At least they are trying right?  And unlike Microgaming, they give us their latest releases to enjoy on mobile.
So what can we hope to expect this February? Well, we've had a few careless whispers tell us of some brand spanking new mobile slots. As always, these are rumours told to us by shadowy men in dark alleys, whispering tales they shouldn't. But like good journalists/ bloggers/ ramblers, we keep our sources tightly guarded to our chest and with our lives.
But basically, what we really want to say, is that the release of these latest mobile slots have not 100% been confirmed. So, you know, read, anticipate and then forget about them till you see them in your casino lobby.
There's a good sport.
New Mobile Slots by Sheriff Gaming
The latest two mobile slot games we reviewed by Sheriff Gaming, Midnight Rush and InCash, were fairly well received, so we hope they continue with some interesting new releases in the next month.
Dragons
A brand new release that is mean to come out on both the online and mobile casinos, but we actually have very little information about this new slot other than it's about… euh… Dragons. You know, big, scaly, fiery, princess eating.
We suspect that Sheriff's dragons will be more cute and cuddly than bloody and scaly with a 5 reel video slot that will be hiding a few multipliers in it's reels.
Las Vegas Fever
Now here is an interesting choice to turn mobile. With a slightly higher volatility than your usual Sheriff casino games, this 3D slot machine was only release a couple of months ago, so it's one of the newest games by the casino software provider.
It has, you won't be shocked to hear, random multiplier up to 7x your win. Not that we are complaining, but it seems that Sheriff Gaming received a secret stash of multipliers to build their slots with in 2013 and are continuing in 2014. The theme is predictable, but with 4 instead of 5 reels, this is a little bit unique and different. We like unique and different.
New Mobile Slots by BetSoft Gaming
If these don't actually get turned mobile please don't blame us. Blame the shadowy men who torment us with news about BetSoft slots that are about to come out and then pull the rug from under us at the last minute.
Sugarpop
What? We've had this slot in our newly released mobile slots news before? And it never came? Really??
Yes really. But this time we are, like… 65% sure… that February 2014 is Sugarpop's month. Maybe.
If you've had the chance to play the very different video slot over the last couple of months, you'll know this one is perfect for mobile, but in our opinion is more mobile game than mobile slot game. It's basically Candy Crush but you can place real money bets. It doesn't have traditional reels and it wasn't very well received by that many gamblers, but we think it has a second chance as a slot for your tablet.
Update 02/07/2014: Ok so this one took a little longer than predicted to come out on mobile but it's finally here and you can play it now at Mr Green mobile casino »
Good Girl, Bad Girl
Ok, this one we have serious doubts will come out on mobile, but hey, we only write what we are told. Even if our cynical little voice in our head doubts the release of this brand new slot machine on both online AND mobile at the same time.
However our new years resolution was to be less cynical, so hence Good Girl, Bad Girl 2 way jackpot slot makes an appearance in the new slot list.
Update: You can now play Good Girl, Bad Girl on your mobile or read our slot review.
More Gold Diggin'
The follow up to Gold Diggin (clever title hey?), this 3D video slot will play similarly to BetSoft's Rook's Revenge in that you'll get collapsing reels and multipliers on each successive win.
The characters looks like redneck Laurel and Hardy, so we suspect this game is not to be taken too seriously. However, Rook's Revenge is surprisingly good fun, so this time, we have no need to be cynical.
Update 19th March: You can now play More Gold Diggin' mobile slot here at Mr Green mobile casino
If you Could Only Pick One to be Excited About?
Why would you ask that? Why would you make us choose between our distant and illegitimate children we barely know about? That's a little unfair wouldn't you say? I mean, here they are, trying to impress us, and ultimately none of them bring thrills down our spines.
That could be because the big, bold and beautiful Avalon II from Microgaming is only around the corner (eeek!) and so all else seems to pale by comparison. BUT, if you twisted our arm behind our back, sat on our heads, and sang "99 Bottles of Beer on the Wall" until we gave in, our choice would probably be Las Vegas Fever.
The graphics and features are not so complicated that the usual slow loading Sheriff issue will arise, but that random multiplier on the 5th reel brings a different flavour to the usual standard video slot.
Want to try the 3D mobile slots by these two providers?
Video Slots Mobile Casino has both Sheriff and Betsoft slots and you get 20 free spins on Rook's Revenge, no deposit bonus, to try out Betsoft games.
Guts Mobile Casino only has some mobile slots by Sheriff, but all by Betsoft, and have 100 free spins after deposit, but with no wagering on the free spins.
Which will you pick?