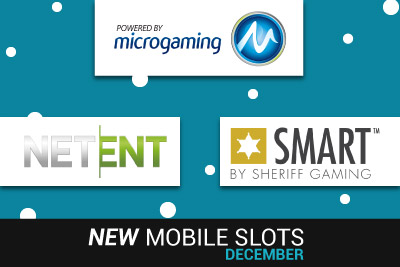 18+
Games softwares seem to have forgotten that it's Christmas season this December and are releasing mobile slots that have about as much to do with the festive season as your great aunty Mildred's drunken divorce stories.
Still, who wants a slot you can only play once a year (we kinda do actually, but… you know.. Ok…), so here is a list of the new mobile slots we know are due to be released in December, more or less in order you can expect them.
Microgaming's Reel Thunder Mobile Slot
After the incredibly exciting and successful release of Thunderstruck II to instant play mobile casinos in November, Microgaming are aiming for a quieter month in December, releasing one 9 paylines, 5 reels video slot from their back catalogue.
Reel Thunder is a very simple Americana themed mobile slot, with wilds and scatters only. Microgaming have released a few of these 'simpler' video mobile slots, some that work ok and some that didn't. By it's theme we hope it resembles it's cousin 5 reel Drive rather than the pretty bad Carnaval.
So a 'safe' or average release for Microgaming Go this December, though we have heard that they are changing the mobile interface on this slot, making playing on your Android and iPhone easier, smoother and faster. In fact, by our sneak peak it seems it plays a lot like the Playtech Mobile Slots, in particular the likes of Gold Rally and The Incredible Hulk.
Best place to play Microgaming mobile slots? Guts mobile casino.
Update 11/12/2013: Reel Thunder is now out. Find out where you can play in our mobile slot review.
NetEnt's Mega Fortune Jackpot Mobile Slot
We've been as excited as kids on Christmas eve since we've heard that Mega Fortune was going to be released on December 12 on mobile. In fact, we've been so excited about it, we wrote about it as far back as October 30th, Now the day is fast approaching when we'll get to play this Guiness World Record holding slot in the palm of our hands.
If you're not sure why we are as excited as we are, go ahead and read our article. But if you want the cliff-notes version, the reason is simple: when that NetEnt progressive jackpot starts growing into the millions and is ready to explode… we want to be able to spin those reels from anywhere, even at the Christmas table if need be. If anyone is going to be the next €17.8 million millionaire, it's going to be us.
Best place to play Netent mobile slots? Leo Vegas mobile casino.
Update 07/12/2013: Mega Fortune is now out on mobile! Find out where you can play here.
Sheriff Gaming's Oonga Boonga Mobile Slot
Now here is an odd little number. Of higher volatility than your usual Sheriff Gaming mobile slots, Oonga Boonga has the dubious reputation of being a copy of Rooks Revenge, which is actually a copy of Gonzo's Quest. It is also slightly, and strangely… can we say… politically incorrect? We are not sure who thought that a black aboriginal tribe leader that shouts inebriated words at you was a good idea, but hey – you can't get it right all the time.
Still, we await this odd December release with trepidation, hoping it will be as good as the original, but suspecting it will just about match the copy. With 5-reels, 20 paylines and 3D animations, we think these cascading reels could still bring something original to the table.
Best place to play Sheriff Gaming mobile slots? Vera&John mobile casino
Update 19/12/2013: Oonga Boonga is now out. Play it now at Guts mobile casino.
NextGen's Easy Slider & WildCat Mobile Slots
A quick boat trip to the south american jungles, and we are back again to good old Americana and the Wild West. Easy Slider (great name. We thoroughly approve.) is a 25 line 5 reel video slot featuring the unique SlideaWild™ , stacked wilds and 15 free games with doubled multiplier wilds. What is SlideaWild™? Good question. Guess you'll have to find out in the end of December won't you? Ok here is a hint… you slide the controls… to get… MORE WILDS! Rock n' Roll.
Update:19/12/2013: Read our full review of Easy Slider here and find out where you can play it.
WildCat Canyon looks more like your average NextGen fare, but after their successful if surprising hit Potion Commotion mobile slot, we are going to be up beat and say that this mobile slot could be as interesting as Easy Slider.  A humourous take on the classic Western theme, it has 5 reels and 25 paylines, just like it's predecessor. Will this be as fast and fierce as it's name suggests?
Update:19/12/2013: Read our full review of Wildcat Canyon here and find out where you can play it.
Best place to play NextGen mobile slots? Mr Green mobile casino
No Hidden Surprises?
There are plenty of hidden surprises. This is Christmas after all. Mr Green casino, for one, is giving away 5 free spins a day until Christmas, and Guts casino is giving away 400 free spins over 25 days. No doubt these will include all the latest mobile and online releases, and then some more on top just for fun.
We've also heard along the grapevine that Leander Games will soon be releasing their very first mobile slot and start to play with the big boys… but you didn't hear that from us.
(If you don't know who Leander Games are, check them out at Guts online casino now – we particularly recommend Little Pigs Strike Back and Potion Factory.)