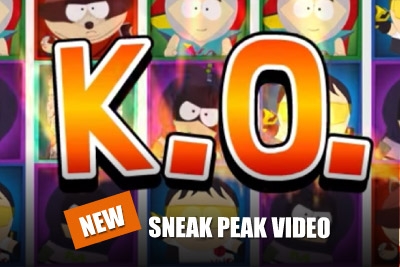 18+
Update 16/10/2014:  You can play it now at Leo Vegas before it's official releases
Or read our South Park Reel Chaos review before you play here.
Below we've put a video showing the full big 'showdown' bonus game within this new NetEnt mobile slot. South Park Reel Chaos will be released on the 23rd of October, and whilst many of you are probably weary of it, we are here to say… we are with you. We're not sure about this one either.
The reason we remain casually optimistic, is that we weren't sure of the first and original South Park slot released last year, and yet we ended up giving it 5 stars for the exact same reason that we feared: that too many features would turn this video slot into more of a game than a gambling machine.
We were wrong then, and we are prepared to be wrong now. So let's have a quick preview of this bonus game free spins round and see where it gets us.
The video for the free spin bonus feature
Here's the official 'line' about this feature, straight from the mouth of NetEntertainment and South Park Studios:
"Follow this justice league of nine year olds through 4 mini-features that will lead to the big showdown, Epic Bonus Spins. For every defeated enemy a bet line multiplier increases, giving up to 4 times the bet line win. If all villainous baddies are defeated a sweet Victory Bonus is rewarded. Bring your best game to this second South Park™ slot — because there will be Reel Chaos!"
Which can all be seen in the wonderful video above.
Why do we say wonderful? Because whilst the first South Park slot machine was a celebration for fans of the crude, loud show, this one, we think, will be far more welcoming to all players.
Why do we say that? Because you don't need to be a fan to understand what's happening above. You just need to have been 9 once upon a time and enjoyed a vague knowledge of superheroes. If you know the characters, this will obviously work twice as well, but the theme here just works.
However, making pretty mobile slots has never been NetEnt games problem. That's making slots with really big pay offs.
What can we decipher from this video?
We counted a total of 24 free spins in that video. That number can clearly go higher by, you know, winning or losing faster.
You have four levels, on each level you have to defeat the bad guys. If you win on the reels, the bad guys lose a life, if you lose on the reel, you lose a life. Lose all your lives and the free spins end, or get to the very top and get a 'Victory' bonus.
How much is a victory bonus? Beats us. We can only show you what's on the video.
What was interesting was the numbers behind the video
If you look at the bet, the amount won looks far more impressive than they actually are. After playing those 24 free spins, and with the last 8 of those played on 3x and 4x multiplier, the player here only walked away with 103x their bet.
Now we are not saying that 100x your bet isn't good. But in our books that's a bad sign. NetEnt are selling this as the 'big' feature. To us that translates as one of three things:
"Big" because it's graphically pretty and interesting – so there are other features that hit harder, this one is just the free spins.
The free spins will come fairly often, but climbing to that top ladder will be damn difficult – at best you'll get 20x to 30x your bet.
The free spins don't come often, and this is just an average of what to expect, with bigger wins obviously possible, especially with that Victory bonus hanging around like a mysterious rich playboy dark crusader.
We are kinda hoping for number 3. If one, then why bother making the video at all? If two, then South Park Reels of Chaos slot machine will simply fade into the tens of mobile NetEnt games that are pretty rather than hold big wins.
The reason why we think number 3 is more likely is because the first South Park game had a Who Killed Kenny click me feature, which was hard to get, but worthwhile every time. Fingers crossed, they will continue on this trend with their big blockbuster slot, as they did with the greatly underrated Aliens slot machine.
Where will I be able to play this mobile slot?
We would say "at all good NetEnt Casinos", but that's a lie as all casinos with NetEnt will want to be the first to push this game. And god knows that you can find NetEnt slots a little bit everywhere on the net.
The ones we recommend, and have a sweet little NetEnt free spin bonus to boot are:
Guts Casino with 100 free spins no wagering on Starburst »
Leo Vegas Casino with 20 free spins on Starburst, no deposit »
BGO Casino with 20 free spins on sign-up on Starburst again. Surprise! »