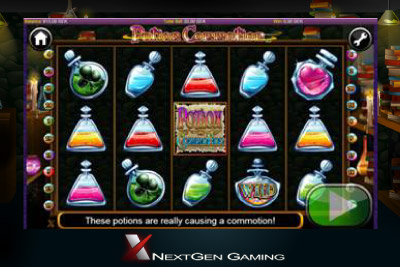 18+
In all honesty, we have absolutely no idea. We know that you come to us in order so we can give you a heads up of any cool up-coming mobile slots and games, but this new release from NextGen is a little bit of a mystery, even to us.
So what do we know? "Potion Commotion is a 20 line, 5 reel video slot with a frequent free game bonus feature where winnings are tripled."
Also, the images. That's it.
Update: 20th Nov 2013 – Be one of the first to play Potion Commotion mobile slot at Vera&John and Leo Vegas mobile casinos or read our review here.
So what can we infer from this slight amount of information?
Well, let us not say that ignorance will stop us from making wild accusations and suppositions. So here are our thoughts:
It's a magical theme! How original! Ok, it's an old rehashed theme, but hey, it works. The graphics actually look nicer than your average NextGen mobile slot, with a little thought put into it. It's not going to be any Halloween Fortune, but it might match the graphics on Merlin's Millions Superbet.
It has 20 paylines! Why is this interesting? Because it's been a while since NextGen have released a 20 payline slot – usually they like their 25 paylines. In fact the latest mobile slot that came out with 20 paylines and three times multiplier on free spins was The Codfather that came out mid 2013. And we quite like it. So it won't kill our buzz.
Frequent free game bonus feature! They say that about all their mobile slots. This is not surprising as NextGen like their lower volatility slots that pay out little but often.
It's a brand new video slot!  So it will be released for online and mobile casinos at the same time. Not just a quick release of an old video slot, NextGen are looking to put all their newest and best slots on the mobile market as soon as possible.
We are going to remain quietly optimistic about this one. Sure our favourite NextGen mobile slots tend to have 25 paylines and be slightly higher in volatility, such as Medusa or Super Safari.
But what we've found is that a few of the latest new releases from NextGen are actually not half bad. And by not half bad, we mean actually entertaining. Sure Potion Commotion mobile slot has a slight whiff of The Codfather to it in terms of mechanics, but that was actually a half decent game. Spanish Eyes, another recent released, also showed that NextGen could do low volatility and do it well.  Foxin Wins is another fine example and a favourite of ours.
Plus, any games provider that release their new and best games on both online and mobile casinos at the same time deserve a little optimism from us. Why should we have to wait two, three weeks or even months to get to play the slots and games on our mobile phones and tablets?
So as we said. Quiet, but real, optimism.
Fancy playing the NextGen games we've been on about? Try our recommended casinos, Guts, Leo Vegas and Vera & John who have a wide variety for you to choose from.