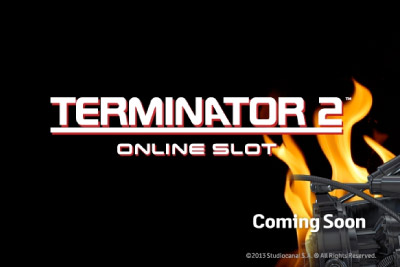 18+
2014 is certainly the year for big name, branded games releases. Hot of the press that NetEnt will be launching Aliens slot machine, we thought Microgaming's response of creating a Game of Thrones slot was pretty impressive.
Update 04/06/2014: You can now play Terminator 2 slot online at Guts casino, Go Wild and Jackpot City casinos.
However, because Microgaming knows how to raise the stakes to a whole new level of competition, they have planned to release two further big branded slots in 2014. Based on movies that, if you haven't at least heard of them, then please get out of this website, we disown you, Terminator 2 and Jurassic Park are probably two of the biggest franchises to come out of Hollywood in the last 30 years.
That they will be popular is without a doubt. But will they be any good?
What we know about the new Terminator 2 slot
In case your a time traveller from the year 2029 (not far now till the robot apocalypse folks) and don't recognise the film, this video slot is based around the original 1991 film Terminator 2: Judgement Day™. One of the most beloved sci-fi films of all times, we are, needless to say, fans of the muscle bound killing machines that seem to have issues with one meddling kid. We are geeks.
The T2 online slot will have 243 ways-to-win, as with many of the more iconic Microgaming mobile slots. However, as is much the fashion (see Reel Rush mobile slot) the reels will expand to 1,024 ways-to-win during the free spins feature. The look and feel of this slot game feels very dusty, like sitting in a Colorado dessert, but the symbols will be recognisable, from time travelling orb scatters to Sarah Connor. The iconic T800 (Arnie) and T1000 (melty silver dude) also have some surprises hiding in the reels for players, with additional winning to be found. All in all, all good signs pointing to a solid slot machine that will be in the mid to lower volatility scale.
What Roger Raatgever, CEO of Microgaming, had to say: "As explosive as the film, we are in the process of creating an action-packed, jaw-dropping slot; it's a classic in the making!"
Well, you didn't expect him to say that it was going to suck did you?
Will it be mobile? Nothing on that yet, but we wouldn't hold our breath just in case. Especially as the new release isn't expected until the summer of 2014, so that's likely to cause an aneurysm or two.
What we know about the Jurassic Park Slot
Microgaming have the licence for the first three movies, so whether they will create one slot per movie, or are making one behemoth of a 5 reels slot, we haven't been told. This online slot isn't meant to be released till much later in the year, so the information on it is a little less clear than on the T2. What we do know is that it's going to have some dinosaurs in it.
Ok fine, we have a little more information. It's going to be 243 ways-to-win (again) and have five different free spin modes. Sounds familiar? Can anyone say… Thunderstruck II and Immortal Romance? Well actually, the free spin mode will be randomly selected according to the DNA analysis of the dinosaur.
So there is a less progressive storyline and more random pick of luck. Less impressive in our books, but perhaps the wins here will be big enough to be worth the gamble? This dino slot will very much depend on what other bonus features it stomps in with or the max amount you can win.
Let's hear what deep and illustrious insights Roger has for us: "Jurassic Park is a seminal movie… It's a film that we can draw parallels from in terms of our game creation and our aim to deliver the most visionary and imaginative gaming experiences… our game development team is busy creating an all-mighty slot."
All we got from that was that it's likely to be visually pretty. But we would expect that from Microgaming wouldn't we?
And please don't ask us the mobile slot question. You know the answer to that (ie. read T2 mobile slot comment above).
Has these carnivorous news made you hungry for some Microgaming slot playing? Our favourite Microgaming casino to play at the moment is Guts Casino, mostly because they also have 4 other slots providers so the game selection over all is great. If you are after Microgaming ONLY Jackpot City casino is another favourite, with some great and constant promos.