The Invisible Man slot is now officially out to play at all major NetEnt casinos and we have to ask the question… with all the Christmas excitement, do we care for another Universal movie slot?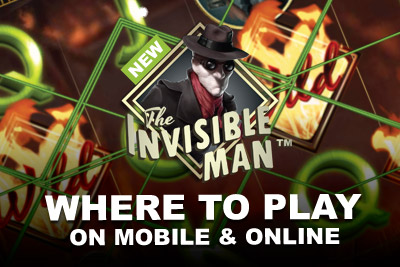 18+
Yes. Yes we do. And so should you.
Look we get it. The Invisible man video slot will not make it to our best Christmas slot list, that's for sure.
It's basically based on a 1933 horror movie from the backlot of Universal studios. It's Frankenstein slot, but a little more modern.
We go into it a little bit more in our full Invisible Man slot review here, but yeah, it's a bit dark.
This isn't a second review. This little post is about why this new NetEntertainment slot machine is a little different from the rest and where are the best mobile casinos to go play it.
Not another old movie slot…
So yeah, movies and TV are in. They've been in for so long, it's a little bit out.
It seems we've gotten tons of retro movie-tie in slots this year. NetEnt did it with the Aliens slot, Microgaming did Terminator 2 and Jurassic Park.
They are basically bringing out all the greatest hits from the 90's to try and catch our attention. It's certainly cheaper than trying to get a licence for what's currently on our screens, though credit to Microgaming for the, quite frankly, brilliant 15 payline Game of Thrones slot.
Last year we got Creature from The Black Lagoon
Which comes from the same studios, but is slightly better known than The Invisible Man.
Well, that's not technically true. Most of us probably remember the 1992 film with Chevy Chase. Now if they had added that to the collection… it probably wouldn't have made people all that excited either.
And The Creature from the Black Lagoon online slot got very mixed reviews, lets not forget. So it's easy to understand why people are more than a little underwhelmed about this new and latest release from NetEnt.
Invisible Man stats
RTP: 96.4%
5 reels, 20 paylines
Max win: 1000x
Min/max bet: 0.20 / 100
Yet it's surprisingly good
We had to go find out a little bit more about this original gothic story, because we have to write about it.
But if you've never heard of the movie, this theme will be instantly familiar to you. A scientist, on the edge of one of the most important discoveries of his time, succeeds where everyone fails.
But the power that invisibility gives him, consumes him. Driven mad with murderous thoughts, he creates havoc in a little sleepy village in England, where only one brave, though slightly bumbling, policeman stands in his way.
As with all these movies, it all ends with a dramatic climax in a rain of fire. Kinda like in the Frankenstein slot free spins then?
In terms of graphics, sure. In terms of fun and thrills… this murderous rampage is far more fun than any lumbering creature.
What we loved most about The Invisible Man video slot
Well, other that this is the first of the NetEnt slots to come out as both a slot for mobile and online, plenty.
We have two words for you: roaming wilds. With free re-spins.
OK that's more than two words, but you get our point. But unlike Jack & The Beanstalk slot machine, which is the most famous of the NetEnt games to have the roaming wild, The Invisible Man has two of them.
Because these 20 paylines pay both ways, there are two roaming wilds moving from left to right and right to left. Add that they give you a free re-spin as they move along the board, and you can get some pretty big mini-free-spin thrills.
We say mini, because the big hits and the excitement comes when the real free spins show up.
The bonus games in the free spin round
Look, we know we said we weren't going to re-review the slot here. But we figured that if you didn't click on the link above to read the full review, you wanted a little heads-up of what to expect.
And whilst we didn't give The Invisible man 5 stars, we did give it 4. The reason why it's not the full scale it's because it's a slow burner. You do have to wait for the free spins to get the big hits, and even then it's only if you manage to catch one of the two bonus games within the free spins themselves.
Then you can win 50x to 100x to even 1000x your bet. That's where the magic happens.
But if it doesn't you can't be too hard on this little NetEnt slot. It's fairly low variance entertaining spins, with chances of big wins, rather than chasing any big jackpots.
Where can we play / watch this oldie but goodie
Whilst we can't call this game a blockbuster slot, we're gonna go with 'oldie but goodie', because we can.
We have a selection of good NetEnt casinos where you'll find the Invisible Man. If you are asking us, who will give you the best welcome offer in order to play the said slot, the answer is that we are not going to tell you.
Haha, as if we wouldn't. Here are our top three mobile casino choices with this game on both mobile and online.
Guts Casino: 3 deposit bonuses giving you 300 in bonus money + 100 free spins
Leo Vegas Casino: 4 deposit bonuses giving you 700 in bonus money + 200 free spins
NextCasino: 100% bonus + 100 free spins on a selection of NetEnt slots
We will now leave you to laugh maniacally at thin air as you open up the latest horror tale from the NetEnt studios.