NextGen Gaming have just released a series of three photos giving us a little bit more of a hint as to what we can expect from their new big blockbuster slot release.
So it's finally coming. Back in April we squealed like a teen fan girl at a half naked hero Comic Con convention when we heard that we were getting the new slot Judge Dredd this summer.
Now if you don't know who or what Judge Dredd is or why we care so much (read. fan) then click the link above. We think we do a pretty good job of explaining the awesomeness that is to come.
This little piece is because NextGen Gaming have just released a set of three pictures about their new slot machine. Seeing as we will generously allow that 'Summer 2014' could anything from NOW till end of September, that means the release of this new game is imminent.
Here are the photos and here's what we can decipher via our special slot photo microscope thingymabob.
We're kidding, we don't have one of those. Just zoom in Photoshop. But slot photo microscope thingymabob sounds cooler and like we know what we are doing.
Photo 1: The Online Slot Game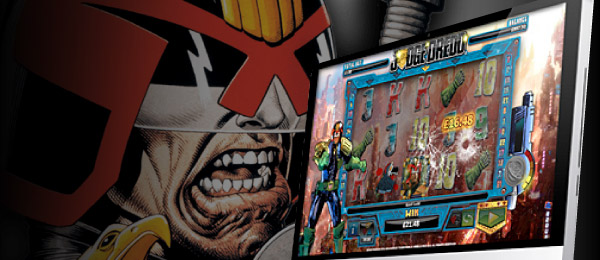 All right, from this one, it's hard to see anything of anything. That side angle is not helpful. However, we can confirm Judge Dredd is going to be a video slot.
What? You expected deep and revealing stuff?
Ok, keep in mind that this image is set in day time of Mega City One. So that's the base game. Secondly, have a look at the little meter on the side which is set to yellow. Just remember it for later. Finally, and as we knew and hoped, this Judge Dredd character is clearly from the original comic book series, knocking out the screen with cold hard punches!
HE. IS. THE LAW.
Photo 2: The Judge Dredd iPad Slot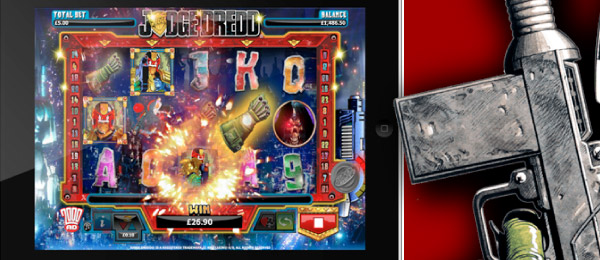 This. This is the photo we were hoping for. It has been confirmed, Judge Dredd mobile slot will not only be released, but it will be released at the same time as the online video slot.
It's also the clearest image and the one we can get the most information from.
For one, it's 25 paylines and you get your traditional high card symbols. As we predicted, Judge Death, The Joker to Judge Dredd's Batman, is one of the symbols, as is the main man himself.
Now, notice how this one is set at night time? What we are seeing here is part of a bonus game. We suspect free spins because… slot machines. Equally, notice how the little meter is now red? Clearly the way to hit the free spins requires building up that meter to the max.
Also, COLD HARD PUNCHES SUCKERS!
Photo 3: The Mobile Phone Slot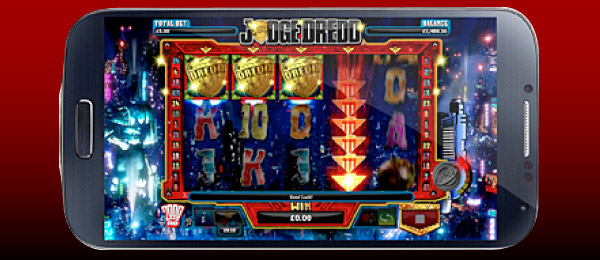 This one doesn't reveal much more than the iPad slot. That said, we are liking the new look of the NextGen mobile slots. Having the balance and total bet on the top… it has a certain Playtech Marvel slot look to it doesn't it? Very slick, very modern. Unless of course, they haven't finalised the look of the Judge Dredd slot on mobile yet, so have simply put an image of the online slot, but in a phone. To show it's mobile.
Who us? Cynical?
We are clearly still being shown the bonus games, but this time it looks like there's a… power up? Down?  Looks like an expanded wild. We guess. Should be. What else is it going to be?
That or it could make the whole slot turn into an explosion of awesome with flying shields everywhere. Hard to tell.
PREPARE TO BE JUDGED.
When and where, and should we be excited?
We still don't have a confirmed date of release, but it's coming. Summer 2014. Not long now. As for getting excited… it's hard to tell. It's not like they've released a video, which usually gives us better clues as to how a slot will play.
However, that said, we hope that little meter on the left does something super amazing, as right now all we are seeing is a cool expanded wild and some free spins. So fingers crossed those punches on the screen come with some equally big win punches.
If you can't possibly wait and are looking for some great NextGen games to play, we highly recommend the recently released Medusa II slot machine at Vera&John casino. It's really is a very good game.
Also did we mention you get 10 free spins no deposit + 100% up to £$€500 on top?
Yeah. Punch your way to the top. It's what the Dredd would do.
Start Playing at Vera & John »
Get 100 Free Spins on Gemix with €$10 First Deposit
T&Cs Apply