Leo Vegas casino has officially launched a brand new exclusive NetEnt slot and are giving you a chance to try it for free. So what's the catch?
Yes, Vegas Party slot is exclusive to Leo Vegas, yes it's available at both the online and mobile casino sites, and surprisingly enough, yes it's good.
Bet you're wondering what we are going to say now for 1,000 words, seeing as we killed the punchline.
Well, we suspect you'll probably want to know a little bit more about:
The online mobile slot game itself
Why Leo Vegas mobile casino get an exclusive game?
How you get to play it free and win cash
See? Plenty here to write about.
Tell me more about the new and exclusive Vegas Party slot
Here's the thing about 'exclusive' Netent slots. They are unique in theme, but not in game-play.
So, NetEntertainment will go "Hey, you're an awesome casino! Let me make something for you. A token of my affection."
Multi-software casino
Leo Vegas hosts games from Bally, Betsoft, iGaming2Go, IGT, iSoftbet, Microgaming, NetEnt, NextGen, Play'n GO and Viaden Gaming.
And it will go into it's back catalogue and take out some of their favourite games, and put a brand new theme on it.
Because, at the end of the day, they are a busy casino games software provider, creating brand new games every month, and it can't be expected to be innovative and wonderful every single damn time.
How do we know this? Because that's exactly what they did with The Marvellous Mr Green slot, which is simply Subtopia but with different graphics.
But, you won't hear us complaining
Microgaming, IGT, Novomatic… all the biggest names in slot creation copy from each other, and from their own back catalogue, all the time.
Summertime is a copy of Agent Jane Blonde, which is a copy of Ladies Night, which is a copy of the brilliant Thunderstuck slot.
Actually, we're not sure which came first or last, but you get the idea.
NetEntertainment never copy their own games, they are all, more or less, pretty unique one to the other.
There might be similarities, but generally, they try to give each of their new mobile and online slots their own unique DNA.
Which is a little bit of a shame in our books. Don't get us wrong, too many copies and we'd be bored, but sometimes, if you do have a favourite game… it's nice to be able to switch to a different machine, and see if your luck might work out better there.
And at Leo Vegas casino, you now get a copy of what is possibly one of the greatest NetEnt slots of all time. No, not that one. The other one.
Vegas Party is Twin Spin with a new coat of paint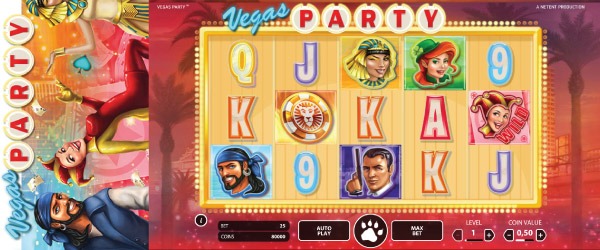 Bet you were expecting us to say Starburst right? Well, true enough, Starburst has it's brilliant moments, and it's popular the world over.
But in our opinion the Twin Spin slot machine is better because you can simply have the potential for bigger wins.
Leo Vegas Casino Stats
11 software
Instant withdrawals on weekdays
Award winning mobile casino
24/7 support
It's not as friendly to your budget unless you win big quickly, we grant you, but the highs are so much higher than with the star bursting game.
It is, we grant you, a simple slot machine. It has no free spins, no special features, just the ability to join the reels together so you get two, three, four or even five reels completely identical one next to the other.
And considering this is a 243 ways to win slot, if you get the right symbols, the payoff can be sublime.
So what's new with this exclusive machine?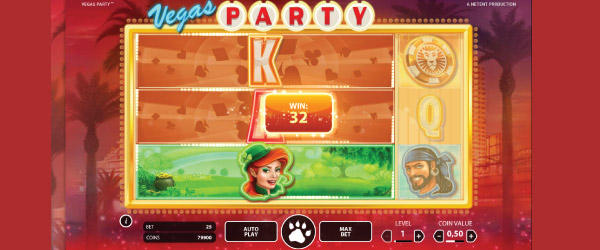 The theme and the way the 5 reels join up together.
Leo Vegas mobile casino, with it's bright orange theme, is probably the second most recognisable cool casino cat in the industry.
The first being our very own Lucky as you can see in the LuckyMobileSlots.com logo. Obviously.
That said, unlike Mr Green casino, they don't have striking images to bring to the table, other than that lion.
But, they have Vegas. They always have Vegas.
All the classic Vegas themes in one
The spin button is a giant lions paw print. The highest paid symbol is a Leo Vegas casino chip. And the theme is vaguely orangey.
Europe & Australia's friendliest mobile casino
Play in either GBP, AUD, EUR or Swedish Krona
But that's about all you'll notice that's particularly specific to this casino site. The rest are high card symbols and then… all the characters you'll find at most hotel casino lobbies on the Vegas strip.
Or all the characters you'll recognise from countless online slots if you've never been to the glittering city.
Cleopatra is joined by what we can only presume is James Bond, a lady leprechaun, a gay pirate and a joker jester as wild.
Yes, gay pirate. We presume. Going from the orange tan, the dazzling white teeth and the 'come to me' eyes. We may be getting mixed signals though.
Equally, whilst with Twin Spin the reels simply duplicated to become identical, here they elongate sideways, covering as many reels as they feel like covering (see images).
Leo Vegas exclusive casino bonus: 20 free spins no deposit
The offer has changed slightly. And by slightly, we mean it's exactly the same welcome offer, except you now get the free spins casino bonus on Vegas Party instead of Starburst.
1st deposit: 200% up to £€$50
180 free spins on Vegas Party (20 a day for 9 days)
2nd deposit: 50% up to £€$150
3rd deposit: 50% up to £€$200
4th deposit: 25% up to £€$300
Fans of Starburst may cry over spilt milk, so we can recommend you get 200 free spins at BGO casino to mend your broken heart.
A much better mobile casino bonus offer
Smart players, however, will recognise that this is an improvement rather than a downgrade.
The reason, other than your preference in game, is price and maximum win.
The price of one spin on Starburst is 0.10 a spin. The price of one free spins on Vegas Party is 0.25 a spin.
So already, the value of your spins has increased over twice the amount.
Then you have the fact that the maximum you can win in one spin during starburst is about 500x your bet. Vegas Party? An incredible 1,080x your bet.
To those trying to do the math, that means that the max you can win with one free spin on Starburst is $€£50 Vs Vegas Party, where the win in one spin could be as high as $€£270.
And you have 20 free spins to play with. Sure, it's a harder game. But then, it's much harder hitting, and with better wins. Go find out for yourself.
Start Playing at Leo Vegas »
Get 20 Free Spins No Deposit & 200% Welcome Bonus
T&Cs Apply