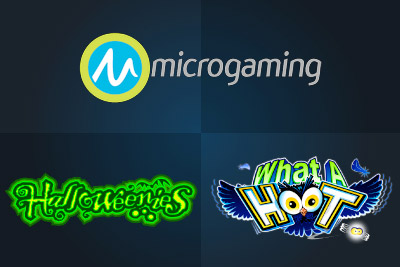 18+
When we saw two new slots from Microgaming will be coming out at the beginning of October we were not particularly excited. Yes, we might be becoming jaded in our old age, but it seems that Microgaming are adding mobile slots, for the sake of adding mobile slots. Where is the Dark Knight Rises mobile slot? Or the Sweet Harvest Mobile slot? No where, that's where.
They almost never have their latest releases, usually seeking deep into their old games to brush them up for mobile. It's like they want to be able to say that they have 'the largest amount of mobile slots' without actually being able to say that they are also the best. If NetEnt can release their feature heavy South Park Slot for mobile, then surely Microgaming can be a little daring too?
Why play it safe every time and release old games?
But, for now, our plea falls on deaf ears as we get old games turned into mobile for October. Here is what you can expect:
Halloweenies Mobile Slot – Out October 1st
A 5 reel, 20 payline video slot, Halloweenies is certainly not the prettiest slot at the ball. But we suppose that when your theme is evil pink bunnies, green skinned witches and wild candy, 'pretty' might not have been what you were looking for.
Still, it's bright and colourful, and has a maximum jackpot of £/$/€3,900 on the free spins rounds, which could tempt you away from your own candy this hollows eve. A low volatility slot, with free spins and click me feature, this little mobile slot will probably be fun enough. We hope that this plays a little like one of our favourites and only other 20 payline mobile slot: Avalon.
Update: The wait is over read our review of Halloweenies here, or start playing now at JackpotCity mobile casino.
What A Hoot – Out October 1st
We won't lie, when we say this slot name we got a little excited as we'd never heard of it, so we thought it was a brand new mobile and online slot. But no, it's in fact so old and so deeply hidden in the Microgaming range of over 300 online slots, that we'd probably never noticed it before.
It's a pretty enough 5 reels, 9 payline slot, with only wilds and scatters to keep you entertained – much like Carnaval or 5 Reel Drive. As such, this is likely to be a beginner slot or one for those who like simple classic slots and want to dip their toes in the 5 reel world. We just hope the betting range isn't changed in the mobile version, as they so often seem to be.
Update: What A Hoot is now out. Read our review here, or start playing now at JackpotCity mobile casino.
Fancy playing on some of the best Microgaming mobile slots? We can recommend for you two mobile casinos, Jackpot City and Mr Green, both superb operators with the whole range available.