Watch the Stunning Intro for the New Avalon II Video Slot
Avalon II will not be mobile at the moment. That we know. But we still can't help but get excited for what will be one of the biggest slot releases of the year.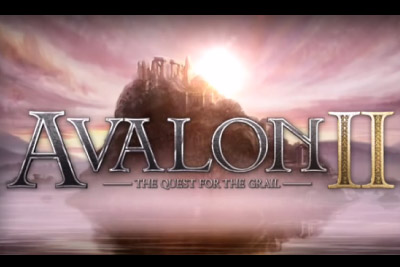 18+
It's not often that we break our rule of only talking about mobile slots. But every once in a while, an online video slot comes along that promises to be so exciting that you can't help but throw all the rules to the wind and run naked into the icy sea water of online casino games.
We've already shared with you a video of the 'making of' Avalon II. In that piece we broke down what you can expect from this new Microgaming slot and what we've learnt through our sources.
So we won't repeat ourselves here. This post is for one purpose only: to show you the stunning intro graphics for the new Avalon II slot, giving you an idea of the story, quest and visuals that you can expect from this new video slot.
2 Minutes Explanation of the Story Line in Avalon II
As usual, here is our 'expert' opinion of what we've gleamed from the intro:
We were right! There is going to a a 'quest' / progressive storyline that you unlock as you play.
We expected Morgan le Fay to be hot. But heeeello Merlin.
A 3D slot with graphics that are as stunning as any we've seen in Thunderstruck II – a good sign.
Not just 3D though, some of those backgrounds look carefully and beautifully painted.
They have ignored everything we know about King Arthur's original tale and made up their own.  The holy grail in Avalon? Giving the land it's power? Is that Arthur in Guinevere's arms? Shouldn't someone tell him she's a cheating ho?
We had a look at the tale of the Black Knight. Nothing conclusive, seems like he's just a general evil dude in Arthurian legends, interchanging depending on the story. Somehow we don't think this Black Knight will shout 'Tis But a Scratch!' if you manage to beat him.
"The journey will be long, filled with adventures and rewards" In our slot minds we are translating this as 'not gonna be easy to unlock all the bonus features', 'lots of different mini-games' and 'cold hard cash baby! Cup filled with gold… oh yeah…' We may, or may not, be reading too much into this.
So there you have it. Did you see anything we didn't see? Let us know in the comments below. We are as curious about this new slot as a monkey with a key, wondering if it could be the one for the banana plantation across town.
Too impatient to wait for Avalon II? The original Avalon slot by Microgaming is easily still one of our favourites and you should have a play to get you into the Arthurian mood. Guts is a great place to play your favourite Microgaming mobile slots.
---