After months of stuttering and stopping and starting, Yggdrasil Gaming are finally putting mobile first. All their new slot releases will, henceforth be both online and mobile slots, starting with their brand new game.
Now launched, The Dark Joker Rizes video slot is officially out at Yggdrasil casinos on both desktop and mobile.
Why are we making such a fuss? Because for a slot software that started so promisingly, first launching their incredibly successful Jokerizer slot and then Winterberries on mobile, they suddenly inexplicably, stopped.
They continued to release online games, don't get us wrong.
We saw Draglings, Cazino Zeppelin, and Reef Run all make appearances on the online casinos, but nothing on mobile.
It's like they started their life with lots of pep and love of mobile, and then ran out of steam and stopped caring.
Well, as of this new release, they have started caring again.
Get up to £€$700 Bonus
Play for longer with up to £€$700 in bonus money over your first 3 deposits at LeoVegas.
What this means for you
If you are in the UK, currently it doesn't mean much of anything for you.
Yggdrasil is still working on getting their UK licence together after the legislation changed back in November 2014, so at best you'll only be able to free play their slots on some of the casinos.
For everyone else it means you can expect one more online mobile slot game to show up every other month or so.
They are not the most prolific of casino games software, but Yggdrasil cannot be faulted for the quality of games they bring out.
They are mostly low volatility slots, but Casino Zeppelin, for example, hides some impressive wins.
What Yggdrasil gaming had to say
Fredrik Elmqvist, CEO of Yggdrasil, had plenty to say about this new development. However, most of it is aimed at the casinos, rather than players.
"The Dark Joker Rizes is a deep, truly feature rich game and is a sign of things to come as we start to migrate our content to the new HTML5 framework."
HTML5, for all you non-techies out there, simply means 'mobile friendly'. And when he says 'content', he means online slots.
And then he says…
…something, something, helping casinos market the slots better…
..ah ha! Here we are!
The interesting bit for players:
"Launching games simultaneously on desktop and mobile means… that our customers can be really creative with the ways they interact with and reward their players"
Do you know what that means? Yggdrasil's customers, are the casinos. And what they are saying is that they have found a way to help casinos reward you, the player.
Can anyone say free spins on Yggdrasil slots? That's right folks.
Love free spins?
Get 10 free spins no deposit on Jack & the Beanstalk at Vera&John.
Though we are reading between the lines, we grant you, but unless they plan on coming to your house and doing a song and dance number, we can't think of another way for the casinos to 'interact' and 'reward' their players using slot machines.
But we may be a tad too fond of mobile casino free spin bonuses.
Tell me more about The Dark Joker Rizes mobile slot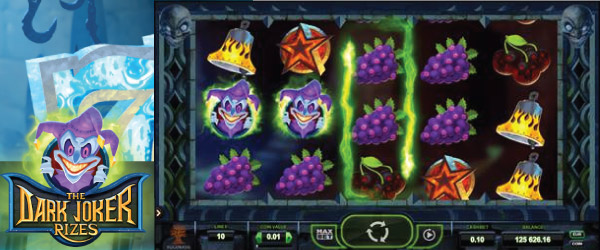 It's a pun, or play on words.
It's also the follow up slot to their light and happy Jokerizer slot machine.
But this new joker has a pretty wicked side, that makes it resemble, a little, the main bad, mad villain from Batman.
You can see how the conversation went over at, Yggdrasil can't you?
"- I need to come up with a new game idea, and I'm stuck. People love the Jokerizer slot… so let's make a follow up game.
– Sorry, what? I wasn't listening. Did you just say something about the joker rises?
– Wow. Brain flash dude. That's brilliant!
– It is? What is?
– Batman! Everyone loves Batman! And instead of the Dark Knight Rises, it will the the Dark Joker that rises! It's brilliant! *Runs off into the distance to get it signed by the CEO
– What just happened."
How this 5 reel and 10 paylines slot looks
All jokes aside, this is actually a pretty fun, energetic slot game.
Unless your Coulrophobic. In which case, don't worry you're not alone, and yes it's perfectly normal to be scared – the history of clowns is pretty horrendous.
Which makes the Dark Joker Rizes slot game a far more apt adaption of the theme, as you get Frankenstein-esque  fruits having been sawn up to stay together, fire blazing bells and a spooky green glow around the joker and the reels themselves.
If the first game was all "fun time at the carnival! Let's get some candy floss!", this slot is what happens when they murder the clown and leave the carnival to be haunted forever more by a dark twisted figure.
Some game stats
Min / max bet: 0.10 / 3
RTP:96.30%
Max win: 6,000 coins in one spin
The sounds during the base game are pretty unimpressive, but the energy of the game really goes up a notch when the jokerizer mode is activated.
The slot bonus games
Here's where it gets really exciting. Much like the original game, you have the famous jokerizer mode, where when you win anything you can put the wins to play on 'richer' reels.
Ie. More chances of winnings, and more jokers on the five reels.
The reason jokers are important is because if you get 3 in the base game, you'l get a mystery win. During the jokerizer mode, you only need two to get a big win.
The highest we've won on this bonus game feature is 200x our bet, but up to 600x isn't out of the equation.
You can also pay to get guaranteed extra joker and possibly, an additional free re-spin.
This is not a mobile slot for the faint of heart. You'll need to put back in a lot of your hard earned cash to get significant wins.
But if you know when to bet and when to collect, and have been playing on slots for a while, you can easily go Batman on this joker's ass.
Start Playing at Vera & John »
Exclusive: 20 Free Spins + 200% up to €100 First Deposit Bonus
T&Cs Apply