Every day for 2 weeks, when you play at Rizk casino on select Quickspin slots you could win a top prize of £€$15,000 or £€$2,500. Here's everything you need to know to climb this leaderboard.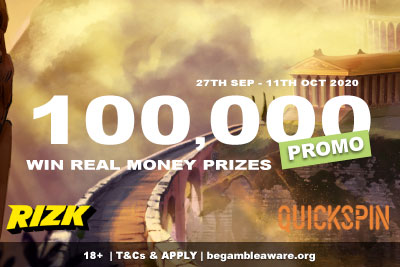 Expired
18+
For two weeks you can play on eight £€$5,000 Leaderboards or two MASSIVE £€$30,000 weekend Leaderboards and win any of 60 cash prizes.
That's a whole load of cash being given away by one casino and lots of great tournaments happening at Rizk Casino.
So how do you get on the leaderboard? The players with the highest single spin win amounts, comparative to their bet, on selected Quickspin slot games will get Leaderboard points.
The more points your get, the higher up the leaderboard you'll go, the more money you'll win.
The Quickspin Carnival at Rizk Casino
There's a daily slot tournament every day from Monday to Thursday. Then there's a big three-day tournament every weekend starting on Friday and ending on Sunday.
The first tournament starts on the 27th of September and finishes on the 11th of October. But no matter when you read this, if you head to Rizk casino today, there will be a tournament you can play, because there's basically one a day.
How this casino promotion works:
Play on the selected Quickspin slot machines, no minimum bet, and the top players with the highest multiplier spin win will get on the leaderboard.
There are 5 winners every day Monday to Friday, and 10 winners combined on Saturday to Sunday.
So how do you get the points? The bigger your win relative to your bet, the more points you'll get. So winning $10 from a $2 bet will win you 5 leaderboard points. However, if you win $10 from a $0.20 bet, you will win 50 leaderboard points!
Why? Because the first win is 5x your bet, whilst the second win is 50x your bet. See the correlation?
What you can win Monday-Thursday, every day:
That's real cash prizes, so everything you win you get to keep.
£€$2,500
£€$1,000
£€$750
£€$550
£€$200
It's not as impressive as the weekend wins, but you are more likely to win during the week because there are fewer players playing.
Deposit €100 Play With €200 + 50 Free Spins
Get a free Wheel of Rizk bonus spin plus up to €100 bonus and 50 free spins on your first deposit
18+ New customers only. Wagering and Full T&Cs apply.
What you can win in the weekend tournaments:
The top prizes here are bigger, but that's because you are competing for over 3 days, from Friday to Saturday.
£€$15,000
£€$7,500
£€$5,000
£€$1,000
£€$600
£€$450
£€$225
£€$100
£€$75
£€$50
Again, all real money cash prizes that is yours to keep, whether you want to withdraw that 15,000 and buy yourself a new kitchen, or just play the 50 at Rizk casino to win on slots.
Any T&Cs to watch out for?
You need to play on a selection of Quickspin games and it has to be real money, not casino bonus money. The good news it hat it doesn't matter how much you bet on the machine, as long as you play with all paylines turned one.
In total the following amount of cash will be handed out:
Mon – Thu (daily): $5,000
Fri – Sun: $30,000
And you'll get your cash the next day after the tournament ends. (So on Thursday for the Wednesday daily tournament, on Monday for the weekend tournament).
The Quickspins slots you should play:
The good news is that you can choose from a wide selection of games. If you know your Quickspin games from your Microgaming slots, then you should be able to scan this list and find your favourite:
Arcane Gems
Artemis vs Medusa
Big Bad Wolf
Eastern Emeralds
Golden Glyph
Ghost Flyph
Goldilocks
Nero's Fortune
Sakura Fortune
Sticky Bandits
Sticky Bandits: Wild Return
Tiger's Glory
Wild Chase
But of course, if you want a little help in picking the right game, here are some of our favourites.
The high variance games with huge wins
Two games stand out from the list above. The first is the one machine with the biggest wins is the Tigers Glory slot where you can win 13,830 times your bet.
So if you are looking to go right to the top, then that's your game. The next contender who might just get close is the Nero's Fortune video slot with a top win of 8575 times your bet.
Of the two, we have to admit that we hold a soft spot for Nero, mostly because we love the cluster wins, the avalanching reels and huge multipliers.
But these are very volatile games, meaning they can be a little harsh on your wallet.
Some fun alternatives where you can still win big
Just because these two games can win you over 8,000x your bet doesn't mean that you will. If that was the case we'd all be millionaires by now.
So there are so medium variance games that can help you get to the top of the leaderboard and might give you a little bit more fun, especially if you like quick action games.
One of those is the brand new Ghost Glyph slot where you get avalanching wins that cause any one of four features often, and leads to some great free spins. The top win is a little over 2,000x your bet.
If you read our Arcane Gems slot review, you'll see that not only can you win over 5,000x your bet, but symbols pay anywhere on any of the 9 paylines and you can get up to 5x multipliers in the base game.

Win big and then win even bigger
There are not many casinos that reward you for winning bigs on slots. Well, right now you have Rizk casino are doing just that over the next couple of weeks.
The bigger you win, the higher up the leaderboard you climb, even if you are betting 0.15 on the Sticky Bandit slot, or 100 a spin on the Artemis Vs Medusa game.
Better yet, you get to be introduced to a wonderful gambling site that keeps things fun all year round, are fully licensed by the best gaming authorities and will surprise you in the best possible way.
Time to get playing.