Who doesn't love playing slots and winning random amounts of cash? No, not on the slot paylines silly… this promotion is all about surprise money in your account.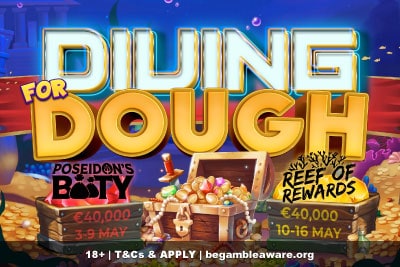 Expired
18+
There are 640 cash prizes being given away at Casushi casino between now and the 9th of May 2021.
The prizes range from as little as £10, to as much a £5,000, but the total is a huge £40,000 in cold hard cash.
This is a UK casino promotion because Casushi is a fun and quirky UK gambling site that stands out from the crowd. With its fun Japanese Kawaii theme and more mobile slot games than you can play in a day, it's a great place to spin.
If you were thinking of trying a brand new British casino, then this weekend you may want to try a site that gives you £40,000 cash prizes.
Start Playing at Casushi Casino »
Diving for Dough with Casushi Casino
So how exactly do you win one of these random cash prizes?
You play any bet size on any of the following Yggdrasil slot games:
Atlantean Gigarise, Holmes and the Stolen Stones, Jackpot Raiders, Valley of the Gods 2, Lucky Neko, Dwarf Mine and/or Vault of Fortune.

Think of every spin you take as a lottery ticket. Any spin could trigger a random cash drop into your account, and we are not talking about the wins and losses in the game.
We mean that literally, a bolt of lightning will strike your casino wallet and you'll get £10 or £5,000 instantly.
How much can I actually win?
There's a whole load of prizes, and £40,000 is no mean sum, but there are some that are better than others.
1 x £5,000
4 x £2,500
5 x £1,000
10 x £500
20 x £100
100 x £50
200 x £25
300 x £10
These are real cash prizes – no wagering requirements, no tricky T&Cs at least not with the cash won.
Are there any tricky T&Cs we need to watch out for?
We have to mention how the money is won. Because it's won over the period of the whole campaign, and they can win at any time, you may wonder… how many prizes are left by the time you join?
And what's the point in playing if the top prize is gone?
Well, the good news is that when you open up any of the games, you get to see how many prizes are left, and that board updates every 60 seconds.
The next bit of good news is that the three most valuable prizes will be award in the final period of the campaign – or the last 5%.
So as there are 168 hours in one week, the last 9 hours will pay out the top three prizes. In other words, Sunday is the day to play to get lucky.
Play Slots at Casushi Casino »
What's the best Yggdrasil game to play?
We are big fans of all the Yggdrasil slots online, and most of the selection is good enough that you don't need an incentive to play.
But if you want our opinion (we do review slots online you know) we'd have to say that we do have a few favourites.
Atlantean Gigarise is the crown in the jewel, mostly because it's the brand new game that Yggdrasil wants you to play. Why? Because it's got jackpots where you could win tens of thousands, and the reels rise and expand to give you multiple ways to win on every spin.

However it's not the only one that caught out eye. If you want something a little easier to play, we would also recommend the jackpot games of Holmes and the Stolen Stones slot (with millions in the jackpot) and the Jackpot Raiders game with its crazy bonuses.
Sometimes the easiest path is not the best path
Because this is a lottery of numbers, you might as well play games that also have huge top wins in the paytable.
In which case we have to recommend the Valley of the Gods 2 slot machine, with 33 ways to win which expands on every win, giving you up to 20160 win ways and lots of respins.
Finally, if you are into something a little bit different, you should play the Lucky Neko slot game, which has a huge Gigablox that can cover two or 3 reels, with free spins where the symbols can payout 5x their value,
Is Casushi casino any good?
We like Casushi. It's quirky, it's fun, it has a unique style, and (more importantly) it knows the reason you come to play at casinos is to play on the best games.
So you get the best Microgaming slots to NetEnt to IGT slots and more. And you also get clear terms, easy-to-understand bonuses, and friendly customer service. It's an excellent Yggdrasil casino.
They may not be fancy pancy with a million different sports bets or loyalty games, but they provide a fun easy to use online and mobile website where you'll find all your favourite games, and where someone is always at hand to help.
Start Playing at Casushi »
100% up to £50 + 50 Free Spins
T&Cs Apply