Unfortunately Hyper Casino decided to end the 10% Cash Back offer on 1st September 2022, replacing it with more frequent promotions and the chance to get free spins, deposit bonuses and more. If you're in the UK you can still get 10% Cashback at All British Casino.
Every time you play at Hyper Casino, every deposit you spend will be added to your Always 10% Cashback wallet. It's real cash, it's on every deposit, and it's one of the reasons this casino shines.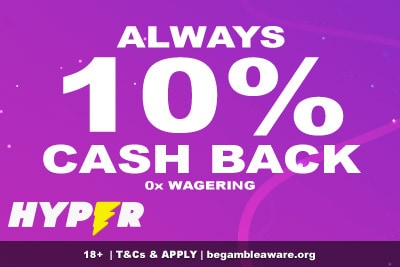 Expired
18+
When deciding which is the best online casino site for you, this cashback offer from Hyper Casino might just sway you.
Not only does this casino look good on your mobile, with many brilliant slot games for you to play, but you can also even get 10% cashback on all of your lost deposits as well.
So, it goes without saying that it is arguably one of the best online casino sites out there these days.
Whilst 10% cashback does seem too good to be true, and lots of people will be questioning what the catch might be, this really is as straightforward as it sounds.
There are some terms and conditions, of course, which is why we are here. To help you get your head around this new feature for registered Hyper Casino users, we have covered everything you need to know below.
What is the Hyper Casino offer?
Simply put, Hyper Casino is now offering all account owners 10% cashback on all of their lost deposits.
When they say 'cashback' they really do mean that: you will get some of your own cash given back to you as real cash.
They aren't going to be giving you money as an online casino bonus, it really is cold hard cash with a 0x wagering requirement for you to spend however you would like.
How do you get the Hyper casino cashback?
All you need to do is log into your account and choose 'cashback' or visit the 'cashback page' and you will then have the option to get the 10% cashback on all of your lost deposits. It really is that easy.
You will, however, have to wait for 24 hours after your initial deposit to activate your accumulated cashback.
Make a deposit
Play a few slot games
24 hours later you will be able to get the 10% cashback on lost deposit
If you win big and withdraw, you won't be getting the 10% on that. Only on deposits fully spent at the casino.

Claim your cashback when you need it
It is worth pointing out that you don't have to claim the cashback straight away after the 24 hour period, you can wait a while if you'd like to.
You may find you want to activate your cashback once a week or once a month instead, for example.
Your balance will need to be below €10 in order to claim the cashback (or the equivalent in other currencies such as GBP if you are playing at the Hyper UK casino).
In short, remember to claim before you make a new deposit or you'll have to wait until you've spent enough to activate what you've accumulated again with that new deposit.
Does it work on all deposits?
You will be able to get the 10% cashback on any deposit at Hyper Casino, as long as there isn't a bonus connected to the deposit, such as as the Hyper deposit welcome bonus for example.
The cashback will start to be calculated the first time you make a deposit and any additional deposits you make thereafter will then be added to the counter.
Who can benefit from the 10% cashback offer?
Ultimately, this offer is available to all registered players at Hyper Casino. So, as long as you have an account, you're able to get 10% cashback.
Just remember to ensure that if you're new to this casino site, you're setting your account up correctly and verifying everything required before attempting to deposit or withdraw.
Making the most of Hyper Casino's 10% cashback
There really is no denying that this is a brilliant new feature provided by Hyper Casino. There's no denying that there can be a little bit of disappointment at the end of a session if you don't walk away with a win.
Not always, but sometimes.
Getting 10% cashback from all of your losses will give you another chance to hit the jackpot and win big, so there really is nothing not to love about this offer.
It certainly takes away that edge to playing casino when a gambling site promises to give you your own money back, no strings attached.
Hyper casino is a fun new site to play
When looking for the best online casino sites, it is definitely worthwhile bearing in mind the difference 10% cashback will make to your bankroll and overall gameplay.
But that's not the only reason you should sign up.
Hyper Casino also provides:
Instant customer service
Fantastic slot games
Generous welcome bonus
Variety of deposit options
Licensed in UK, Malta & Sweden
And an easy to use gambling site that pros and newbies will enjoy.
Start Playing at Hyper Casino »
Get 20 No Deposit Free Spins + 100% up to €100 1st Deposit Bonus
T&Cs Apply