Happy Birthday Lucky Mobile Slots! It's been two glorious years, and we are celebrating by giving you our readers, from Facebook to Twitter to loyal fans, the chance to win 2,000 free spins.
Courtesy of the brilliant mobile casino Leo Vegas, you have a chance to exclusively win:
250 free spins every week.
Plus 1,000 free spins at the end of the month.
We should point out that this is on TOP of the already generous welcome bonus of 20 free spins no deposit on Starburst when you register.
Then, you'll get:
Triple your money on first deposit at the casino.
A further 180 free spins. Because you might as well go big, or go home.
2 more deposit bonuses, giving you a total of £1,000 / AUD$€700.
Click here to register for free »
If that's not enough, from now till the 3rd May 2015, when you make one deposit of €£$20, and play it once, you get one ticket to our exclusive draw to win 250 free spins, and one ticket to the huge 1,000 free spin drawn at the end of the month.
We should point out that Leo Vegas doesn't give away exclusive bonuses often. This is your chance to get extra at one of the biggest and most exciting casinos around.
Happy Birthday to us! Now where's the cake and champagne?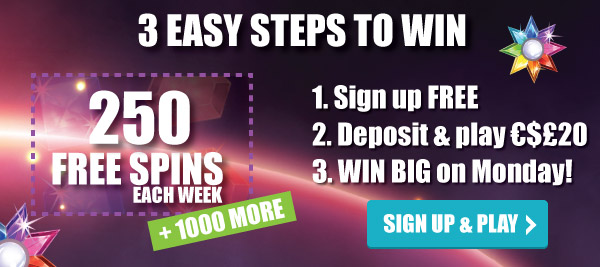 Wait, wait, wait… that can't be it surely?
What? Still here? Damn.
We'd just opened the champagne and everything.
Ok fine, you smart, clever person. Clearly you're aware that as this is a casino promotion, there will be a few T&C's to watch out for.
However, if you're the Sherlock in the room, or have been reading our little casinos and slots review site for a little while, you should know that we are always brutally honest.
So when we agreed the terms of this promotion with Leo Vegas we tried to make it as fair as was possible.
Keypoints about Leo Vegas
14 Casino Software
Over 200 mobile slots
Cashout in 24 hours or less
GBP, AUD, EUR, SEK
Why 2,000 free spins?
Because 2015 is the second year since two bored UK casino players woke up one day and went:
"Hey, wouldn't it be cool if we wrote about all this stuff for a living? And, like, get freebies from the casinos?"
And it just so happens that our preferred method of playing was on tablets and mobile phones.
We didn't think when we started this slots site that we would be doing this full time within a year, never mind on our second year. Yet here we are. So for two years, you need 2… thousand glorious prizes.
But really, we wanted to allow more than one person to win something over the course of the month. Because if there's one thing we like to do, is spread the love.
Plus seeing as Leo Vegas casino already gives 200 free spins as a welcome bonus, we couldn't give any less than that, could we?
Sure, but you didn't need to pick Leo Vegas
That's true. Perhaps if we'd gone to another mobile casino we would have been able to give you tons of no-deposit mobile casino bonuses, like candy raining down from a birthday piñata.
But you know what? Leo Vegas already gives you 20 spins on Starburst, without you having to drop a cent.
And if we've learnt anything in our two years is that quality and honesty is the most important virtue.
We might not have the readership of The Times newspaper, but our readers, once they find us, keep following us because of it.
So we thought it would only be right to do a birthday celebration at a casino site that we play at regularly and enjoy. One we think is worth playing at, with or without grand prize of 1,000 free spins at the end of the month.
2,000 free spins on Starburst, hey? Original much?
Look, we get it. Starburst free spin bonuses are a dime a dozen.
€700 / £1000 Leo Vegas bonus
20 free spins
200% on your first deposit
180 free spins on Starburst
50% on your second deposit
50% on your third deposit
25% on your fourth deposit
But you know why?
Because despite years of new slots games, it is still one of the most popular online and mobile slots, certainly from NetEnt, and arguably, in the online casino world.
We asked. We want it to be something like the brilliant Twin Spin (a close second) or even, in a hopeful way, the new Spinata Grande slot which we are thoroughly enjoying at the moment.
But no.
The majority of you still love the Starburst slot machine, and so the free spins will be on that dazzling gem bursting game.
Any tricky terms and conditions to watch our for?
So we have to have a legal bit. Namely because this is our giveaway and… something… something… lawyers…
We were listening, but then we opened the champagne and things got fuzzy.
So instead we got them to write it all down for us, because we're lazy like that.
The T&Cs of this casino free spins bonus
The campaign is open for players that opened an account with LeoVegas through Lucky Mobile Slots or Lucky Mobile Casinos.
Make a minimum deposit of €$£20 during 06/04/15 and 03/05/15 to get one raffle ticket for that week, and one raffle ticket for the month.
The competition runs from 6th of April until the 3rd of May. The draw of the 1,000 Freespins will be held on 4th of May 2015.
One lucky winner will be drawn every week, on Monday, who will receive 250 Freespins on Starburst .
For a ticket to be valid, the deposited amount must be wagered once during that day.
LeoVegas reserves the right in its sole discretion to alter, take back or cancel the competition.
The general terms and conditions of LeoVegas.com apply.
LeoVegas reserves the right to alter these T&Cs at any time and for any reason whatsoever at its sole discretion.
What this means for you:
Basically, the thing to take away from this is that you will need to wager 20 in cash on the day you make the deposit.
Equally, these are free spin bonuses. So you'll have to wager any winnings, from the 1,000 or the 250 free spins, a total of 35 times before you can withdraw the money.
Like we said. Leo Vegas kept it simple and clear, to give everyone an equal chance to win.
It's one of the reasons we like playing there. Huge selection of casino games, great welcome bonus, and a straight-up honest casino.
Start Playing at Leo Vegas »
Get 20 Free Spins No Deposit & 200% Welcome Bonus
T&Cs Apply