Go Wild Casino have added a brand new mobile specific promotion where you can get 70 slot free spins on the brilliant Avalon every week. What & how?
If you are a fan of Go Wild casino already, you should know that what we are talking about here isn't their usual 'Wednesday Deluxe' promotion.
This is the mobile Wednesday deluxe casino promotion. And yes it's slightly different.
But the short and long of it is that they are providing all their players with an alternative, if on a Wednesday, you can't get to your desktop computer, because life gets in the way.
Before we begin we should point out that this bonus offer is only available to returning players who have at least made one deposit at the Go Wild Microgaming casino.
It's a weekly bonus to reward those who choose to play here.
What is the Mobile Wednesday Deluxe Offer?
Basically, it's a chance to claim 70 free spins on the brilliant original Avalon slot game.
Sure, it's not one of Microgaming new slots, in fact it's what we would call 'retro'. But it's still great fun, especially if you manage to catch that 7x multiplier on the free spin games.
However, getting this slot bonus does come with a few requirements. They're not gonna hand out that kind of bonus every week to every Tom, Dick and Harriet.
Try Avalon For Free
Get your 15 free spins no deposit bonus at Go Wild.
Make €$100 in deposits in one week
Actually they totally are. As long as Tom, Dick and Harriet have 100 in cash to spend at the casino that week.
From the start of Thursday to the following Wednesday, Go Wild casino will start taking note of all the deposits you make. If over the course of the whole week, you deposit 100, you'll be able to get your 70 free spins on Avalon.
Each and every week.
For hardcore mobile players only
The thing to watch out for is that the deposits have to be made via the Go Wild mobile casino.
If you make a deposit at the online casino site, it will still count… but towards the normal Wednesday Deluxe offer. And those spins you'll only be able to claim online on your desktop or laptop.
Think of it as two pots; if you deposit 100 online, you'll get 100 free spins on Break Da Bank. If you deposit 100 on mobile, you'll get 70 free spins on Avalon.
If you deposit 50 online and 50 on mobile… you get nothing at all.
How to claim this Go Wild Bonus
It's easy enough. You simply get in touch with the Go Wild team and ask for your spins to be added to your account.
If you play predominantly on your mobile, then you should know that the two options to get in touch with their team is either via email or phone call.
Live chat is only available on desktop, though you can ask for them whilst you are on your computer (cheeky 5 minute break at work?) and then on the way home, play your spins on the bus.
Not that we've done that. Ahem.
Some T&C's to keep in mind
The 70 spins on Avalon is a mobile free spins bonus only.
So you can ask the Go Wild team whilst you are online to add the spins to your account, but you'll only be able to play them once you log in to their online casino site.
There is a 50x wagering on any winnings made using the free spins and you can only claim this offer once a week.
So if you make 200 worth of mobile deposits, you still "only" get 70 spins bonus that week.
So which is better? Mobile or online?
You may have noticed, if you read our post carefully (why wouldn't you?), that for the same amount of deposit, you get more free spins on the online version of this promotion, than on mobile.
But do you really?
3 Deposit Bonuses + 150 Free Spins
100% up to 200 + 50 free spins
50% up to 400 + 50 free spins
50% up to 200 + 50 free spins
The online game is Break Da Bank Again, which at 100 spins at a minimum bet of 0.09 over 9 paylines = €$9 worth of bets.
Avalon slot, on the other hand, is a 20 payline slot. Which at minimum bet, costs 0.20 a spin = €$14 worth of bets.
So already, on less spins, you get almost twice as much value in bet worth.
And whilst we have nothing against Break Da Bank Again (we gave it a decent 3 stars in our mobile phone slot reviews) it doesn't compare with Avalon in terms of style and wins.
So for us, the choice is clear, and which offer is better is a no brainer.
Plus, nothing stopping you from making a deposit using your mobile, an easy thing to do once you set up your preferred payment method, and then turning the laptop on if you fancy an evening online gambling.
Just saying.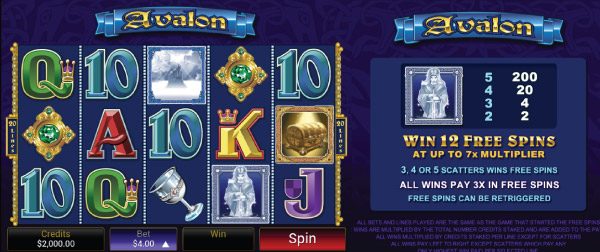 Still not sure? Here's an Avalon no deposit bonus
Of course, if you are brand new to Go Wild mobile casino, you may still have doubts whether you'll want to spend 100 at their casino site on a weekly basis. Or even one week in a month.
It could be that you haven't played Avalon, or you haven't played it in ages to remember if it's as good as we say.
And hey, there's so many brand new jazzy slot games with the likes of Games of Thrones mobile slot taking all the glory, that you might not want to make a real money bet on a video slot you barely recognise.
That's ok. As a reader of LuckyMobileSlots.com you get an exclusive 15 free spins no deposit bonus on… yeap… Avalon!
Isn't that just handy? Try it now for free.
Start Playing at Go Wild »
Exclusive 15 Free Spins + 100% up to €$333 Welcome Bonus
T&Cs Apply