Netent's new Stickers slot is sure to be a hit. Don't believe us? It doesn't matter. It's why we've got you some Stickers free spins to try out this slot on its official release.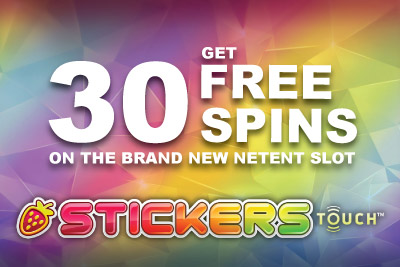 Expired
18+
So, we've been messing around over at Royal Panda mobile casino lately.
It's what we do, we test out new venues and tell you about them either in our casino promotions news at LuckyMobileSlots.com or write in more details at LuckyMobileCasinos.com.
Hey, it may sound like fun playing casino games all day, but really it's hard work…
Aaaanyway… As we were saying, Royal Panda casino. They gave us an exclusive bonus of 10 free spins on Starburst + 100% up £€$200 so you can try out their platform.
And if you were thinking about it, today is a perfect time to do it. Because, for your troubles, you'll get an easy 30 free spins on a brand new NetEnt slot we love.
Here's the full bonus offer and a little more about this Net Entertainment slot machine.
Why you need to act today
There are actually two parts to this mobile casino bonus.
The one you get if you've made a deposit before the 21st of May 2015 (the official release of the new Stickers slot), and the one you can get on the day of launch itself.
The mystery free spins and an additional 25% bonus
Every RoyalPanda casino player who has made at least one deposit in the last six months will have free spins waiting in your account. How many? We don't know, they are keeping that info quiet.
The International Royal Panda
Play in GBP, EUR, USD, CZK, PLN, MXN, SEK and BRL.
But at least 10 or 20 free spins.
Which is why, if you haven't already done so, you should make your first deposit before hand.
Hey, they didn't say it had to be a loyal player right? You can just sneak in there.
Plus, you'll also get a little extra, if you want it, of a 25% reload bonus up to £€$250 in bonus.
So you can deposit all the way up to 1,000 and then get the full bonus of 250… or if you are like us, deposit a more conservative 100, and play with 125.
How to get the easy 30 free spins on Stickers
If all the above sounds like too much work, or maybe you've played your free spins and reloaded your casino account, then we've got great news for you.
If you make a minimum deposit of £€$20 in cash on the 21st of May, you'll get 30 free spins added to your account.
That's on top of the bonuses you got from having made a deposit yesterday by the way.
Though this free spin casino bonus is open to all – new and old players. So even if you haven't heard of Royal Panda till today, make one small deposit and you'll get Stickers free spins.
Why you are going to want play
We got to test out this new NetEnt slot a week ahead of time.
And, without giving too much away, we gave it five stars.
Top Reasons to play at Royal Panda
NetEnt & Microgaming casino
Live mobile casino available
Exclusive no deposit bonus
24 hour cashouts
Unique loyalty program
It's not complicated, it doesn't have beautiful graphics like the Aliens slot, or tons of interesting bonus features like in the South Park machine.
In fact, it would be so easy to dismiss it as just another fruit machine, and pass it by for another of the NetEnt mobile slots.
But that would be a mistake.
One big feature that keeps on giving
Stickers is bright and colourful, and has symbol that resemble bubblegum fruit stickers.
Don't know what those are? Then clearly you don't remember picking out penny sweets from the corner shop. There would always be the one gum stick, where if you remove the package, would hide simple stickers.
Animals, fruit, they rarely lasted longer than a couple of minutes on anything that wasn't made of glue.
So you won't be playing the new Stickers slot machine because the theme is particularly thrilling, though we'd argue that it is, at least, very charming.
No, you'll be playing because every time a wild shows up on screen, it remains sticky and gives you one free re-spin, until no more wild symbols show up.
Which means that 30 free spins is more like 50 free spins
We are really going to hope that Royal Panda don't read this ahead of them launching this promotion.
Reason being, they might not have realised how often those sticky wilds show up on screen or how many free spins they've actually given out. And we are lowballing with the 50 free spins.
You know how in the Jack Hammer and Jack Hammer 2 slot you get sticky symbols and they just keep on popping in the screen till you get a blaze of wins?
Well it's far more effective here, with the wild symbol providing you with multiple wins over the 20 paylines, not just with one symbol, and just re-spins that keep on coming… at no extra cost to you or your bonus.
Add a top prize win of 500 times your bet, in a single spin, and we almost want to say that this little beauty will be as popular as Starburst.
Time to see if we are right and get an easy value for money free spin bonus on the Stickers Touch slot.