Guts casino have created a unique slot tournament for Halloween where you can win a slice of £€$6,000 in spooky gory cash. All you need to do is play and claim free spin casino bonuses.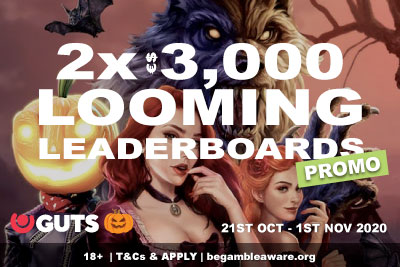 Expired
18+
GUTS Casino have two £$€3,000 prize pools for all Vampires and Werewolves to gorge on, allowing you to play slot games, claim free spins, and climb leaderboards.
Opt-in and then deposit £$€30+
Play on the tournament games
For every £$€10 you wager you'll get 3 free spins
The player with the highest win from the 3 spins gets on the leaderboard
The first tournament runs from 21st to the 26th of October, whilst the second tournament runs from the 27th October to the 1st of November.
If you know nothing else, you now have the basics. But if you only wanted the basics, you wouldn't be reading our casino promotions post. You want to know all the details, the good, the bad and the ugly.
How the GUTS Casino Looming Leaderboards work
One you have registered to GUTS casino online, you have to opt-in to the promotion via the promotions page. If you don't, the spins you take in the casino using your deposit won't count.
So if you want to get involved in this slot tournament online, opt-in straight away.
How to get your up to 20 batches of free spins a day:
You need to deposit $€30 in cash, and then for every £€10 you wager, you'll get 3 free spins.
With 30 in cash, you can probably make at least 50 in wagers on average, giving you 15 free spins in total. But that's if you get lucky and don't burn through your €$30 too quickly.
The maximum amount you can claim every day is 20 batches of 3 free spins. You can, of course, make a bigger deposit and guarantee your free spins. In total, if you deposit and play every day, you could walk away with 720 free spins.

The games you need to play to get your free spins:
Of course, this is a slot tournament, and to make things fair, Guts casino is giving you a choice of games for all players to pick from.

You can swap and change between any of these games, but your €$30 needs to be played on this selection to get your free spin bonuses.
How the slot tournament works:
So you got your free spins, now what do you do? You play your free spins on the tournament game. Whether you've got 20 or just 3 to spend on any given day, it doesn't matter.
These are the games that you'll get to play your free spins casino bonus.
Games Week 1 (21st – 26th)
21/10/2020 – Wild Blood
22/10/2020 – Wild Blood
23/10/2020 – Wolf Hunters
24/10/2020 – Wolf Hunters
25/10/2020 – The Wolf's Bane
26/10/2020 – The Wolf's Bane
Get 100% up to €100 Bonus + 100 Free Spins
With no wagering free spins, this welcome package offers you a great way to test out all that GUTS casino has to offer
18+ New customers only. Wagering and Full T&Cs apply.
Games Week 2 (27th – 1st)
27/10/2020 – Lucky Halloween
28/10/2020 – Lucky Halloween
29/10/2020 – House of Doom
30/10/2020 – House of Doom
31/10/2020 – Blood Moon Wilds
01/11/2020 – Blood Moon Wild
How to climb the Leaderboard:
The player with the highest return from those 3 free spins will climb highest on our leaderboard.
Basically, if you get 15 free spins, your three highest wins will be calculated together and that's your total on the leaderboard. And by the highest win, it's all relative to your bet size.
So if you bet 0.10 a spin, and win 100, you'll get more points than if you bet 1 and win 100. The first person just had a bigger win, relative to their bet size.
How much can I win each week?
The total being given away over the course of two weeks is $€6,000 in cash – or €$3,000 on each week.
These are real cash prizes, so no casino wagering requirements to calculate. Each week you can win:
$€800
$€600
$€300
$€200
to 15: $€100
Is it a huge amount? Maybe not. But is it a nice amount to get just for playing on some great Halloween slot games? We think so.
Why you should play at GUTS casino:
We love GUTS casino. It is one of our favourite slots sites for many good reasons, mostly because they keep their terms simple and clear, and they make it easy for you to play on your favourite games.
If you don't believe us, how about the fact that anything you do win using your free spins is yours to keep. Not only are the cash prizes wagering free, but so are the free spin bonuses.
This is a great Halloween free spin casino promotion where all you need to do is deposit at a great casino online, play on some great spooky slot machines, and claim some free spins.
If you win big using the free spins, you win even bigger. What's not to love?
Start Playing at GUTS »
Get up to 100% up to €$100 Bonus + Game of GUTS Reward
T&Cs Apply