How can a raffle promise a prize every week? Surely that defeats the points of a raffle? We take a closer look at this November Guts casino promotion.
There are three parts to this Guts casino 'Spinnin in the Rain' promotion:
Wager gives you points towards the weekly random 10,000 cash draw
Points gets you in the leaderboard to win cash prizes
Points also gets you guaranteed free spins every week
Part 3 is the one we want to focus on. Because part 1 is all down to luck, and part 2 is all down to how much cash you have to spend.
Part 3, however, gets you tangible casino rewards and, if you do it right, possibly one of those cash prizes we've mentioned.
You get points for playing on all Guts casino games
Before you run away thinking that you need to own a small island in order to get yourself a few extra bonuses this month, let us explain how this works.
You get one point for every £€$10 you wager on slot games at Guts casino this November.
Get 20 No Deposit Spins on NetEnt Slots
Sign up for free to Guts and get your exclusive no deposit bonus
Collect 10 tickets in a week and you get bonus spins
Which, the mathematicians in the room, would have figured out as £€$100 worth of wagers.
But a wager is not a deposit. A wager is simply a bet on a slot machine on mobile or online. Every little win you get and play back counts.
In reality, worse case scenario, you can actually make £€$100 worth of wager on at least £€$50 of weekly deposits in real money.
Often less if you are lucky, but we are being conservative on purpose, to avoid anyone trying to do it on £€$25 and telling us it's not possible.
The free spin bonus slot game changes each time
Every week at Guts this November, you can get free spins if you make £€$100 worth of wagers.
How many, and on which slot game, changes week by week, because Guts are anything but boring.
The good news is that they have one of the best, and biggest, selection of mobile casino video slots, so chances are good that it's on something worth playing.
Certainly a couple will be on some of the best new phone slots of 2017.
The free spin bonuses come with no wagering
That's the best news of all; even if the game sucks, if you win, the cash you get is real money.
So you don't have to wager it a million times, it goes straight into your pocket, or you can use it to keep playing and win even bigger.
It's why we love Guts casino. Their terms are simple and fair.
Your chances at the weekly 10K cash leaderboard
Of course, the free spins are actually meant to be a consolation prize for not winning cash on the weekly leaderboards.
Personally, we think they are they main course, because the problem with a raffle, is that there are no guarantees of getting any wins.
But, you can't deny that the prize pools are tasty.
Get Your Exclusive 200% Bonus
Get up to 200 extra bonus money on your first deposit at Guts casino.
1. The random weekly cash raffle
Every week in November there are casino cash prizes to be won at Guts, thanks to this random raffle.
As with the free spins, you'll need to collect 10 tickets, or wager £€$100 on slots, to get a raffle ticket.
The new 'week' begins every Wednesday, so bear that in mind when you start playing.
But, if you are lucky, you can win as much as £€$4,500 to as little as £€$5. Luck is a funny thing that way.
2. The month long leaderboard competition
This is the part of the promotion we are least comfortable with, but if you have the cash to splash, is worth knowing about.
Basically, this leaderboard gives away £€$10,000, just like the weekly one, but instead of splitting it by luck, it's split by points.
So the person with the most points over the course of the month will win the top prize of £€$4,500, whilst 150th place will get £€$5.
Basically, the person willing to spend the most, or wager the most, wins.
And whilst the money is real money, not casino bonus money, it's never worth spending more than you usually would, making this competition solely for high limit slot players.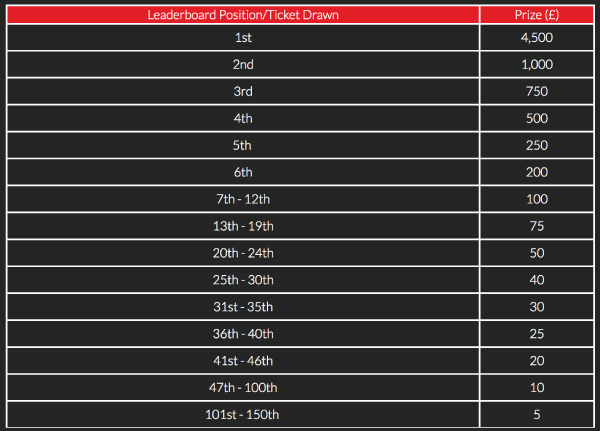 Is this Guts casino promotion any good?
Bearing in mind that all you need to do is wager around £€$40 to £€$50 on slot machines a week to get free spins…
Yeah, we'd say it is.
Of course, you have to be a fan of Guts and their games, but that's why you have 20 free spins exclusive bonus to try them out.
If you don't like it there, don't play. Try the similar Leo Vegas 200K competition.
Play on some of the biggest slot machines online
Whilst it is possible to get points by playing live dealer games, table games, or classic slots, there's a reason why we've only really mentioned online video slots so far.
Video slots give you 1 point for £€$1 spent. The same $1 spent on classic slot, only gives you 0.75 of a point, whilst live dealer games would give you 0.10.
In short, stick to video slot machines if you want free spins at the end of the week.
Or don't, and if you get lucky, you'll have a bonus – just play because Guts is a great casino.
Top Games at Guts
Pink Elephants
The Phantom Of The Opera
Book of Dead
Mermaid's Diamond
Jack Hammer
Mega Fortune
Microgaming, NetEnt, Novomatic, IGT, Play'n GO…
The good news is that when it comes to video slots, Guts mobile casino have one of the best selections.
From the iconic Thunderstruck II, to Raging Rhino, Starburst, and Book of Ra; chances are if you can think it, they have it.
Add a few up and coming software providers like Yggdrasil Games, Red Tiger Gaming and Thunderkick slots, and there's also plenty of surprises.
Try them today, without making a deposit
20 free spins on a superb selection of NetEnt slots don't come around often.
And with Guts murmuring about updating their welcome offer sometime in November, this really is a limited time offer.
Try them today, and once you see what we see in them, You'll be happy to take the bigger 200% bonus on your first deposit.
After all, no one said those wagers couldn't be made using bonus money – a little helping bonus to get you even more free spins this November.
Start Playing at GUTS »
Get 100% up to €100 Bonus + 100 Free Spins on Book of Dead
T&Cs Apply