Vera & John are running a World Slot Championship of epic proportions as every day you can win £€$1,900 in bonuses, and a chance at a slice of the £€$50,000 grand cash prize.
From the 1st to the 28th of November, Vera & John are running daily slot tournaments on mobile and online.
How is that different from their usual daily slot tourneys?
For one, the prizes have increased, as the top five players walk away with extra bonus money, up to £€$1,000 extra if in first place.
Secondly, winning on the daily slot tournaments will give you automatic entry into the grand World Slot Championship on the 30th of November 2017.
Now that competition will be worth fighting for, we promise you that.
First: pick your tournament slot game
Technically, your first step is to sign up to the casino and grab your exclusive bonus.
Top Games at Vera & John
Baywatch
Joker 10,000
Book of Dead
Rainbow Riches
Jack Hammer
Mega Moolah
But we don't have enough time or space to go into detail here, so if you want more information read our review of Vera & John with all the details on both.
Needless to say, they've been one of our top recommended casinos since forever, for good reasons.
See the full schedule of events first
But that's ok, because Vera & John have the full list under their 'news and promotion' tab.
Once you click through to the details of the World Slot Championship, you'll be able to see the full schedule of games.
Why is this important? Because whilst it doesn't cost you anything to enter the tournament, you will be gambling your real money on these machines.
How to pick the right slot machine:
There's no right or wrong answer. At the end of the day, you need to decide which of the games most appeals to you.
Because this is your money you are spending, go through the list and pick the games that are the most fun for you, then just play on the day.
It guarantees that, win or lose, you have a good time… However, if you want to see our favourites, just keep reading.
Second: win on the daily slot tournaments
And we mean that literally. This isn't a "how to win at the Vera&John slot tournament", it's a "you win by winning at the V&J slot tourneys".
Confused yet? Don't be, it's not actually pretty simple.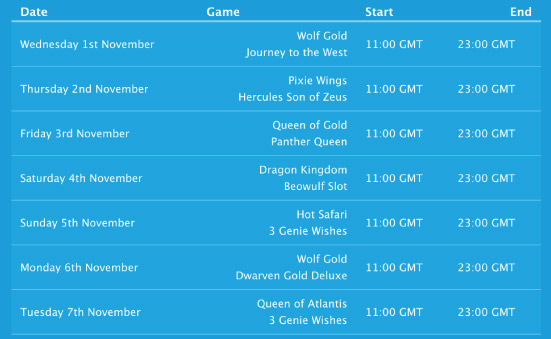 The highest win compared to your bet, gets on the leaderboard
You will need to play a minimum of 25 spins on any of the tournament slot games in order to qualify.
Get 20 Spins on Zoom When You Register
No deposit needed, use your exclusive bonus to try V&J today.
Over those 25 spins, or however more you play, if you manage to win really big, you'll get on the leaderboard.
It's why it's so important to play on Android or iPhone video slot you love.
It doesn't matter how much you bet
That's the why this is one of the fairest casino tournaments around; you can get on the leaderboard whether you bet 0.10 or 100 a spin.
So, for example, if you bet 0.10 a spin, and win 100 that's 1,000 times your bet. You would win over the person who bet 10 and won 150, because that's only 15 times their bet.
So it's not about the money you end up with at the end of the day, it's about how big your win is compared to how much you bet.
Basically, high limit slot players and casual gamblers have the same chance of winning.
Win a share of £€$1,900 + ticket to the championship
The prizes for the daily slot tournament is bonus casino money.
So you will need to wager the prize money 20x before you can withdraw it, and any money you make playing with it.
It's still a fun way to play for longer at one of your favourite mobile casinos, though, right?
1st – €£1,000 + entry to the Grand Slot Championship
2nd – €£500 + entry to the Grand Slot Championship
3rd – €£250 + entry to the Grand Slot Championship
4th – €£100 + entry to the Grand Slot Championship
5th – €£50 + entry to the Grand Slot Championship
Come on… tell us your favourite slot games…
Let's be honest; there is no sure fire way or strategy to win at slots.
3 Reasons to Love Vera & John
Huge selection of games
Get loyalty points for everything you do
24/7 friendly customer services
So the games below are the ones we've deemed fun, have tried, usually written a slot mobile review; not the ones which will help you win the championship or the slot tournaments.

Third: Become the slot world champion
You've played on a few days at Vera & John casino online this month, and won yourself a top 5 spot in the slot tournaments.
You will then be sent a special invitation to the special £€250,000 cash prize tournament on the 30th of November.
The rules are the same; except this time you will be given free spins to play on the final tournament end game.
Everyone has the same chance of winning
Because you have the same amount of free spins to play on the slot, how much or how long you can bet, makes not one little bit of difference.
Get £€100 Bonus + 100 Free Spins on 1st Deposit
UK players get 200%, whilst rest of the world get 100% bonus. You're welcome.
Anything you win from the free spins will not be yours to keep, no matter how impressive. But then you haven't spent any of your money at this point, this is as free as it comes.
However, if you win enough, and get on the top 5 leaderboard scores, you'll get huge real cash prize.
You win by getting the biggest win in comparison to everyone else; the rules are the same, and only lady luck will decide the results.
Top 5 players share £€$50,000 in cash
Unlike the daily slot tournaments, this is real money, so you can withdraw it instantly once you've got it in your casino account:
1st – €£25,000
2nd – €£10,000
3rd – €£7,500
4th – €£5,000
5th – €£2,500
Now that's what we call the end of a good month of tournaments.
Wouldn't it be nice to make Christmas just a little more special this year?
And even if you don't get to become the world champion, you'll still have a hell of a lot of fun trying.
Give Vera & John a go with 20 no deposit spins on Thunderkick's Zoom slot when you register today.
Start Playing at Vera & John »
Get 200% up to €$100 First Deposit Bonus
T&Cs Apply