Until the 30th of November 2020, every time you bet at least £€$1 on a great selection of casino slots, you could win an extra share of £€$3,000 in cash at Hyper Casino.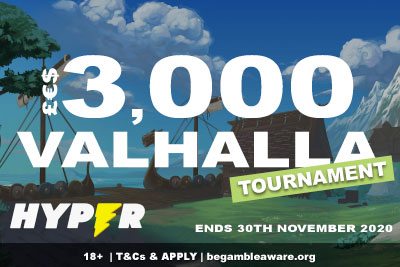 Expired
18+
If you have previously read our Hyper Casino review, you will know all about this new gambling site and what it has to offer. If you haven't, it is worthwhile checking it out before you keep reading about the new and exciting tournament they have this month.
Online slot tournaments are one of the most popular aspects of the online casino world and, thankfully, there are a wide variety of different tournaments for you to take part in.
This November, there's only one place to play on the latest tournaments. Hyper Casino's Valhalla Tournament will keep you busy this month and here is everything you need to know about this 'best multiplier win' tournament.
What's this slot tournament all about?
Simply put, until the 30th of November 2020, Hyper Casino has a tournament running and whoever gets the best multiplier win in relation to their bet, climbs the leaderboard.
A 'best multiplier win' essentially means that they will divide your win by your bet size. So it doesn't matter how much you bet, whether it's £1 or €10 – the higher your win in comparison to your bet, the more points you get.
There will be a leaderboard next to every game involved in the tournament. This will show all the current players playing and their position, as well as where you're sitting.
Which slot games will I need to play?
A tournament is only as good as the games you need to play. If the games aren't worth playing then it doesn't matter how much you can win.
As you can see, if you like Viking themed slots then you are in for a treat. There's a wide selection of games available from a whole host of slots software providers.
Just note that your minimum bet needs to be €/$/£1 for it to count and you also have a maximum bet of €/$/£50. So make sure you bet within this range if you want to get points on the leaderboard.
In order to be in with a chance of winning, you will need to play at least 100 game rounds.
If you're really not into this theme then you may want to give this particular tournament a miss.
What's the best game of the lot?
This is a good selection. But we are a slot review site, so of course, we have a few favourites.
If you love Megaways slot, you have to at least read our Vikings Unleashed review.
The Vikings slot by NetEnt is based on the hit TV show, but don't let that dissuade you, because it's got expanded reels that give you up to 78,125 ways to win.
If you are after something a little more classic, the d-north/">Wild North slot by Play'n GO give 40 paylines with 7 different bonus game features.
If you are looking for a game with wins of over 10,000x your bet, you might also want to check out our Viking Runecraft slot review. With cluster pays, avalanching reels, and three gods to give you a fortune, this is a must-play.
Take Hyper Casino for a Spin »
How much can you win when playing?
The prize pool for this tournament is €/$/£3000, with the top 19 players are guaranteed a prize.
Whilst winning is usually the aim of the game, if you don't get that 1st place, or even 2nd, 3rd, 4th or 5th, you still have the chance to win something further down the line.
To break things down for you, their prizes are as follows:
1st place = €/$/£1500
2nd place = €/$/£500
3rd place = €/$/£400
4th – 9th = €/$/£50
10th – 19th = €/$/£20
Whilst €/$/£20 might not be much, a win is a win. However, it is worth pointing out that these prizes are awarded in the shape of a bonus with 10x wagering requirements and all regular bonus terms and conditions do apply.
So, essentially, you won't be able to cash this money out straight away. All prizes will be distributed on the 1st of December 2020.
Who can join the tournament?
All Hyper Casino players can participate in this tournament, however, only those with at least one completed deposit will qualify for the prize pool.
So, if you want to get involved, then you need to ensure that you have at least made that one deposit into your account and play it through. Don't let this catch you out.
It is also worthwhile noting that Swedish players are not eligible for this promotion.

A quick recap if you just don't want to read it all
Ultimately, if you're into Viking themed slots and you were planning on playing some this month, then it may be worth getting involved with this tournament.
Whilst we have covered above, for convenience and because we know you are probably short on time, here are the main rules again:
Minimum bet €/$/£1 and maximum bet €/$/£50
Minimum 100 game rounds played
Gameplay has to be on the slots mentioned above
You need to be registered and have deposited money to win the prizes
Prizes are awarded in the shape of a bonus
The aim is to get the best multiplier wins and climb the leaderboard
The tournament ends 30th of November 2020
So, if you fancy getting involved, start spinning today and watch yourself climb the leaderboard, hopefully to first place.
Why you'd love Hyper casino:
We recently added Hyper Casino to our recommended online casino list, and you'll soon see why.
With a whole host of games, generous bonus offers, fast cashouts and cashback on every deposit you make and gamble, this gambling site has a little bit of everything you could possibly need.
Start Playing at Hyper Casino »
Get 20 No Deposit Free Spins + 100% up to €100 1st Deposit Bonus
T&Cs Apply