International Gaming Technologies really want you to play their online & mobile slots. So much so that this is the second month in a row where they are giving away cash for your spinning pleasure.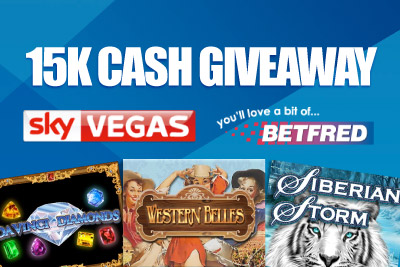 Expired
18+
Yeap, it's a network casino promotion. And considering that any mobile casino who has IGT games could put this live, only two have; Sky Vegas (primarily for UK players) and Betfred Casino (who has a better open door policy).
So either IGT are being picky and only want big house names to host their slots promotions, or the rest of the casinos aren't interested. It could be a little of both.
Here's the skinny (do people still say that?) on this IGT slot raffle.
Play IGT Games and Win Prizes
On the other hand, it's a good thing that not many are playing along with IGT. It means your pool of competitors is smaller, but… still pretty big.
500 people will win prizes who play at Betfred or Sky Vegas. Those are not great odds, but before you walk away, we have an upside. So give this promotion a shot, find out a little more, and then if you are still not convinced we promise we will give you a killer alternative offer at the bottom of this casino news piece.
Here's how they will divide 15K between 500 people:
20 people – £100/€100
30 people – £75/€75
100 people – £50/€50
150 people – £25/€25
200 people – £10/€10
So at worst, it's a little free cash bonus, at best it's a nice sum to keep you spinning. Nothing earth shattering, but considering this is real money, not bonus money, not bad either.
How to win this casino money
You need to play, either on your mobile or online any of three slot games; the newly released and fun Western Belles, the icy but brilliant Siberian Storm and the oldie but goodie Da Vinci Diamonds.
And that's it. You register to Betfred, where you get £5 free to play any of these games anyway if you are from the UK, or head to Sky Vegas for a decent  up to £€1,000 in bonus money, and start spinning. You don't have to opt-in or put your name down for this promotion, it's all done automatically.
You'll know if you won the day after the promotion ends, on the 17th of July 2014.
Why it's good
We are, in case you haven't noticed, fans of IGT mobile slot games. I know, shocker right?
So what this promotion is saying to us is: "keep doing exactly what you do anyway, and if you are lucky, you'll get an extra bonus."
It's pretty much a no brainer. We play IGT games, those are two brilliant casinos, we will simply play there when the IGT mood strikes us. If we win, we win, if we don't… we may still manage to come on top playing any of the three, frankly great, games they have chosen for us.
The belles of the ball
Western Belles mobile slot is our game of the week as we write this. We had a brilliant time playing it, and between us, managed to make a decent win on the game. Now we know it's not always guaranteed, but it did put this mobile slot machine in our list of 'games to play more of in July'.
Yes we have lists.
The beauty of this slot is that it's not as dangerous as some of the other IGT machines (like the one below). So whilst it can still give you decent returns, you can play for quite a while and get some decent entertainment. Careful though, casual gamblers should know that if you want to get the most out of this game you will need to bet €£2 minimum to get an extra wild reel. You can bet less, but it's not half as effective or fun in our opinion.
The dangerous predator
Siberian Storm mobile slot, on the other hand, is all icy winters and ravenous tigers. This slot machine is hungry and you have to be prepared to give it your time and money before it will pay out. And even then, the northern lands may get the best of you.
But much like wrestling tigers, if you do manage to tame this beast, you can get some ridiculous wins. Mostly because it has 720 hexagonal ways to win reels, which pay both ways AND have stacked wilds hiding in the reels.
It's one hell of a ride.
All that glitters is not gold
And in Da Vinci Diamonds slot that certainly true as you get the great masterpieces of our age and gems that glitter. Kinda. It's an old game, so on mobile they 'fuzz' more than glitter, but you know, it's an old landbased slot turn online turn mobile. It's been around the block a little and come back again looking a little worse for wear.
Not to say it doesn't have plenty to recommend it. Unlike the other two, this one has the best betting range and is a little less dangerous than riding a wild tiger in northern Russia, but has some bigger jackpots than a sexy rodeo. So it sits nicely between the two for players who want something a little thrilling and like the tumbling reels you can find in other games such as Gonzo's Quest or Rook's Revenge.
It's all about the IGT slots
Still not convinced? Oh alright. Why not take £$€7 free to play Microgaming games at Go Wild or 200 free spins at Leo Vegas Casino (20 of which are no deposit), which is also adding IGT games as we speak?
But as you can see, it's easy to understand why we like these IGT promotions. We hope, in fact, that they continue to be a monthly thing. It will only improve our chances of getting one of the top prizes in the list of players. Last month they gave away 20k. This month is sleepy July, so it's only 15K as they know less players play in the summer.
Next month who knows? To help in your decision making, here are the welcome offers for the participating casinos;
Betfred UK welcome bonus: £5 free no deposit bonus
Betfred Games welcome bonus (for IGT): Bet €£$5 and get €£$25 free
Betfred Playtech casino bonus: £€$900 in free money over 4 deposit bonuses
Sky Vegas welcome bonus (UK, Finland): £10 free no deposit bonus (with CC details) + 200% up to £€1,000
So there you go. Choices, choices.