Leo Vegas Casino is giving away 280 flights around Europe to their players. How do you win one of those flights? You gamble. That's the truth.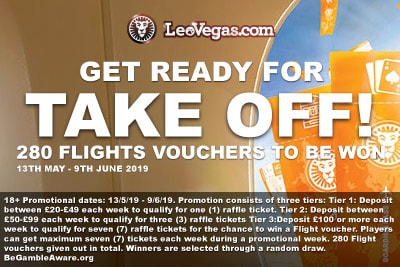 Expired
18+
Casino promotions don't have to be complicated to be good.
Between 13th May and the 9th of June 2019, just one deposit will give you a ticket into a raffle to win a flight to Europe.
Every Monday after a promotional week, 70 winners will be selected from a random draw of qualified players. Each of those players will then each win £$€200 in flight vouchers.
Where will you go? Spain? France? Portugal? Or maybe a little further?
We take a look at all the details of this Leo Vegas casino offer, the T&Cs behind it, and how you can improve your odds of winning.
Get ready for take-off at Leo Vegas
This is a 4-week promotion. So each week, the number of tickets resets and you need to play again to get a chance at some of those Holiday vouchers.
Week 1: 13th to the 19th of May.
Week 2: 19th to the 26th of May.
Week 3: 26th of May to the 2nd of June.
Week 4: 2nd to 9th of June.
Each week 70 flights will be given away, and each week you can win yourself €$£200 in vouchers to fly yourself anywhere that 200 bucks can get you.
You can even win more than once, which will help you go a little further.
Up to €$1200 Bonus + 200 Free Spins
Get up to €$1200 Bonus Money + 200 Free Spins at LeoVegas
18+ New customers only. Wagering on bonus and free spins winnings apply
How to qualify for tickets
You get tickets based on the accumulated deposits you've made in the promotion week.
Deposit €$£20 – €$£49  and you'll earn 1 ticket
Deposit €$£50 – €$£99 and you'll earn 3 tickets
Deposit €$£100+ and you'll earn 7 tickets
The most tickets you can collect is 7 tickets, so if you're a high limit slot gambler, you can't go crazy and collect so many tickets you dominate the draw.
Which is a good thing. Because, basically, every single player who comes to take a bet at Leo Vegas will get a ticket – a small deposit of £€20 will get you 1 after all.

So you want everyone to have a shot. It's not a huge shot, but it's a shot.
Just don't forget to select 'Yes' to communications in your account settings, otherwise, Leo Vegas can't count you as part of any of their casino promotions, including this GetAway Holiday GiveAway.
Any terms and condition I need to watch out for?
Most of the T&Cs to watch out for are if you win. Because you know how much you need to deposit, the dates, and how many prizes are given away.
But if you do win, what you get is vouchers by FlightGiftCard which you'll receive via either SMS or Email. Which is great because you get to choose the airline and destination.
However, you have to use the vouchers by the 1st of August 2019. You don't need to fly out before then, but you need to have booked your voucher by then.
So if you do win, make sure you go to the site and start browsing – even if it's a dream Christmas vacation to Lapland or just Halloween in Barcelona, just book it in or you lose the voucher.
How does Flight Gift Card work?
It works much like any gift card, except you have to go FlightGiftcard.com to book your ticket.
If you are worried that the only flights you'll find are expensive and you'll have to pay extra on top… don't be. FlightGiftCard has over 300 airlines in the books, and you can book a holiday on all of the flights available via that airline.
That includes budget airlines like EasyJet, Ryan Air and Aer Lingus, which could fly you and friends to most of Europe for those £€$200.
Or you can use that voucher and pay to go somewhere a little further away with Air Canada, Singapore Airlines or Qantas.
Or, you could fly closer to home in comfort with your family on airlines such as British Airways, Tui, KLM, Brussel Airlines and more…
This really is as good as it gets when it comes to casino holiday giveaways.
You don't have to use the whole amount at once
If the full amount of €200 is not used at once, you can use the remaining funds to pay for another flight.
If your total booking exceeds €200, You can pay the remaining amount using your debit or credit card, as you would any holiday.
You are responsible for acquiring the necessary travel documents and organising airport transfer in your home country.
The point is, whether you want to hit the Christmas Markets in Austria with the other half, want to run away to the beaches of Portugal for some alone time, or part pay for that dream trip to New York, you get to choose the destination and how you want to spend your winnings.
Do we like this Leo Vegas Promotion?
What's not to love?
Granted, whether you want to play along will depend on whether you are a Leo Vegas mobile casino fan. Mostly because this is an open raffle to everyone who makes a deposit, new, old, or somewhere in between.
Anyone can win, and whilst you do improve your odds if you can make more than one deposit a week, it's not so out of proportion that casual gamblers can't win.
After all, a €$£20 deposit is all you need to get your ticket that wins, and 70 vouchers are given away each week.
If you don't win, you can try again. Playing any of your thousands of favourite mobile slot games online, or roulette or blackjack or even scratchcards. They don't care what you play, as long as you gamble online at Leo Vegas.
In short, it's a fair and fun promotion, rewarding loyal gamblers at Leo Vegas casino, whilst giving you the full choice of what you get to win in the end.
Can you hear wine calling us from Bordeaux? Or the sunsets from Malaga? We can. And if you can too, then it's time to start playing.
Start Playing at Leo Vegas »
Get 20 Free Spins No Deposit & 200% Welcome Bonus
T&Cs Apply