What's better than winning one jackpot? Winning the progressive jackpot slot plus £€$5,000 in extra cash from the online casino Leo Vegas.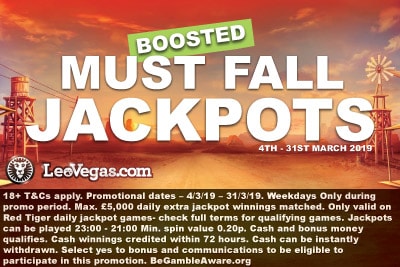 Expired
18+
We know, we know, winning a jackpot is a once in a million type of situation.
But what if it wasn't? What if a daily jackpot HAD to fall every day, and if you are the person to catch it, you will get up to an extra £€$5,000 in cash for your troubles?
Because that's what the mobile Leo Vegas casino is promising: they will match however much you win in their daily Red Tiger Game jackpots, doubling your win in an instant.
Before we jump in, let's take a look at how you get this 'Must Fall Jackpots', how you double it, and the casino games you will need to play.
How to play the Boosted Leo Vegas Jackpots in March
When you log in to Leo Vegas casino, you have to be sure you've clicked on 'Yes' to offers, bonuses and communications in your account settings.
That's the absolute bare minimum.
The next thing is to click on the Must Fall Jackpots tab, where you'll be presented with a whole list of Red Tiger Games to play. Many of these are not jackpot slots in any other gambling site.
Reason being these jackpots are exclusive to Leo Vegas casino players, and only grow per bet by the punters at this particular site.
How the Must Fall jackpots work:
Specific Red Tiger Gaming slots in the Leo Vegas collection will have three linked video slot jackpots. A mini, a daily or a mega jackpot prize.
All of these are progressive jackpot slots which grow with everyone who places a bet on any of the jackpot slots – they are all tied in together in one big lovely bow.
The mini jackpot usually grows from a few hundred to a few thousand. The mega jackpot, on the other hand, can grow to over 300 thousand in cash, even reaching 500 thousand on a good day.
Both of these work much the same way as a real progressive game like in the Divine Fortune slot or Holmes and the Stolen Stones game.
But the daily jackpots are the real draw.
One jackpot has to pay out every day
If two of the jackpots can trigger at any point or any time, then one jackpot has to trigger everyday.
There is even a little counter giving you a countdown as to how long this jackpot has left before it HAS to trigger. Now just because there are 6 hours left, doesn't mean it will trigger in 6 hours.
It means it can trigger at any point within the 6 hours. So a minute, ten minutes or 5 hours from now.
The jackpot grows from a few thousand to about 5k in cash, give or take. It can go a little higher but expect it to drop around those amounts.
Win the Daily Jackpot, and Leo Vegas will double your win
Do you know how we said that the Daily Jackpot rarely hit more than 5K in cash?
Well, that's why this Boosted Jackpots in March promotion promises to double the Daily Win jackpot amount up to 5,000.

So if you win 2,000 in the daily jackpots, Leo Vegas will top up the win by 2,000, allowing you to walk away with 4,000 in cash. That's not a lousy jackpot win to take home that day.
In total, this online casino may give away as much as 100,000 in cash, if everyone wins 5k in daily jackpots… though it probably won't get to that every day if we are honest, it sounds good, doesn't it?
You need to play on between Monday to Friday
If step one is to make sure you've opted into the promotion, and step two is to play the actual video slot games, step three… is to play at the right time.
If you play Saturday to Sunday, you won't get a penny more than the amount on the daily jackpot. Which, to be honest, would put a smile on our face anyway.
This double your jackpot win is valid only if you play on the Red Tiger games between Monday and Friday from the 4th to the 31st of March.
It makes sense when you think about why they are running this casino jackpot promotion.
Up to €$1200 Bonus + 200 Free Spins
Get up to €$1200 Bonus Money + 200 Free Spins at LeoVegas
18+ New customers only. Wagering on bonus and free spins winnings apply
Why is Leo Vegas doubling all these jackpot wins?
It's a simple matter of showcasing all their Red Tiger slot games, and more importantly, the fact that there are now 3 big progressive jackpots up for grabs.
The good news is that you can choose from 19 video slots on mobile or online to play at Leo Vegas, giving you plenty of choices.
That's not always a good thing, especially considering that there is a wide range of types of games to choose from.
What the best 5 Red Tiger jackpot slots
There are lots on the list that we love, and there's no point in us going through every one.
But our favourites on the list has to include:


Those are our top choices. But with so many on the books, you have more than enough games to explore, including the brand new Mayan Gods on mobile.
And with a generous welcome bonus and an award-winning casino site, we know that Leo Vegas gives you more than a couple of reasons to play.
Start Playing at Leo Vegas »
Get 20 Free Spins No Deposit & 200% Welcome Bonus
T&Cs Apply