What if, win or lose overall, you could end up getting yourself from "sweet prize of mine" on the Guns and Roses slot machine? Casumo promises just that.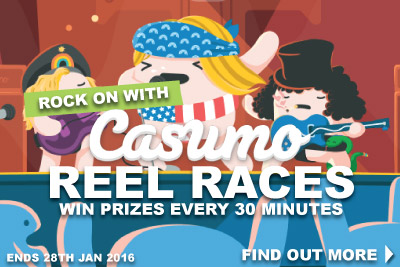 Expired
18+
To call the Casumo Reel Races 'slot tournaments' would be vastly underselling this fun and innovative way to play slots online or mobile.
But it gives you a little idea of what you are in for; basically every half an hour from 11am to 1am GMT, you have a 'race' on the Guns and Roses slot game.
You get about 180 spins to get as many points as possible; how you win these points is a little bit different than most, and how much you can win changes every race.
But then, if that wasn't the case, what would we have to write about?
The thing to remember is that, much like most of what you do at Casumo mobile casino, it's usually very rewarding, a little strategic, and a hell of a lot of fun.
How the Casumo Guns n Roses Reel Races work
You can join in with the reel races from the moment you register at Casumo and make your very first deposit; because it doesn't matter if you use the £€1,200 Casumo bonus cash you get as part of your welcome package, or real money slot spins.
The full Casumo Welcome Package:
1st deposit: 200% up to £€50
200 free spins on Starburst
2nd deposit: 50% up to £€150
3rd deposit: 50% up to £€200
4th deposit: 25% up to £€400
5th deposit: 25% up to £€400
When are the races held?
As we mentioned, every half an hour from 11am to 1am GMT; though they each only last for 20 minutes.
The only exception is the grand slam of race at 9pm, which lasts 50 minutes.
How do you win the race?
Every race has a minimum bet and number of spins you'll need to play on the new NetEnt Guns and Roses slot.
So, for example, most will simply ask you to bet a minimum of either 0.20 or 0.40 and play 180 spins on this latest of NetEnt mobile slot.
You don't have to play all 180 points, or bet that low, they've put these restriction in place to make it fair on everyone; so if you don't have a huge budget, you can bet small, and if you do have a huge budget, you don't collect more points by simply spinning as many spins as possible in 20 minutes.
The top five players with the most points at the end of the race wins.
How to do collect points? Not by spending cash
Here's why you don't have to use all 180 spins if you don't want to; lady luck has a huge factor in whether you'll end up in the top 5 or not.
You don't collect points by spending money, but by winning. Specifically:
5 points for any Win: That's for every win you get, even if it's just a tiny one.
50 bonus points for 3 Wins in a Row: which is a huge boost to your point score, and far from impossible to do.
50 points for a Big Win: which, in NetEnt terms, is only 15 times your bet.
300 points for 3 Big Wins: at any point during your 180 spins. Get another 3 and you'll win 300 more points, and so on…
200 points for a Mega Win: which is actually 30x your bet. Not easy, but not impossible to do in this iOS and Android phone slot. Plus, that's 200 points for every Mega Win. A couple of those and you won't have to play much more to win the top prize.
A Gorgeous Selection of Casino Games
IGT, Microgaming, NetEnt, Play'n GO, QuickSpin, Thunderkick and WMS Games.
And because you are all playing on the same video slot, you're all on an even footing, and all with the same chance to get wins, big wins and mega wins.
Don't forget to join in
You can't just login at Casumo Casino, start playing on Guns and Roses and win.
You will need to enter the next tournament, which means going to the tab called 'Reel Races' (they couldn't make it clearer if they tried) and clicking on the big green 'Join' button for the next race.
Then, only game player from the start the end of the race will count as your 180 spins.
200 Prizes given away daily from free spins to cash
Of course, playing on these races is only worthwhile if there's a decent prize at the end of it.
And with 200 prizes being given away every day, chances are if you play on Guns and Roses often enough, you'll win something, or at least a sweet little casino free spins bonus.
Reasons being, with a race starting every half hour on the hour, not all tournaments will be that busy, giving you less competition, and more chances to win.
The prizes in the 20 minute races
These change depending on the minimum bet of the race, but the top prize varies from 150 to 75 Guns n Roses slot free spins bonuses.
Reasons to Love Casumo
Cashout in under 2 hours
24/7 customer service
Play in Euros and GBP
Award winning mobile casino
You'll never win less than 5 free spins, which may not sound like much, but on this slot can be pretty significant, as you'll soon see.
Plus, depending on when you play, you've got good odds of getting something. After all, how many people do you think you'll be competing at 10am on a Monday morning?
What do you mean you work then? Haven't you heard of toilet breaks?
The prizes in the 50 minute grand slam
This daily competition at 9pm, on the other hand, usually gets ram slammed full of people who want the top prizes. Mostly, because you can win more, and there's more prizes to be won.
1st prize: €£1,000
2nd prize: €£250
3rd prize: €£100
4th-5th prize: €£50
6th-10th prize: €£25
11th-25th prize: €£10
And that's real cash, not bonus money by the way; you'll be able to withdraw it straightaway.
Still, some days are busier than others. Fridays and Saturdays will obviously have the most competition, but Sunday evening? Nice and quiet for the gambler who likes to rock, roll, and win.
But, ultimately, these Casumo reel races are all down to chance, so it doesn't matter when you play, or if you're still trying out Casumo casino with their €£1,200 + 200 free spins welcome bonus.
You just got to pray that the rock gods spin on your side, and take you down to casino Paradise City.
Start Playing at Casumo »
Get 100% Bonus Up To €100 + 100 Free Spins On Book of Dead
T&Cs Apply