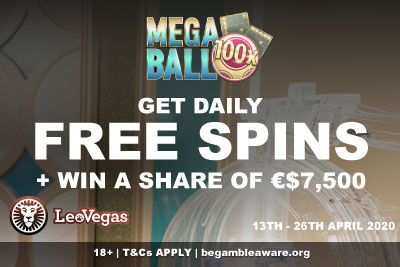 Expired
18+
If you've not dipped your toe in the live casino waters, this may be the time to do it.
Mega Balls is a brand new bingo/lottery-type game which will be made available at all Evolution Gaming casinos on the 24th of April.
But as a LuckyMobileSlots.com reader, you are used to getting the VIP treatment. You don't want to wait 2 weeks to play on just any online casino, you want to play on one of the best mobile casinos and get a bonus for playing along.
Which is exactly what Leo Vegas casino provides. A wonderful platform to play some of the best games, Mega Balls two weeks in advanced, and up to 50 free spins every day if you try the Live Mega Balls game ahead of time.
First: What is the Mega Balls Live Game?
Mega Balls is a live casino game. That means that when you go to Leo Vegas, you'll have to choose the 'Live Casino' tab to see all the games available.
A live game means that when you click on the specific casino game, you load up a live stream video, mixed in part with a computer-generated game.
You play on the computer game, but the live dealer on the video will either spin the wheel, play the cards, or generally play as if you are playing on a Vegas casino table.
It gives you that real-life feeling, all from the comfort of your own home.
Up to €$1200 Bonus + 200 Free Spins
Get up to €$1200 Bonus Money + 200 Free Spins at LeoVegas
18+ New customers only. Wagering on bonus and free spins winnings apply
"Mega Ball is a unique, entertaining and fast-paced game show"
That's how Evolution Gaming are calling it and we can't disagree.
In essence, first, you buy Bingo style cards. You set the value of each card set and can buy up to 200 cards per game round.
Then it's over to the colourful and vibrant studio where one of your hosts will wait for everyone to make their card purchase before heading over the lottery style machine.
This custom-built ball drawing machine houses 51 multi-coloured numbered balls, and in a blink of an eye, will draw 20 of those balls.

Making as many lines as you can for cash prizes:
As soon as the balls are released, the matching numbers on player's cards are automatically marked off. These are then automatically re-arranged, with the one closest to winning right at the top.
The more lines you make, the more likely you are to win. And remember there are only 51 numbers in total with 25 total numbers in each card.
When the last ball is drawn, that's where things get interesting. Because the Mega Ball game will now add a random multiplier of between 5x-100x. Your winnings are multiplied accordingly. How much can you win?  Up to 1,000,000x! Not a bad amount right?
There is a small chance the elusive and rare '2nd Mega Ball' will be drawn, where you may have a multiplier on the multiplier. It's rare, but it happens.
Leo Vegas casino are celebrating with free spins and tournaments
Leo Vegas Casino are getting this exclusive game for two weeks ahead of everyone else. So are they just going to let it sit there and hope you find it?
Nope, they are asking us to let you know that they will be doing two different types of casino promotions which will allow everyone to enjoy this brand new game.
Play Mega Ball At LeoVegas Casino
1. Wager €50 during the week and receive 10 Cash Free Spins
For every €50 (or your currency equivalent) that you wager on Mega Ball, you will receive 10 cash free spins.
Almost everyone will get 10 Cash Free Spins on Pirates 2: Mutiny at €0.20 a spin, whilst Japan, Brazilian and Indian players will get 10 Cash Free Spins on Book of Dead slot at €0.10 a spin.


Week 1: Starts Monday 13th and ends Thursday 16th
Week 2: Starts Monday 20th and ends Thursday 23rd
Why the difference between games? Because those three countries don't have Pirates 2: Mutiny game from Yggdrasil Gaming. And whilst you may think that you get the raw deal, Book of Dead is a brilliant game where you can win up to 5,000x your bet, so it's 100% an excellent choice.
You can win up to 50 free spins per day, if you play £€$250 on Mega Balls on any one day. All wins from these free spins are wager free, so you'll keep anything you win.
2. Weekend tournament on Live Mega Ball
You will get 1 point for every €1 you get in net-wins on Mega Ball (again or equivalent in your currency). The points will be tallied up on the daily Leaderboard and the person with the most points wins.
Tournament 1: Starts Friday 17th and Ends Sunday 19th
Tournament 2: Starts Friday 24th and Ends Sunday 26th
There's no minimum bet, just how much you can win. Although, obviously, if you do bet higher amounts, you are more likely to win more €1. So this tournament is a little skewed toward bigger better.
Number of winners Prize totally €7,500
There's a whole load of prizes available each week. This resets and you can win all over again the next week.
1 x €2,000
1 x €1,500
1 x €1,000
2 x €500
5 x €200
10 x €100
These are pure cash. So you can withdraw it, play it, or do whatever you like with it.
Is it worth playing at Leo Vegas casino?
Why are we talking about a Bingo Lottery game on a slot site? Well, because there's a lot of similarities. And there's no such thing as a 'live slot machine online' (how would that even work?) but this almost gives you the same feeling.
You are basically watching 20 numbers fall on your screen and see if they give you a winning payline on your cards. There's something exciting about the random thrill of it all, so why wouldn't we want to experience that with a whole host of players and a live host?
Leo Vegas casino has been one of our recommended casino reviews for you to read for years, because they are trusted, have fast cashouts, hundreds of slot games and fully licensed.
In short, if you want to play somewhere new, on a game like no other, but still know that you can find all your favourite slots and games, there's no better place to play.
Start Playing at Leo Vegas »
Get 20 Free Spins No Deposit & 200% Welcome Bonus
T&Cs Apply