We've got a brand new IGT slot for you, that is literally out of this world. And whilst it may not be your top choice to play, we're going to try and convince you otherwise.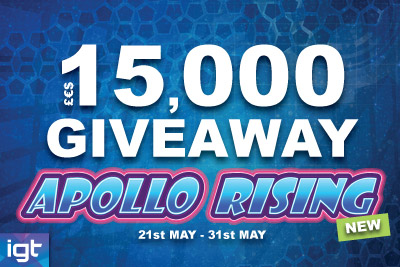 Expired
18+
As we write this, we know most of you will be pretty excited to try out the new Stickers slot by NetEnt that came out at the exact same time as Apollo Rising.
What we won't try and do is convince you that you are wrong, because let's be honest, Stickers freaking rocks, but we will tell you why, in between your game play, you should try out this new IGT slot online.
Because Apollo Rising actually shares some common DNA with NetEnt's Stickers slot.
Not only that, but if you play between today and the 31st of May 2015, 500 lucky players will win cash prizes at random – and that's whether you win or lose on this slot.
Now if that isn't worth a spin or two, we don't know what is.
Participating mobile casinos that we would recommend are currently a small list of… two:
Hey, like we said, everyone else is busy promoting the latest of NetEnt's favourite children.
Plus, where else are you going to win a slice of 15K?
Granted, this is a casino raffle. So the point of the game is to collect as many tickets as your budget allows and then wait for the phone call on the 2nd of June.
For every €£10 you wager on IGT's Apollo Rising slot, you'll get one ticket.
Then, 500 tickets will be drawn at random on the 2nd of June, and you're account will be credited with the amount.
More than just an UK casino:
Play in AUD, CAD, DKK, EUR, GBP, MYR, NOK, NZD, SEK, SGD and ZAR.
The prizes are split as follows:
20 of you will  win €£100
30 of you will  win €£75
100 of you will  win €£50
150 of you will  win €£25
200 of you will  win €£10
Obviously you can win more than one of these prizes, but let's be honest – the odds are you'll win one of those tickets if you are lucky.
That's not to say you should give up hope, only that if you are going to play, play for the love of the game first, all the while knowing that you are collecting golden cash tickets in the background.
Any tricky T&C's?
None that we could see. Obviously you have to be over 18, legal to play in your country, yada, yada, yada….
Basically you have to legally be allowed to register and play at an IGT mobile casino. This isn't brain surgery, all standard stuff.
Other than that, the good news is that these are based on wagers and not deposits.
Which means that casino bonus money counts and all those little wins you get in the game which you bet back as well.
So you can wager 10 in cash with as little as half that amount. Something to bear in mind if you simply want to dip your toes in this space water and then leave for greener pastures.
That said, we think you're going to stick around. Much like the wilds in the game.
Convince me that Apollo Rising slot is worth playing then
We could do that, we could do that.
But then you'd miss all the fun of playing, so we think you should go now and pla…
.. Wait, don't leave! We're sorry, you came to us for information and what is the meaning of our lives, if not to please our reader overlords?
Lover of Wolf Rising will love Apollo Rising
We'd argue though, that Apollo Rising is actually the better game.
You can only play this video slot in portrait mode on phones and tablets. Reason for this is that this is a 5 reels, 8 row high slot machine.
Top IGT slots
Golden Goddess
Prowling Panther
Cleopatra MegaJackpots
And much like the Wolf Rising slot you get symbols that are stacked either 2 or 3 high, in the form of "Jetson's" like cosmic characters, all over 100 paylines.
But that's pretty much where the similarities end.
A well balanced mobile slot machine
You read that right, not only is this IGT gem not going to end all your coins in a few quick spins, giving you a nice balance of small wins and good payouts, but it has the exact same feature that is currently making Stickers a global hit.
The wins are literally out of this world, with a potential to win 14,480 times the line bet over one payline. Now imagine that over 100 paylines.
Don't think it's likely? Ok, not as likely as us sitting in our underwear and playing slots whilst drinking ginger beer in our garden this afternoon (you are welcome for that mental image).
Huge expanding wilds and respins
But consider this; you get a wild symbol that expands to cover all 8 high symbols. You'll then get a re-spin of the reels, giving you extra wins. If you get another wild, that rising wild expand and you now have two whole reels wild, and another free re-spin.
Now chances are you'll only get two. But if you get three, you'll be laughing.
Oh you forgot that this post was about winning a share of 15,000 in cash? Yeah, we don't blame you.
When the potential wins are this good, this is what slot playing is about.
Still, just in case those expanded wilds aren't as friendly as you might like, you'll know you have the chance of getting yourself some extra cash, and all for discovering a new favourite IGT game.
Start Playing at Mr Green »
Get 25 No Deposit Spins + 100% Welcome Bonus + 200 Free Spins
T&Cs Apply