When you log in between 16:01 and 15:59 at Rizk casino, you'll get a free gift every day from now until the 5th of July 2020. It's a short window, but it's worth it, and here's why.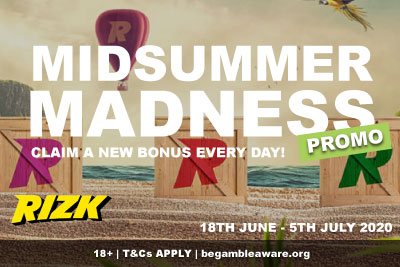 Expired
18+
It's Midsummer Madness at Rizk casino right now, and they heat has gotten them a little bit mad.
How mad? Mad enough that for a very small window every day they will be giving away a random casino bonus mystery prize that may include:
60 minutes and 120 minutes Double Speed Chips
60 minutes and 120 minutes Win-Win Chips
10% and 25% Cashback Chips
Deposit Free Spin Chips (No wagering)
Level Up Chip
Free Spins bonus (no wagering)
Super Free Spins bonus (no wagering)
Real Money Chips
25% to 100% deposit reload bonuses
That's a whole load of bonuses. So it's time for you to put a timer on your phone, and find out why you'll want to login at Rizk Casino online or mobile for a couple of minutes every day.
How to Claim the Rizk Casino Midsummer Madness Bonuses
First, you have to register to Rizk Casino and have made at least one deposit. This probably means taking their generous welcome bonus and having a good time on some of their biggest and best games.
The good news is that between now and the 5th of July, when you login between 18/06/2020 at 16:01 – 05/07/2020 at 15:59, GMT-6 you get to choose between three boxes.
Each of those boxes will hide a mystery bonus prize. How much you get will depend on your luck and on the day offers.
Notice that the time is GMT-6
If you are in doubt, it's wise to check with the live chat team what that translates to in your local time.
DO NOT LEAVE THIS UP TO CHANCE – you have 58 minutes to log in and get that bonus. Get the timing wrong by just a few minutes, and you'll lose that days offer.
Deposit €100 Play With €200 + 50 Free Spins
Get a free Wheel of Rizk bonus spin plus up to €100 bonus and 50 free spins on your first deposit
18+ New customers only. Wagering and Full T&Cs apply.
Just to give you a little idea of when you might want to show up each day,  16:01 GMT-6 is around 11:01 am in the UK, 6:01 am in Toronto, 12:01 pm in Western Europe, and 10:01 pm in Wellington New Zealand.
But don't take it from us. We are just using Google to make a quick calculation. Ask on live chat, it's available in the mobile casino and the online casino 24 hours a day, 7 days a week.
Why Rizk casino bonuses are worth their weight in gold
Here's the thing about the Rizk casino bonuses. They are one of the fairest casinos around – for one, none of their free spins have any wagering requirements, much like GUTS casino.
So everything you win you keep.
For two, they are one of the few casinos online that give you super spins; which means you can spin on a slot machine at $1 a spin. Some of these games can pay upwards of 5000x your bet. That means you can walk away with £€$5,000 in cash with a little bit of luck.
But free spins bonuses are just part of what makes Rizk Casino special. You get a whole host of different features, including double speed chips, cashback and just plain old cash.
How many casinos do you see these days giving away free cash? And yes, it's actually free. No wagering requirements.
What are the different bonuses on offer?
You never quite know what you'll get when you log in during that magic Midsummer hour. You login, click on one of the boxes, and anything could happen.
It's what Rizk casino do best; surprise you on every turn. From the Wheel of Rizk which gives you bonuses when you level up as you play, you've got mobile slot tournaments, weekly offers, and then this.
This Midsummer Madness promotion is a perfect way of showcasing everything this casino can offer if you decide to keep playing. And we bet you will come back if only to see what clever bonus you might get this week.
60 minutes and 120 minutes Double Speed Chips
What's a Double Speed Chips? It means that you can turn it on, and during that hour or two hours, all the games that you play will level up your energy bar by twice the amount.
The energy bar is the Rizk casino loyalty program. Every time you level up, you can spin the Wheel of Rizk for a casino bonus. This Chips lets you go up the levels faster, meaning you get bigger bonuses,
60 minutes and 120 minutes Win-Win Chips
This is a little harder to get your head around, but it's not unlike a safety net or a cashback.
If your winnings are greater than your losses, 10% of your net winnings will be returned to you as Bonus Money. If your losses are greater than your winnings, 20% of your net losses will be returned to you as Bonus Money.
This is Bonus Money, and there is a max amount you can get back (somewhere around 20 to 80 in cash, depending on how long you play). It comes with bonus wagering of 15x, which is the fairest amount that you can get.
10% and 25% Cashback Chips
This exactly what you think it is. When you play for either 60 minutes or 120 minutes, you will get back either 10% or 25% cashback on your net casino losses.
Maximum money returned is $100 (for a chip valid for 60 minutes) and $200 (for a chip valid for 120 minutes).
So if you're feeling like you might need a little helping hand one day, this is the Chip to activate.
Deposit Free Spin Chips (No wagering)
We like it when casinos are open about their offers. And in this case Rizk have been open about what you'll get:
Deposit a minimum of $20 and get 20 Free Spins on Book of Dead slot
Deposit a minimum of $25 and get 25 Free Spins on Jumanji slot
Deposit a minimum of $50 and get 50 Free Spins on Jumanji
Simple, effective, and always fair.

Level Up Chip
This basically means that when you do level up your energy bar, you'll get a bigger, richer reward in the Wheel of Rizk.
You have 24 hours to level up, so this isn't the best of the bonuses as not everyone will have the cash to get up those levels. But it can be the most rewarding, if you time it right.
Free Spins bonus (no wagering)
These are free spins no deposit bonus offers. But they go fast. You have to claim them within 24 hours of winning these.
Again, everything you win, you get to keep in your pocket.

Super Free Spins bonus (no wagering)
Now, these are a little bit special. They are also a free spin casino bonus, no deposit required, but this time instead of playing the bonus at the minimum bet of the game, they are played at £€$1 a spin.
You can claim these 7 days after you win them.

Real Money Chips
These highly sought rewards are also the rarest and for good reasons.
Real Money Chip rewards can range from £€$5 to £€$100 in real cash. They have no wagering requirements, meaning it's real cash you can withdraw or play with, no strings attached.
25% to 100% deposit reload bonuses
You can get any of the following 6 random deposit reload bonuses in one of the Midsummer Madness mystery bonuses:
25% up to £€$25
40% up to £€$40
50% up to £€$50
75% up to £€$75
100% up to £€$100
50% up to £€$500
That's a whole load of casino bonuses available at Rizk casino. And all you have to do is login each day and find out what you've won.
It's one of the perks of signing up and playing at Rizk casino between now and the 5th of July 2020.