Dare you Enter the Tournament of Terror? Yes, yes you do, because there's £€1,500 up for grabs in the 24-hour tournaments and £€5,000 to split in the 72-hour tournaments. Here's how it all works, and it's much easier than you think.
Every day at Vera and John this October you'll be able to take part in a massive free to enter slot tournament with impressive cash prizes.
During the week, Monday to Thursday, the tournaments will last 24 hours and you'll get to split 1,500 between you and 10 lucky winners. On Friday they will start the 72-hour tournaments which splits 5,000 between 29 lucky folks.
In the end, anyone who participated will be added to a lucky dip raffle with a top prize of £€$3,000 announced on the 2nd of November 2018.
And if you are wondering what hoops you need to jump in order to get yourself any of these cash prizes, the answer is: play slot machines. That's the tantalising hoop.
How the Vera and John Tournament of Terror works
This is a massive month-long tournament starting from the 1st of October and lasting all the way to Halloween; the 31st.
But really, we should be calling these slot tournaments because every one of them will be on different games and have slightly different rules.
200% up to €$100 First Deposit Bonus
Sign up to Vera&John for an exclusive 20 no deposit spins on Zoom plus 200% bonus on your first deposit
18+ New customers only. Wagering and Full T&Cs apply.
What won't change is how much you can win in real cash – no wagering, not casino bonus money, but cash you can withdraw the moment it hits your account.
How much can I win Monday to Thursday?
These are the 24-hour tournaments and start each day at 10 am BST, so if you are playing at night, it's worth checking out the new slot games and rules of the daily tournament of terror.
1st place: €£750
2nd place: €£350
3rd place: €£225
4th – 10th place: €£25
That's a total of £€1,500 to be won every 24 hours during the weekdays, and there are no limits to how many times you participate.
How much can I win on the Friday £€5K tournament?
Not £€5,000 – that the total to be divided amongst the top 29 leaderboard winners. But there are still some impressive numbers at the top of this cash pile:
1st place: €£2,000
2nd place: €£1,100
3rd place:  €£600
4th – 29th places: €£50
The Friday tournament starts at 10 am and finishes on Monday at 9.59 am. So that's 72 hours to get the best possible results.
Here's some example games that might be on offer:
There are two types of Vera and John tournaments
And one is infinitely better than the other, so keep an eye out for the one you think is betting suited to your style of play and budget.
The best win over X amount of spins
The most points accumulated over the 24/72 hour period
What the difference between the two?
The first is the best option because it's the fairest type of tournament. As long as you play the minimum bet and minimum rounds, anyone can win.
All it's saying is that whoever gets the best win in relative size to their bet, will get to the top. So a €1 bet and €100 win will put you higher than the person who bet €10 and wins €100.
The second option is a little trickier, because it's asking you to play, and you get points for every penny you put into the slot machine on mobile or online.
And as we also say, you should never play just to win a tournament or casino promotion, and you certainly should never play more than you can afford. So by default, this type of promotion is really only for the high rollers of the online casino world.
Any T&Cs to watch out for?
It's hard to give a list because all the tournaments will have slightly different rules. So the best thing we can advise you to do when you go to the tournament page is to click on the T&Cs of the individual competition.
Don't worry, you won't have to read pages and pages of writing, as this mostly just sets down the rules of the tournament – maybe 11 or 15 lines of text?
It's worth a read because in there you'll see what games are part of the tournament (usually multiple), as well the minimum number of rounds and the minimum bet you must be making in order to qualify,
This can range from 0.10 to 0.50 a round, so it's worth making sure you have the budget to bet at the level needed.
Other than that, bonus money always never counts towards tournaments. So you will need to play the tournament slots using real cash in order to take part.
Exclusive: 20 Free Spins On Sign Up
Get 20 free spins on Thunderkick ZOOM slot when you sign up to Vera&John casino
18+ New customers only. Wagering and Full T&Cs apply.
Participate and win a slice of £€3,000 in cash
This is last minute hope for anyone who has participated in any one of the many October Terror Tournaments but never managed to get one of the cash prizes.
Players may enter the tournament by qualifying for any tournament leaderboard during the promotion period without winning a prize in any tournament.
Basically, as long as you click on the 'participate' button of the tournament, and play the minimum number of rounds at the minimum bet, you'll put your name down in the raffle.
Once the last tournament is played on the 31st of October, the wonderful casino Vera and John will put all the runner-up names in one big hat (metaphorically) on the 1st of November and take out 25 random winners.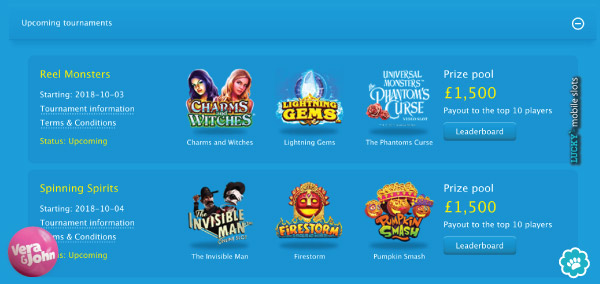 How much can I win just for participating?
There's a pot of £€3,000 in cash to the lucky unlucky 25 casino gamblers who didn't quite make it on the tournament leaderboards.
1x €£1,000
1x €£600
1x €£300
22x €£50
What you'll get will all be down to Lady Luck – but that's kinda what we like about these Vera and John slot tournaments.
All you have to do is check out what are the slot games of the day, and if you like the selection, try a couple. You might get on the leaderboard, you might not. You might discover a brand new favourite slot, you might not.
But you are just playing slots at the end of the day, and there's Vera and John mobile casino gives you a safe and friendly environment to play.
Start Playing at Vera & John »
Exclusive: 20 Free Spins + 200% up to €100 First Deposit Bonus
T&Cs Apply