There's an IGT network wide casino promotion which gives you a chance to win extra cash just for playing a brand new slot game. Which casinos are participating and is this worth your while?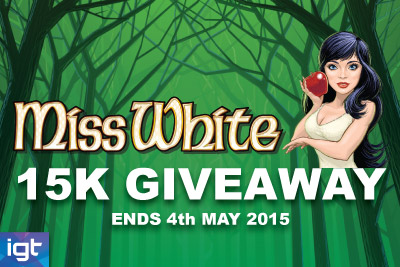 Expired
18+
IGT like to give away money so you try out their new slot games. It's an effective way to get us gamblers interested, lets be honest.
However, which of the casinos online gets to have their promotion is usually a little smaller. Here are the three we recommend and a quick why:
Betfred casino: Though british in flavour, you can play in SEK, NOK, Euros and many more currencies in between. If you play £€5, you'll get £€10 to play with. And let's not forget, one of the best Playtech casinos around.
Mr Green casino: An international casino for international players, you won't find a more welcoming gentlemen. You get a 10 free spins bonus for simply registering, then £€350 worth of casino cash over four deposits, and 100 free spins on top! Helping you play longer.
Sky Vegas casino: This one is British, full stop. Well… Technically Finland and Ireland are welcomed too. And what a welcome with 10 free in cash + 200% bonus. They also happen to have one of the largest selection of exclusive casino games around.
So these are the venues. The first link will get you to our casino reviews, and the second straight to the gambling site to see for yourself what they are all about.
Now for the fun bit… winning money.
The Miss White £€15K giveaway
From now until the 4th of May, you can win a share of 15 thousand in cash.
And if you are wondering how that could possibly be worth your while as this casino promotion runs over several casinos, well, that's why you're still reading right?
How to win one of 500 cash prizes is actually incredibly simple.
How to qualify to enter the draw:
Register at one of the casinos above before the 4th of May
Wager £€10 worth of real-money spins on the Miss White slot.
Wait till the 6th of May when the winners will be released.
Your Mr Green Bonus
10 Free spins no deposit
100% up to 100
100 free spins after
50% up to 50
25% up to 100
125% up to 100
Anything in the T&C's to watch out for?
These are on bets made on either the online or mobile slot version of this Mis White slot game.
And you can swap and change between the two if you want, IGT tracks all bets the same.
The interesting part when we read the 7 page document provided by IGT (was that really necessary IGT? Do you hate us so?) is that the terms specifically state that you can win as many prizes as there are tickets.
So say you wager 90 in cash. That's 9 raffle tickets, and 9 possible prizes you could win. Granted, it's no easy feat, but it's interesting that the draw is randomly done based on tickets and not people.
What was in the other 6 pages you ask? Absolutely everything IGT could think of to cover themselves. What would happen if the winner is underage, works at the casino, how the winners are picked, etc… data protection… etc… what 'working day' means…
Basically, be over 18, legally able to gamble in your country and don't work at a casino, and you're cool.
The 500 cash prizes:
20 people will win x €£100
30 people will win x €£75
100 people will win x €£50
150 people will win x €£25
200 people will win x €£10
So yes, there is a real possibility that if you wager 10 on this new mobile slot, all you'll get is 10 back.
But then, you haven't met Miss White yet have you?
The real question then: is Miss White worth it?
At the end of the day, a casino slot raffle is only as good as it's game.
If they are going to ask you to play, you have to make sure the machine itself is worth playing. After all, this raffle cash is not guaranteed winnings.
Unlike the winnings you'll make on this mobile slot.
You can, of course, read our full IGT Miss White slot review. Because hey, sometimes it's more fun to read than work.
But here are our cliff-notes.
Miss White Stats
5 Reels / 1024 Ways to Win
RTP: 92% – 96.16%
Min/Max bet: 0.45 / 135
A copy of the popular Miss Red
Which can be found on mobile casinos and brick and mortar casinos all over the world.
Miss Red one of their most popular slots, and they expect the same magic to happen with Miss White.
Which makes sense. The fairytale theme is compelling and the 5×4 reels allow for 1024 ways to win, which gives this slot lots of action on every spin.
It's not the hardest hitting of the IGT machines, but it's good fun. Mostly because it has the innovative End2End feature where symbols expand horizontally across the reels, giving you more chances for bigger wins.
Add some free spins to give you a chance to catch up on some wins, and this video slot will no doubt be a hit with many.
Why we like this promotion
Because we liked Miss White. It's as simple as that.
And when a good IGT slot game comes along, we like to play it for a while to make sure our initial reaction (and review) is correct.
From your point of view, betting 10 real money wagers on Miss White will be very easy indeed. Mostly because there's so many little wins, you'll actually end up wagering half that amount using your deposit, and the other half just by putting in all those little wins back in the game.
And if you win big enough then… who cares about the draw? You just freaking won big.
Thanks to the End2End feature, this is a win-win casino promotion.
Start Playing at Mr Green »
Get 25 No Deposit Spins + 100% Welcome Bonus + 200 Free Spins
T&Cs Apply