Between now and the 3rd of May, playing on NetEnt's Warlords Crystals of Power slot will reward you not just with a great time… but, potentially, memories to last a lifetime.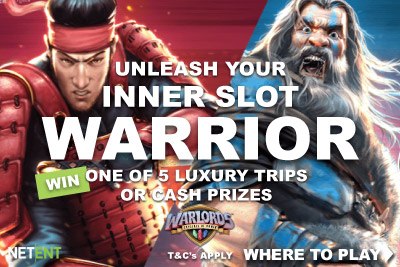 Expired
18+
Want to party like a Viking? Find adventure deep in the Amazonian jungle? Or return home after become the ultimate Japanese samurai?
No, we're not talking hypotheticals, or about a new slot game which lets you escape reality for a little while.
You could, literally, choose any of the three experiences above if you manage to win one of the 1,001 prizes NetEnt casinos are giving away over the next few days.
Here's how to do it, which slot you'll need to play, and which casino offers you the best chances at winning.
All you got to do is play on the Warlords slot
Back in November 2016, the casino game studio NetEnt released The Warlords Crystals of Power slot game.
Your Mr Green Welcome Bonus
20 Free spins no deposit bonus
100% up to £€$200
Further 200 free spins on top NetEnt slots
It was very well received; in fact we gave it a four star slot review and has stayed on players radar for much longer than most new releases.
So why did NetEntertainment decide now to do a Warlords slot promotion?
We suspect that, as the months go by and new releases are hiding Warlords at the depth of the casino slots lists, NetEnt want you to rediscover what was one of their best 2016 releases.
Wager £€$10 and you'll find fantastic prizes
That's right; a small wager of just £€$10 will get you one ticket to win any of 1,001 prizes.

But don't forget; a wager is very different from a deposit.
With a £€$10 deposit, you could wager as much as £€$20 or £€$30 worth of bets on a good slot machine.
And that's without the help of any bonus money.
That's because, for every little win you put back in the game, NetEnt will consider that a wager.
Which is good news as you'll be able to collect more tickets, which means more chances at winning.
Collect up to 50 tickets a day
In order not to allow high limit slot players to dominate, NetEnt have put a cap on the number of tickets you can accumulate each day.
Your Rizk Casino Bonus
Mystery Bonus: From 10 free spins to 25 free cash
1st deposit: 200% up to £€$100
50 free spins on 1st deposit
Which means that if you manage to wager £€$500 a day, everyday, till the 3rd of May, you'll earn yourself 350 tickets in total.
Of course, most of us will be happy with a couple of tickets, and probably play on a different selection of mobile phone slot games on our casino adventures.
But perhaps, you really, really, really love Warlords.
That's the great thing about these network casino promotions; it's totally up to you how involved you want to get.
How to get as many tickets as possible in a short time
The savvy gambler might be wondering what the best way is to collect as many raffle tickets as possible in the shortest amount of time.
After all, we don't all have enough in our wallets to wager £€$500 a day, for 7 days.
The one thing we can advise is to look out for a good bonus offer at the participating mobile and tablet casinos.
Because the amount of tickets you collect are based on wagers, bonus money counts towards getting you those golden tickets.
Meaning that if you play at Rizk casino (for example), which gives you a triple your money bonus of 200% up to £€$100; you get triple the amount of tickets you would normally get.
Are the prizes worth competing for?
In short? Hell yes.
There are 1,001 casino prizes up for grabs, ranging from £€$3,000 to £€$30 in cash.
And then, there's that awesome top prize.
1st prize: Brazil, Scandinavia or Japan Trip
2nd prize: €$£3,000
3rd prize: €$£1,500
4th prize: €$£600
5th – 1001st prize: €$£30
What you win is all down to luck, but let's have a look at some of the top prizes on offer, shall we?
The Viking Warlord will have you party in Copenhagen
There are two options here.
Choose From 1 of 5 Daring Ultimate Travel Experiences
9 Day Tour of Scandinavia
A week at the Roskilde Festival 2018
6 days luxury river cruise in Brazil
5 days Amazon tree-top adventure
Learn to be a Samurai with 5 nights in Japan
The first will see you explore Scandinavia, because every good Viking needs an intrepid voyage of daring:
Return flights for two from Europe to Copenhagen
Car hire with insurance for your entire trip
9 Nights accommodation split over 5 locations (Roskilde, Odense, Ribe, Arhus and Copenhagen), which include breakfast
A Copenhagen Card giving you access to 73 museums and attractions around Copenhagen and Roskilde
€500.00 spending money in cash
The second will see you party like a true Norseman:
Return flights for two from Europe to Copenhagen
Tickets to Roskilde Festival 2018
Festival tickets include 8 days at the festival with 4 days full of music
7 nights accommodation for two in a pre-pitched tent with hot showers and phone charging area
€500 spending money in cash
1 night in a 5* Hotel in Copenhagen after the event
The Priestess Warlord will send you to Brazilian jungle
By far our favourite option, but we've always wanted to get lost in the Amazonian jungles.
The first option will see you meander through the rivers, but in pure luxury:
Return flights for two from Europe to Manaus, Brazil
2 night stay in a 4* Hotel in Manaus (to be split over start and finish of the experience)
A 4 night Amazon Adventure to include:
– Boat tour through the flooded forests
– Learn about the environment and the wildlife surrounding you from local experts
– Treks through the jungle to spot exotic wildlife
– Private cabin on board a luxury river cruiser
Try The Wheel of Rizk For A Secret No Deposit Bonus
Everyone who registers get a surprise no deposit offer ranging from 10 free spins to £€$25 in free cash
The second option is for the those adventurous enough to go native:
Return flights for two from Europe to Manaus, Brazil
5 nights accommodation at 5* Hotel Villa Amazonia, Manaus, with breakfast
Treetop climbing experience for two to including:
– View the rainforest from a vantage point 475 feet high
– Wildlife spotting of possible birds, snakes, monkeys, and sloths
1 Day visit to a traditional Amazonian Village, including:
– Speedboat transfer into the rainforest
– Meet an indigenous tribe and tour the local village
– Up-close encounter with wild river dolphins
€500 spending money in cash.
The Samurai Warlord will teach you the way to Japan
There is only one option under the Samurai, but that's because who needs more reasons than just a free trip to Japan?
Return flights for two from Europe to Tokyo, Japan
5 nights accommodation at 4* Shinjuku Granbell Hotel, Tokyo including breakfast
A 2-hour private Samurai workshop for two to include:
– Change to Hakama outfit
– Introduction to Japanese swordsmanship
– Meditation
– Basic kenjutsu training
– Bo- shurikenjutsu: How to throw bo-shuriken
€500 spending money in cash.
Time to head into battle with top mobile casinos
Which of the options above will you choose when the time comes to claim your top prizes?
That's what you'll need to keep thinking to yourself as you play on the Warlord NetEnt slot and will yourself in any of the above exotic locations.

So where are the best Android and iPhone casinos to play? Personally, we have two favourites:
Rizk casino: with a mystery no deposit bonus and 200% welcome offer, this casino gives you the best start. Add that they accept players from Australia, to Canada, to anyone in between, and they are a fantastic choice.
Mr Green casino: the gentleman in green has all the best slots and, at any one time, around 5 to 8 casino promotions. Boredom is never a problem, and you get 20 free spins on registration plus 100% up to £€$200.
Unleash the warrior within today.
Start Playing at Mr Green »
Play Hundreds Of Slots Including Exclusive Games At Mr Green
T&Cs Apply