At Videoslots Casino this Christmas, you get a chance to take a spin on a wheel of jackpot every day. All you have to do is solve the clues and play on the right game. A simple and intriguing Xmas Delight.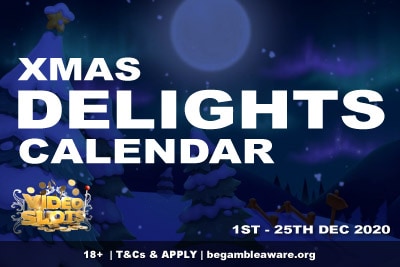 Expired
18+
Never one to be boring, Videoslots casino will be doing something a little bit different this Christmas.
Instead of just asking you to open up a calendar day by day like Hyper Casino, or putting presents under the tree like the Rizkmas Casino promotion, they are making you think.
What could you win for your effort? Oh, you know, nothing much. Just a site-wide jackpot that runs into the thousands of cash.
And hey, maybe you'll even discover a fun new game to play.
Or read our Videoslots Casino Review
What are the Xmas Delights at Videoslots?
What's more fun than Christmas charades, games and riddles? How about 25 days where you have to figure out the clue, play the right games, and you'll be rewarded with a spin on the Videoslots wheel of Jackpots.
What is the Wheel of Jackpots? It's a wheel you spin where you can win one of three jackpots – Mega, Major and Minor.
The casino adds to these jackpots themselves, so it's not on any other casino website or any specific game. It's the Videoslots casino jackpots, for their players.
Now, normally you would need to play on their site and as you unlock achievements and rewards, you unlock a spin on the Wheel of Jackpots. It's not an easy reward, because frankly, these are decent jackpots.
Win thousands in a single spin
Well, this December they've made it a little bit easier to get a spin.
Each day they will give you a clue that points to a specific game. You then need to complete an achievement on that game (spin 50 times or win 20 times for example) and you'll unlock a spin on the Wheel of Jackpots.
It's that simple, but it's not always that easy. Do you have what it takes to solve the clues and get your chance at the Videoslots jackpot?
How to guess the name of the game using the clues
Alright, we know not everyone loves having to think. Some of us just want to be spoon-fed our casino bonuses and cash prizes.
Well, we won't give everything away here, because we don't think it's fair to those who want to play the game.
But we will give away some light spoilers below if you want to cheat a little bit.
And those who are just looking for a little helping hand here's a quick way to get results:
You have the software provider – that's 90% of the battle
Look, they are not trying to trick you or stop you from getting to the Wheel of Jackpot. They just don't want to hand it to you.
So to help you solve the clues they start by giving you a huge hint: the casino game software provider. That's the studio that made the game. Now guess what is one of the filter options in the Videoslots games section?
That's right. You can search for all the games by all the software providers.
Get 11 Free Spins + up to €$200 Bonus
Try Videoslots casino with 11 free spins plus up to €$200 in bonus money and extra on top on your first deposit
18+ New customers only. Free Spins are Wager-Free. Wagering and Full T&Cs apply.
They will generally pick popular slots and games
Now you've managed to use their slot filter to find all the games by the right studio look at the clue and then look at the first two, maybe three rows of games.
We can almost guarantee that every single game within this Videoslots casino Christmas promotion will be in that first couple of rows and sections.
Like we said; they want you to play, they want you to spin on slots, and they want you to have fun. They haven't buried the games, and no you don't have to go hunting for some random release from 1992 that no one has heard about.
If they are not popular the clue is the clue!
Look, this isn't the Da Vinci code.
If they say something like 'Don't run but rush to this slot' then type in 'Rush' in the search bar. You'll then see that the software provider you are looking for has a game with those exact same words.
If they say something like 'protect your neck on this one' and it's a NetEnt slot, go through the NetEnt games and you'll find two exactly that have Vampires.
Because what else could they mean when it comes to necks? And if they didn't write 'part two' in the clue, then it's the original Blood Suckers slot and not the follow-up Blood Suckers 2 slot.
In other words, don't overthink it. They are not trying to trip you up, they genuinely want you to get playing.
If in doubt you can always ask customer support for a light nudge in the right direction.
Get Started at Videoslots Casino »
SPOILERS: Example and giveaway
Some of the clues are blindingly obvious, especially if you've been playing video slots online for a while. Which, as the name might suggest seeing as we write slot reviews here on LuckyMobileSlots.com, we have.
Some are not as easy, but using the method above we were able to do a quick search and glance and get some results.
Here's some example to see what we mean and what kind of challenge you are getting yourself into:
1st December: Game from Play'n GO
The clue? "A volume that brings an Egyptian adventure!"

It's the first game on the Play'n GO slots because it's the most popular slot from Play'n GO. If you're not sure why, you clearly haven't read our Book of Dead review.
Get it? A volume is another word for book? It's an Egyptian slot themed game?
Bet Level: €$£0.1
Requirement: Win 15 times
15th December: Game from NetEnt
The clue? "Welcome to the jungle!"

We've put this one here because it's a little tricky if you don't know your movie trivia. Why? Because NetEnt gaming have a whole load of Jungle themed games on their collection.
But guess what 2017 movie title was 'Jumanji: Welcome to the Jungle'? And guess what branded game NetEnt released in 2018? Could it be the Jumanji slot machine? We shall leave you with that thought.
Bet Level: €$£0.2
Requirement: Win 20 times
25th December: Game from Play'n GO
The clue? "The Greek gods wake up."

We are going to give you this one because it's Christmas and we love you guys. Also, it works for our theory up at the top that all you have to do is filter by software provider and look at the first few rows of games.
Why? Because right there is the Rise of Olympus slot machine. Olympus is where the three Greek gods of the game live and play to give you wins, whilst 'rise' is another way of saying 'wake up'.
Bet Level: €$£ 0.2
Requirement: Spin 50 times
We don't have all the answers
Videoslots casino have not given us the answers and everything we've given you above is us guessing based on spending far too many hours playing on slot machines online.
Even if we did have all the answers, we wouldn't give them to you, because part of the fun of this brilliant Videoslots Christmas bonus promotion is to get you involved, to get you playing, to make you feel good when you figure out the clue.
And, if you are really stuck, the friendly staff are always happy to help and point you in the right direction over Live Chat.
Merry Christmas.
Start Playing at Videoslots »
Get 11 Free Spins Bonus + 100% up to €$200 Bonus
T&Cs Apply