It's beginning to look a lot like Christmas… And as usual that means Mr Green is giving away everything, including the kitchen sink.
Every year the mobile casino Mr Green like to do two things:
Be the first to start celebrating with a great Christmas casino promotion
Create a huge advent calendar that gives away tons of free spins, gifts, and bonuses.
2017 is no different, and so we present to you the £€$1,000,000 Festive Quest.
And the use of the word 'Quest' is a bit of an exaggeration. Santa delivering thousands of packages to children all in one night is a 'quest'.
This is the Christmas casino 'quest' equivalent of going into your fridge and stuffing your face full of turkey and cranberry sauce.
It requires you to make minimal effort, at best.
How to win one million in casino prizes over 45 days
You can't, of course. Because that would mean that you would have gone to Mr Green casino everyday from the 17th of November till the 31st of December.
Exclusive: Register and Get 20 Free Spins on Fruit Spin Slot Machine
Fruit Spin is a new NetEnt game ONLY available at Mr Green Casino!
And not just that, it would mean you would have played casino everyday (which is not a good thing), and been the luckiest son of a gun to have won every prize on offer (which is not likely to happen).
So, let's be realistic and say that, over the course of 45 days, you can win several prizes, some bigger than others.
1. Check the Christmas calendar everyday
It's as simple as that. You don't even have to log into your account to look at it if you don't want to.
The home page has a great big button that you can press and find out exactly whats on offer for the day.
It's simple, easy, and more importantly, requires minimum effort as we said.
Maybe just check it in the morning on the way to work on a long commute, and if you like what you see, remember to come back and play later.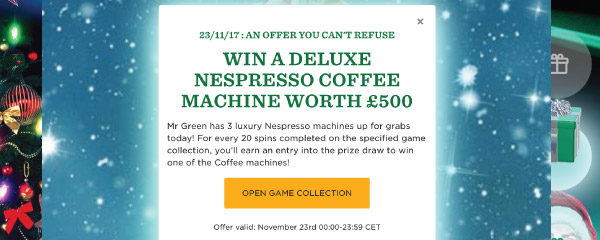 2. Read the T&Cs of the offer carefully
Not because Mr Green writes difficult terms to trip you up, but because quite a few of these offers will be presented as challenges.
Top Slot Games at Mr Green Casino:
Book of Dead
Cleopatra
Rainbow Riches
Frankie Dettori's Magic Seven
Immortal Romance
So, for example, you might need to spin 50 spins on a specific slot to win a luxury handbag.
Or maybe you need to make a minimum deposit of £€$20 in order to claim 30 free spin casino bonus on NetEnt Christmas slot games.
Either way, it's one little paragraph at the bottom of the page where the offer is shown.
It avoids disappointments in the long run.
3. Get a head start with our exclusive Mr Green Bonus
If you've never played at Mr Green casino before, you might wonder why you should bother.
Well, forget the fact that you can win a slice of a million in prizes over the Christmas period. Instead, how about the fact you get:
Exclusive: 20 free spins on the yet to be publicly released Fruit Spin by NetEnt
100% up to £€$100 first deposit bonus
Limited Time Offer: 25 free spins on Secrets of Christmas (runs out December 31st)
200 free spins when you make a first deposit of £€$20 or more
That's a full package, giving you a total of 245 free spins, on just one casino deposit bonus.
Exactly what prizes can you win at Mr Green?
At the time of writing, we had not been given the full list.
Because half the fun of an advent calendar is opening up the little door and finding out what little treat hides inside.
But we have been given a few clues and a list of possible extras you might encounter on your Mr Green Festive Quest.
Free spins on slots and reload bonuses
That's going to be a given; every good Casino Christmas calendar needs to have some good Casino Christmas bonuses.
5 Reasons to Play Here:
Always a promotion or offer
Multiple award winning casino
Play safe thanks to the green gaming tools
Cashout in 24 hours or less
The best and most diverse selection of games
Because most of us come to these mobile gambling sites to play, far more than just win a prize.
And anything that can let us play for longer is worth looking into.
Just remember that these will come with some wagering requirements, usually 30x, and will only be available to those of you who have made at least one deposit in the past.
So don't want for a good offer on the day, play at Mr Green today and get ready for when a juicy deposit bonus offer for mobile casino shows up.
Tangible gifts: from deluxe coffee machines to designer handbags
The festive season is all about sharing time with family and eating so much food you explode.
But, and it's been far less popular to say it out loud lately, it's also about presents. So many presents!
Except as you get older, you get less and less gifts, and most of us tend to have to be satisfied with boring socks and, if we are lucky, a free back rub voucher.
Well, not with the jolly man in green who promises that if you play on certain days, you'll get a chance to win real, beautiful gifts to add to your tree.
Because, let's be honest, we've all been good casino players this year and deserve to be rewarded.
Cold hard cash to cover the Christmas period
When you are giving away one million in casino bonuses and gifts, sometimes you run out of ideas.
So what better idea than to help you cover some of the more expensive part of the holidays?
On certain days, Mr Green will literally shower cash from the sky, from £€$3,000 to £€$25, just for playing on your favourite phone slots online.
It's not guaranteed, but when you want to play casino, why not add the extra chance of getting some extra cash in your pocket?
You'll never know what you might find in the Mr Green Christmas calendar. Time to go and see what wonderful casino offer you'll get today.
Start Playing at Mr Green »
Play Hundreds Of Slots Including Exclusive Games At Mr Green
T&Cs Apply