Guts casino are making the football world cup even more exciting than usual: by giving you 10 free spins every time your team scores a goal this weekend.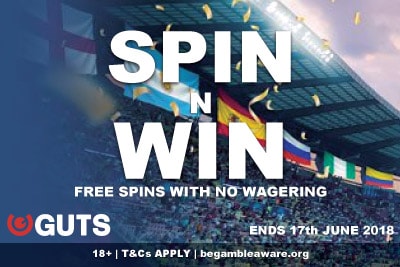 Expired
18+
Until the 17th of June, every day you login to Guts you can win at least 10 free spins without any wagering requirements.
Sounds crazy? It is a little. But the Guts mobile casino is super excited about the world cup and would like you to come play casino or place a few sports bets.
They cater to both, so you can do both at the same time as you watch the footy, if you're a master of multi-tasking.
Or don't. Because the brilliant thing about this free spin casino bonus is that you don't need to know anything about football, or even watch it, to reap it's rich rewards.
How to make the most of these Guts football free spins
This is a very simple promotion.
Get 100 Free Spins on First Deposit
Get 100 Wager Free Spins on your first deposit.
18+ New customers only. Wagering and Full T&Cs apply.
When you login to Guts casino you'll be able to spin a wheel with all the strongest teams playing this weekend.
Every time your team or teams score a goal in their first game of the group stages, you'll be awarded 10 free spins bonus.
That's literally all you have to do – spin a wheel and see how many free spins you get. It's all in the hands of the footballers playing on TV.
What if the wheel lands on the same team twice?
So if you spin the wheel and land the Costa Rica team twice in a day, you just get a multiplier.
So you'll get 2x, 3x, 4x or 5x the amount of free spins for every goal scored – ie. 20 free spins for every goal scored instead of 10.
It's not that likely to happen, especially as the weekend progresses and there are fewer teams playing, but if it does, Guts has you covered.
The teams on the wheel are: Russia, Morocco, Spain, France, Argentina, Denmark, Croatia, Costa Rica, Germany and Brazil. All pretty strong teams, let's be honest.
You will need to make a deposit of £€$10
There are surprisingly very few T&Cs to this Guts casino promotion; much like all their bonuses and offers to be honest.
The only thing they ask is that you will need to make a £€$10 deposit before you take a spin on the wheel – which is the minimum amount you can deposit at this casino anyway.
The good news is that you only have to deposit if you want to add teams to your 'roster'. So one deposit and one spin of the reels will give you one national team.
You can then just wait and see how that team does in their match and claim the free spins bonus on mobile.
Or you can deposit the next day, and try and get another team and even more free spins – the choice of how much you want to participate is up to you.
Is this Guts Spin n Win casino promotion any good?
You don't need to love football or the World Cup to enjoy this promotion.
You can, if you want, come in, deposit and play casino, spin that wheel and then come back and check if you've got some free spins over the weekend.
Which is great for non-footy lovers. However, this Guts casino promo is infinitely better if you love soccer.
Mostly because it gets you involved in games you might have little interest in watching in the first place.
Watch the matches that will give you the biggest rewards
Look, we're not going to say that Football gets personal and full of big emotions: we all know that.
Get €$300 Bonus + 100 Free Spins
With no wagering free spins, this welcome package offers you a great way to test out all that Guts casino has to offer
18+ New customers only. Wagering and Full T&Cs apply.
But you want to land countries like Spain and Germany in your roster at Guts; these are strong teams that will likely score more than once. Even if, historically, you might not be on their side.
Suddenly you'll be watching those games as if they were your home team, because the more they score, the more you score.
Think about it: if you have both of these teams in your roster, and they each just score twice, that's 40 wager free bonus spins added to your account.
And hey, it's only one game – they might struggle later on and maybe countries like Sweden, England and Norway will have a chance. Maybe.
Hey, it could happen ok??? Don't burst our bubble.
The free spins are on the excellent big win Book of Dead slot
And you want a good amount of free spins on this Play'n GO phone slot. Because it's very volatile, and the more spins you've got under your belt, the more likely you are to hit a brilliant 5 of a kind win.

Book of Dead game is fast become a modern classic in the slot machine world, thanks to brilliant graphics, and the fact you can play it pretty much anywhere in the world.
It also has a brilliant max win of 5,000 times your bet. And seeing as you are playing this bonus at 0.10 a spin, that means £€$500 in your pocket potentially.
True, that's not massively likely to happen, but the potential is there; at least you might get £€$10/50 in your pocket.
The free spins come with no wagering requirements
Look, we get it. We've said they come with no wagering requirements a few times, but we have to put this here because it's the sweetest part of the deal.
So say you win that £€$50 playing 40 free spins on the Book of Dead mobile casino game.
You can withdraw it, or play real money slots with your winnings. Either way, it's real cash, there's no need to keep playing if you don't want to or lose anything you win on crazy wagering requirements.
It's what makes Guts casino one of the best gambling sites around: they keep things fair and simple and make it easy to join and stick around.
Plus they are helping make the world cup even more exciting by giving you stakes into games you might not have care about; uniting us all in our love of football.
Now that's something worth embracing.
Start Playing at Guts »
Get €300 Welcome Package + 100 Free Spins
T&Cs Apply