Unleash the wolf within with three wild IGT slots and get one of 500 prizes worth 15 thousand in cash.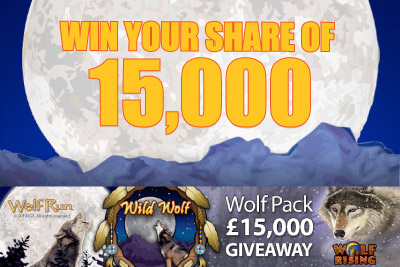 Expired
18+
IGT recently launched the excellent Wolf Rising slot on mobile. That can only mean one thing: an IGT network promotion where they give away tons of free cash to get you to try their new slot machine.
And hey, who are we to stop them from giving us free money? But unlike the Black Widow promotion that they had back in August, this casino competition is on three mobile slot machines, and not one.
So let's have a quick look at why this happens to be a decent mobile casino competition and you can get your paws on some of that cash.
How much can I win?
There are a total of 500 prizes; which means you wont' be able to actually win 15 thousand in cash straight, as that is the sum total of the prizes. On the other hand, it means you have 500 more chances of getting a little something for your trouble.
However, we have plenty of reasons to think well of this IGT casino promotion, which we go more into details a little further on. For now, let's see if these prizes are worth the hassle.
20 people will get £100/€100
30 people will get £75/€75
100 people will £50/€50
150 people will get £25/€25
200 people will get £10/€10
So clearly you want to be in that top 150 players. Reason being, you'll be betting a minimum of £€10 to enter this draw, so you want a bit more than that to make it worth your while. Still, there's a chance and all the prizes will be cash, not bonus money.
How do I participate in this casino promotion?
This one is fairly simple. You know that 10 in cash we mentioned earlier? You need to play that at least once on a selection of three IGT video slots, but only at participating mobile casinos online. Yes we will give you this information as well, don't worry.
You have from now till the 5th of October to enter the draw, with the winners announced on the 8th. Every €£10 will give you one additional entry into the draw. More tickets = more chances, but we still recommend you only play as much as you were going to play anyway. It is a raffle after all.
There's no need to opt-in, no extra effort required. Just gamble on some great games as you would anyway.
And on that note, here is why we really like this promotion.
The really great themed wolf slots
The three games IGT have chosen for this casino offer are excellent. And we mean that. All three are really very good.
If you are a fan of IGT games, you'll instantly recognise the iconic Wolf Run online slot. Perhaps not the prettiest of the three, as it is the oldest in the series, yet this 40 payline machine continues to hold players hearts in casino floors, laptops and phones all over the world. And for very good reasons as the stacked wilds across the reels come together to create some heart-stopping wins.
The second hero in our story is the Wild Wolf slot machine. Which is, more or less, a carbon copy of Wolf Run, except it has 50 paylines and the graphics have been upgraded to look better as an Android tablet or iPad slot.
And last, but not least, that recent release Wolf Rising. Now, we know we might make a lot of enemies by what we are about to say, but we would say this is the best of the lot. Not by much, but just enough to probably get us to play this one over the others. Though more is not always better, it is in this case with 100 paylines over 8 rows and 5 reels. There's no doubt it's not for everyone. It is the more expensive slot of the three and looks far better on tablets than phones.
The good thing here, is that between the three, you'll find one game you'll be happy to play.
And that's why we like this new promotion, because we would happily and easily play on any one of these three games at any point of the week anyway. So why not give it a go for a tenner and get a chance at some extra casino cash?
Which mobile casinos hold this promotion?
We thought you'd never ask.
Currently, two casinos have added this casino offer to their long list, and both are giants in the industry. Which you'll take will depend on where you are from and your taste in games.
If you play at Betfred casino you'll find the IGT slots snuggled under 'games' whilst the casino tab host all the brilliant Playtech slot machines. They have a free money offer for the Brits, with rest of the world getting a decent 100% bonus on first deposit.
€£5 Free to play all IGT Games at BetFred »
Sky Vegas mobile casino is a little more restricted as you can only play casino games there if you are from the United Kingdom, Ireland, Finland, Gibraltar, Guernsey and Jersey. So a far smaller selection of people, but you'll find some great NetEnt, Microgaming and Openbet games, with all the IGT slots.
£10 Free for players at Sky Vegas casino »
And last, but not least, don't forget to howl at moon when you win the cash. Not because it will make any difference, but we think it would be hilarious to shock the neighbours.