Tired of your spouse? Fancy inheriting some free cash? You have a window of opportunity from now till the 31st of August 2104. There's €£15,000 to be won, 500 prizes given away and one deadly woman to play with.
Of course, you don't have to be married in order to join in, but hey, when in Rome… kill your other half and cash in on the life insurance!
Just us?
In case our obnoxious clues didn't give it away, this little casino promotion is all around the recently released IGT mobile slot, which has a darker theme than most. The Black Widow slot game is a fairly volatile slot machine that either likes to pay a little, nothing at all, or give you the whole inheritance at once. There's no in-between with this lady.
Now you know the stakes, let us give you the sweet bottle of scented perfume that Sky Vegas mobile casino has added to the reels. Win or lose on this real money slot, every penny you play will go towards giving you one of 500 cash prizes worth a total of €£15,000 in real cash.
Let's take a sniff at this scent and ensure it's not poisoned.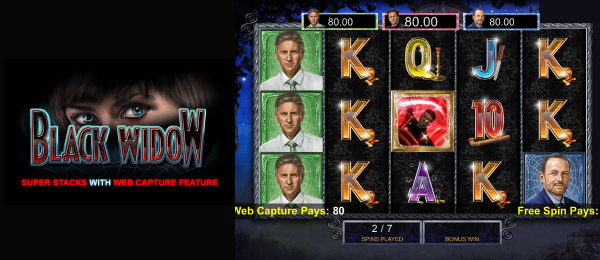 How to win the Sky Vegas Promotion
First let's start with the bad news. This lady killer is peculiar with her taste in acquaintances and only wants suitors from the United Kingdom, Ireland, Finland, Gibraltar, Guernsey and Jersey.
So if you live outside of these countries you cannot, unfortunately, join in the fun.
Secondly, you need to, obviously, register at Sky Vegas casino. Bonus money played doesn't count, but you can join in from your first deposit.
Which is great as this new casino promo runs from the 21st of August until the 31st of August 2014, which isn't a whole load of time to accumulate those bonus tickets.
Accumulating tickets
You just knew this was a raffle didn't you?
The idea is actually very simple. For every £€10 you play on Black Widow slot, you get one raffle ticket. The more you play, the more tickets you get.
On the 1st of September, Sky Vegas will draw 500 of those tickets and give real cash into your account. How much depends on how lucky you get:
20 prizes of £100/€100
30 prizes of £75/€75
100 prizes of £50/€50
150 prizes of £25/€25
200 prizes of £10/€10
Of course, if you have more than one ticket you could win more than one prize, but let's be honest, you'll be lucky to walk away with 100 in cash.
Is it worth it?
100 doesn't quite sound worth killing for right?
True enough. So this IGT casino offer lives or dies by the choice of its game and we have to say that they made a dangerous choice with IGT's Black Widow.
We gave it a three star in the mobile slot review because we thought the theme was a little dated. The graphics looked like something from a made for TV movie back in the early 90's. If the theme had been better, we would have given it 4 stars.
Reason being, it plays well and does bring some heart racing moments. The free spin games have a 1,000x your bet multiplier which, when you eventually get there, feels just within reach. Equally, all the symbols on this 5 reel, 40 payline video slot come stacked. Meaning you either win nothing, or you win 40 three of a kind, four of a kind or five of a kind symbols.
Much like the titular character, it's an erratic slot.
This will no doubt put off the more casual gamblers, who prefer a game that's a little less risky.
Good news: that means better odds
So hopefully, that means less players will play. But on the other hand, the slots players who do will be proper smart gamblers looking for that rush of a big hit win. That doesn't necessarily mean much of anything in terms of competition, as any one ticket could be drawn, but they are more likely to play for a longer amount of time.
Basically, at the end of the day, it's not worth you blowing your entire gambling budget for the week on this mobile slot if you don't like it. Free play it for a bit (bearing in mind the betting limit is lower in real play – from 0.40 / 1200 per spin) and see if it appeals.
Better still, take the €£10 free no deposit bonus at Sky Vegas and play it for real cash. You'll then be able to see how it plays and whether it's for you, risk free.
Start Playing at Sky Vegas »
Get £€15 Free + 200% up to £€1000 Bonus
T&Cs Apply