If you've been aching to play on the brand new Gorilla Kingdom slot by NetEnt, we have good news: GUTS casino is giving away up to 500 mega spins worth €$1 each on this machine.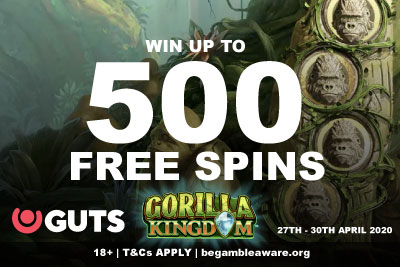 Expired
18+
This week NetEnt casinos have a brand new game, and it's the very volatile Gorilla Kingdom slot. If you're not sure whether to try it or have been meaning to but are sitting on the fence, we have a solution for you.
Whenever you play any slot games at GUTS casino between 28th and the 30th of April 2020, you'll tally up wagers. Make €$150 wagers or more, and you'll get a chance to win up to 500 free spin bonuses.
We take a look at what you need to do, whether it's worth your while and what you need to know about the game and the casino.
Win up to 500 Mega Spins as you play at GUTS
The good news is that you don't need to play on Gorilla Kingdom video slot to get free spins on the game – which is usually how it goes with these kinds of casino promotion.
And because this is the GUTS online casino, you know it's a simple easy concept. In essence, make a deposit, spend your deposit, and you'll get to spin a wheel to win up to 500 free spins, super spins or mega spins.
When you get to that wheel of spins, you are guaranteed to get a prize. All the spins have no wagering requirements, so everything you win from this casino mobile bonus is yours to keep.

How much do I need to deposit to get this bonus?
So here's where things get a little expensive for some gamblers out there. Over the course of three days you have to make a minimum amount of deposits accumulating to 150 in cash, and then play that through on any GUTS casino slots.
That's not a small amount, and if you don't usually play that much over the course of a week, it may be time to read up about the fun slot tournaments also at GUTS.
Because the prize is rather substantial, so too is the entry point. Because don't forget, these are wager-free spin bonuses.
First, opt-in, then make a deposit
We can't emphasise enough how important it is for you to opt-in to this promotion first. Due to gambling regulations, and to keep players safe, responsible casinos (such as GUTS) require that you are opt-in to any promotions. In essence, they need your consent to give you bonuses.
Get 100% up to €100 Bonus + 100 Free Spins
With no wagering free spins, this welcome package offers you a great way to test out all that GUTS casino has to offer
18+ New customers only. Wagering and Full T&Cs apply.
Once you've done that, depending on how much you deposit and play over the 3 days will define what prize you get:
Deposit $150+ and wager $150+ on any slot for a chance to win up to 500 free spins (€$0.20 per spin).
Deposit $300+ and wager $300+ on any slot for a chance to win up to 500 Super Spins (€$0.40 per spin).
Deposit $600+ and wager $600+ on any slot for a chance to win up to 500 Mega Spins (€$1 per spin).
These are cumulative. Meaning you don't have to make a 300 deposit in one day. You can deposit 100 one day, 150 the other, and then 50 on the third, and it will count.
The only real T&C is that you have to have finished playing by 10pm (CEST) on the 30th of April 2020.
What's the difference between a free spin, a super spin and a mega spin?
We've given you a clue as to what that means in the criteria above because it really is as simple as it sounds. You play a free spin casino bonus (generally) at the minimum bet of a slot. Casinos do this because it lowers their liability – ie. you can only win so much.
If the top win of a slot is 5,000x your bet, at 0.20 a spin, the casino will payout (at the most) €$1,000 per player. At 0.40 a spin, that's doubled to €$2,000. And then at €$1 a spin, you are talking of up to £€$5,000 wins.
Of course, not every player will get the top win on a slot machine, and of course, there will be a range of wins in between. But consider that this GUTS casino bonus has no wagering requirements, they are taking a huge risk and will be paying out a fair amount of real cash to everyone who opts-in.


Not every player will win 500 spins
The way the GUTS Free Spins Wheel works is that as soon as you hit your target, you'll be able to open up the wheel and take a spin.
Here's where it gets a little tricky. You can, at any point, open up the wheel and spin, but you can only do it once. So say you make €$400 worth of deposit, and play it.
You can, now, go and spin the Free Spin Wheel for your super spins worth 0.40 a spin each. But, if later on, you make a deposit of €200, you won't then be able to take a spin for the Mega Spins.
You have to deposit, play, and choose the free spin casino bonus you are aiming to get. Once you claim your bonus, you won't be able to claim any of the others.
Is this GUTS Casino Promotion worth it?
We are big fans of the casino and their offers. This one is definitely for gamblers with bigger budgets, but if you are comfortable with those limits, then you do get a worthwhile reward.
The top win of this Gorilla Kingdom slot is 2,857 times bet. Which is a decent amount, but it is a fairly volatile game – meaning getting there takes hard work and a whole load of luck.
But it's a fun game, with lots of potential wins, and more importantly, it's at a great gambling site online. Because if you are going to gamble at least 150 of your cash, you have to make sure that it's at a great casino with a great selection of slots, progressive slots, and megaways games.
GUTS has come a long way since it's inception, with fast cashouts in under 2 hours, 24/7 customer services and easily some of the best casino games on the internet.
If you haven't already, now's a great time to check them out.
Start Playing at GUTS »
Get up to 100% up to €$100 Bonus + Game of GUTS Reward
T&Cs Apply