In a unique twist, Casumo Casino are hosting a slot tournament every 30 minutes in December, giving away huge cash prizes and a ton of free spins.
Ladies and Gentlemen! It's time for the inauguration of the very first Casumo Winter Games!
What can we expect? What are the slot tournaments? How much can I win? Is there really something happening every 30 minutes for one whole month?
Patience readers. We'll get to all of that, and more.
Because whilst all the other mobile casinos are satisfied with giving you one bonus a day, Casumo is giving you the chance to win bonuses and cash every 30 minutes, with one big tournament at 8pm every night.
A casino tournament, with a twist
If you ever had the chance to read our Casumo casino review, you'd know that this gambling site likes to do things a little differently.
From the UK, Sweden, Norway or Finland?
Get 20 free spins no deposit and try them free + 180 free spins! Everyone else get 200 free spins after your 1st deposit.
Calling themselves 'a casino adventure' everything you do there gets you rewarded with badges, points, and bonuses. They even have monthly challenges where you complete tasks to win prizes.
So when they announced they would be creating their own type of slot tournaments, we know we would be in for something special.
Keeping things simple
What they haven't done is over complicate the concept. Anyone whose been around the online casino block a couple of times would have, no doubt, played on a slot tournament.
So the concept is still, at heart, very familiar, and all you need to do in the tournament is:
Click "Join Now" and wait for it to start.
Spin on any of their slot games, win as much as you can, and collect as many points as possible!
How do I collect points?
Now this is what's interesting; you don't win by trying to spin as much as you can, or getting the biggest percentage win, or spending the most cash.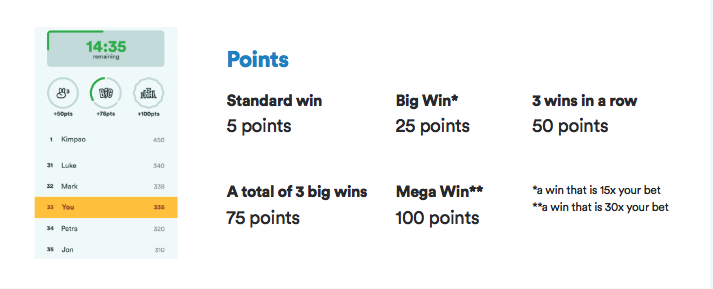 You get points by… winning. That simple. Small win, large wins, anything in between wins, they all count and give you points.
The points are divided as so:
Standard win: 5 points
Big win: 25 points
3 wins in a row: 50 points
A total of 3 big wins: 75 points
A mega win: 100 points
What counts as a big or mega win? Not as much as you think. A big win is only anything over 15 times your bet, whilst a Mega Win is anything over 30 times your bet.
Every 30 minutes for 20 minutes
And this is going on every 30 minutes, for 20 minutes at a time.
What we particularly love is that they have made these tournaments incredibly accessible, with the minimum bet allowed at a low 0.20 to 0.40.
It all depends on which of their many mobile slots you choose. Of course, if you want to bet higher you can, that's just the starting price.
Now you need to join before the tournament starts, otherwise you will need to wait for the next one – but considering it's not game specific you can play whatever slots you were going to play anyway. Just don't forget to join.
That said, you don't have to spin for the whole 20 minutes if you don't want to – if you get 3 mega wins in a row and are leading the board and want to quit early, you can.
Reasons we love Casumo
2015 Winner of best mobile casino
Cashout in under 2 hours
Licensed in Malta & UK
24/7 customer service
£€1,200 + 200 free spin bonus
It wouldn't be the smartest move in the world, but you could.
The main event at 8pm every night in December 2015
All these tournaments are happening every day and night, for one whole month – and we suspect will continue to be a regular feature at the Casumo mobile casino.
But for December they have one special tournament, every day, where you can win up to £€1,000. These are hosted at:
8pm Central European time
7pm UK time
6am Australia time (Canberra)
2pm Canadian time (Toronto)
So if you live in the land down under… a little slot tournament for when the kids wake you up at the crack of dawn on Christmas? We guess?
The main events last 50 minutes instead of 20 minutes, and the minimum bet starts at 0.40 a spin.
What can I win in these Casumo Winter Games?
In the half hourly events, the top 5 players will win free spin casino bonuses for mobile and online – anything from 150 to 200 free spins, depending on the game. So not a bad amount.
If the top 5 doesn't sound like a lot, let's not forget that the frequency of these tournaments is such that, in the middle of the day, you could end up competing with just 5 people.
Casumo have the best games:
IGT
Net Entertainment
Thunderkick
WMS
The main event at 8pm has more interesting real cash prizes, but will be more competitive:
1st prize: €1000
2nd prize: €250
3rd prize: €100
4th-5th prize: €50
6th-10th prize: €25
11th-25th prize: €10
On the bright side, there are more prizes up for grabs.
All in all, they are giving away £€60,000 and 260,000 free spins over a 30 day period. That's some impressive numbers.
How to win these Casumo slot tournaments
More or less, blind luck is the only determining factor in whether you win or lose. That said, once we've had a chance to try them out for ourselves, if we find any particularly good games to win the slot tournaments with, we will let you know.
Because that's really the best bit. You can pick any of your favourite online slots to play, and you spin as you would normally. You then get extra rewards for winning; the reason you came into Casumo mobile casino anyway.
Chances are, if you get 3 Mega Wins in a row you'll just be happy to get 3 Mega freaking Wins in a row.
The fact you are likely to be in the top 5, and win a prize, is a beautiful added bonus for the holiday season. Best of all? You get a huge welcome Casumo offer of €£1,200 over 4 deposits + 200 free spins when you join up.
And these tournaments can be played, and won, using both bonus and real money slot spins.
Wonderfully different, and incredibly fun concept.
Start Playing at Casumo »
Get €1,200 Bonus + 200 Free Spins
T&Cs Apply