Only one online mobile casino dares to give out £€$70,000 in cash prizes this week, and we tell you how to do it, and whether it's worth your while.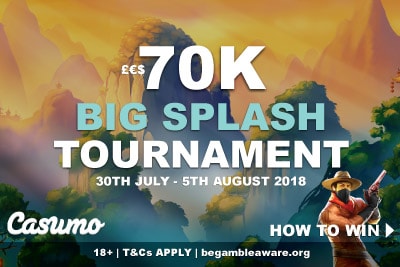 Expired
18+
Casumo Casino are running the week-long "Big Splash Tournament" to cool you down after a long hot summer.
Your mission? To play on any of 5 Quickspin slot machines and trigger free spins, or catch scatters.
Simple you say? Oh absolutely. This is no mission impossible, but rather Bond finding Ursula Anders walking out of the sea to greet him.
It's fun, it's sexy, and you'll be glad that Casumo introduced you to these new phone slots faces.
However, as with all casino tournaments, there are rules to follow, and tips to read to ensure you have the best odds of coming out on top: and that's where we come in.
How the Casumo casino Big Splash Tournaments works:
There are in fact 7 tournaments, each with different cash prizes. Each day the tournament re-sets and so do the cash prizes.
Get 100% up to €300 + 20 Free Spins
Get up to €300 in bonus money on your first deposit plsu 20 free spins on sign up
18+ New customers only. Wagering and Full T&Cs apply.
Whilst this is a free-to-enter tournament, the bets you make on the slot machine are made using your deposits or bonus money.
So you have to be willing to play real money slot games and accept both the wins and the losses that may come from that.
The winnings you get as part of the tournament is anything you make on top of playing on the Android and iPad slots below.
Step 1: Pick any day of the week to play
The weekends have bigger cash prizes, but then you'll have more competition as more players will be on the site.
The best thing to do is simply pick a budget and day that you'll usually play anyway. This tournament is based on luck, not skill, so any day is a good day.
Tournaments 1 to 4 (Monday 30th of July to Thursday 2nd August): Win daily cash prizes, with first place walking away with £€$15,000 each day.
Tournaments 5 to 7 (Friday 3rd to Sunday 5th August): Win daily weekend prizes, with first place walking away with £€$30,000 each day.
In short: there's a whole load to be won anytime you decide to play Quickspin casino games and slots at Casumo this week.
Step 2: pick your Quickspin slot game
This is all about Quickspin, so you should either familiarise yourself with one of these machines or start reading our mobile slot reviews.
Top 5 Reasons To Play at Casumo:
Unique Casino Adventure Loyalty Program
Win Free Spins every 30 minutes by playing top games
Huge selection of live casino, games, and slots
Cashout wins in less than 24 hours
24/7 fully regulated award winning casino
The good news is you can pick to play any of these games, because how you win is the same, regardless.
Obviously, as you can tell by the star ratings, we have favourites; but that's not to say we wouldn't play on the 3-stars games.
These are simply a rating we give to good solid machines that are still fun to play, but will probably be forgotten in the long run (it happens, there's too many released each month for it not to).
Step 3: Collect scatters and free spins
Every day the tournament and cash prizes re-set.
So how do you collect points in this Big Splash tournament? Every scatter that shows up on screen whilst you play gives you 5 points. Every time you trigger the free spin bonus round, you'll get 50 points.
And that's it. It doesn't matter how much you are betting, or how big your budget, just how lucky you get with the scatters and the slot bonus rounds.
The tournament runs over all 5 games simultaneously, so you can swap and change depending on how your luck is going.
Step 4: Check to see how much you've won!
If you manage to get in the top 50 leaderboards you will be contacted the following day, and your casino account with be credited then.
Prize Pool Distribution for Monday to Thursday in cash:
1st place: 5,000
2nd place: 1,500
3rd place: 700
4th place: 400
5th place: 250
6-10th places: 100 (each)
11-20th places: 75 (each)
21-50th places: 30 (each)
Prize Pool Distribution for Friday to Sunday in cash:
1st place: 15,000
2nd place: 4,500
3rd place: 2,100
4th place: 1,200
5th place: 750
6-10th places: 300 (each)
11-20th places: 225 (each)
21-50th places: 90 (each)
The leaderboard is available to view in real time on desktop and mobile, so you can easily see where you stand against your friendly competition, and whether you might want to call it a day.
3 ways to climb the top of the leaderboard
This slot tournament isn't based on how much you play or how big your budget; it's based on luck.
Nothing short of a blood sacrifice to Lady Luck will guarantee you a place on that leaderboard, and even then she's a fickle goddess.
However, if you want our advice of which game to play and how to improves your odds (slightly), here's what we got based simply on the fact that we've been playing casino for a while.
1. Play on Sunday, Monday or Tuesday
These are traditionally low traffic days for mobile and online desktop casinos, generally. Thursday, Friday and Saturday are typically the highest.
Get 20 Free Spins No Deposit
Sign up to Casumo casino and get 20 Free Spins on Book of Dead, no deposit needed
18+ New customers only. Wagering and Full T&Cs apply.
Now we don't have access to the google analytics from Casumo, so this is our best guess, we have to admit.
Still, part of us can't help but think that Sunday, with that big top prize and low competition, might be the best day to try these Quickspin slots if you're in the mood to win.
2. Eastern Emeralds and Goldilocks are your best bets
We love Sticky Bandits, but do you know what it doesn't have? Very many scatters. You have 1 scatter that shows up on reel 3 and triggers the free spins every once in a while.
The free spins bonus come around often enough that you might be able to make up for it with those 50 points, but it's a bit of gamble… which, to be fair, so are all the games.
Eastern Emeralds is far more traditional in that you'll get 3 scatters (15 points right there) trigger a selection of free spins that can win you a little over 16,000 times your bet.
It's also the most volatile and dangerous of the games, so beware.
Goldilocks is also a little more traditional with its free spins and a little friendlier on your wallet, so probably our first choice to try our luck at this tournament.
That's not to say the others don't have charm
Pirate's Charm also has the 3 scatters trigger free spins rule, making it an equally solid choice should you want to sail the sevens seas.
Huge Selection of the Best Game Studios
NetEnt
Microgaming
Merkur
Novomatic (Greentube)
Yggdrasil
Play'n GO
WMS/Barcrest/Bally Tech
So many more…
The one we would be especially wary of the Dwarfs Gone Wild slot, which has a meter on the left of the reel that you have to charge to get a good free spin round.
Sometimes these come often, but then you get little to no wins during the bonus, or you have to wait for ages for the meter to fill up before you get a decent free spin round.
It's not the best game for this tournament if we are honest, but it might be the best game for you because…
3. The best strategy is to play casino like you usually would
End of the day, this tournament is meant to compliment your casino play, not be the end goal.
Casumo has a wide selection of slot machines to choose from, and every once in a while, they like to showcase some of the games that may not get as much time in the limelight as they should.
Sure, everyone is playing Jumanji by NetEnt, but even if this just introduces you to the world of Quickspin, it's a win-win by their standards.
So have a spin, take a look, and maybe you'll find a new favourite. If you so you might even get on that leaderboard, and get some extra cash prizes!
This is one casino that is all about giving players extra value for money, so take a spin and see if this week is your lucky week.
Start Playing at Casumo »
Get 100% Bonus Up To €100 + 100 Free Spins On Book of Dead
T&Cs Apply