Love Williams slots? Then you are going to love this casino promotion, which literally gives you cash for playing on two great WMS slots; Cool Jewels and Wishing You Fortune.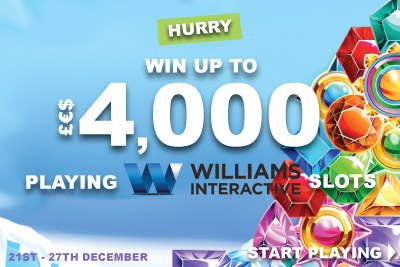 Expired
18+
This is a raffle. Which, we know, will instantly put some of you off, but let's not forget; isn't Christmas the season for magic and miracles?
That and the fact that there are 50 prizes to be won, with over £€$9,750 real cash being given away, all for playing on two great Williams online slots, between the 21st and 27th of December 2015.
So not exactly hard work, especially when you can win as much as 4,000 in one go, and that not even considering the wins you get within both these games.
However, these are very different mobile slots for Android and iOS, for two very different type of players. So we ask the three big questions: How can I win? Why should I play? And where do I need play to win?
The Prizes and how to win this WMS casino promo
There are a total of 50 prizes to be won; and if you are thinking that that means the prizes will be tiny little amounts not worth playing, think again.
From the UK, Sweden, Finland or Norway?
Get 20 free spin no deposit
£€1,200 bonus over 5 deposits
180 free spins after your 1st deposit
1st Place: £$€4000
2nd Place: £$€2000
3rd Place: £$€750
4th Place: £$€500
5th Place: £$€250
6th – 10th Place: £$€150
11th – 25th Place: £$€75
26th to 50th Place: £$€25
So yeah, sure, if you win anything less than 25th place, it lacks a little excitement. But even that isn't bad, as the entry cost for this raffle is pretty small.
Just wager 10 in cash for 1 ticket, collect as many as you want
And let's not forget; that's 10 wagered, not 10 deposited.
You can probably make £€$10 worth of wagers on these awesome mobile slots with around half that.
The good news is that you could, potentially, win more than one prize. You could, potentially, win all £€$9,750 in cash… but then, either no other player needs to play (unlikely), or you would have sold your soul to the devil to be that lucky.
Still, the chance is there, and the prizes will be given in real cash, not bonus money.
When will I know if I've won?
Though the playing period is the 21st to the 27th of December, the draw itself won't be done until the 31st of December.
Meaning the prizes won't be in your casino account till the New Year.
But what a way to start 2016 hey? You wake up and find you're £€$4,000 richer. That's got to beat that hangover feeling any day.
Start playing at Vera & John »
Why should I play on these WMS slots?
Of course, these kind of competitions are only as good as the mobile slot games you have to play.
After all, there's no point wasting your time and money on crappy casino games.
That said, the two games they've chosen couldn't be more different from each other. So you need to pick carefully, because if you choose wrong, you could end up wondering why we thought this promotion was any good.
For the big gamblers: The Wishing You Fortune slot
The newest and latest release from WMS, technically, the minimum bet on this Wishing You Fortune slot machine is 0.40 a spin, at maximum number of lines.
Maximum lines, in this case, being 1024 ways to win. So this is a big game. And it's a hugely profitable one too… if you have the cash to bet.
The main problem here, is that the odds of you winning the massive in-game jackpot, and triggering the bonus games, vastly increase the more you bet.
Basically, you really need to bet a minimum of 4 a spin to make the most out of this new video slot.
Play at Vera & John
Over 10 different software providers
Cashout within 24 hours
Play in GBP, EUR, Australian Dollar, Kroner or Yen
Daily slot tournaments
10 free spins no deposit on Sparks
If you can, this is at least a 4 star game, if you can't, then you're throwing your money away and it's at best 2 stars.
But don't worry if you can't afford to play Wishing You Fortune, the alternative is pretty awesome.
The casual gamer: the Cool Jewels slot
You'll be forgiven for wondering if you've opened up a social game, rather than a slot machine, upon loading.
With 6×5 reels, this feels more like the game Bejewelled, than gambling reels. But, this being a WMS machine, it might have borrowed heavily from the look of the fun gem bursting game, but still given you plenty of opportunity to win big.
The Cool Jewels slot pays all ways, you just need to find four adjacent symbols touching each other either diagonally or horizontally. Every time you win, those symbols explode and more fall down from above.
With free spins, multipliers and three types of wilds, we've had some blazing wins on this game; upwards of 140 times our bet.
And the best news is, it doesn't matter how much you bet; whether 0.50 a spin or 400 a spin.
Where can I play and win?
Not all online mobile casinos are participating in this promotion. Which is a good thing; it means more chances for you to win.
There are in fact, only two. And those two are two of our very favourite. So how about that?
Casumo Casino: Get £€1,200 over 5 deposits + 200 free spins
Vera & John Casino: EXCLUSIVE – Get 10 free spins no deposit + 10% up to £€$200 and 10 free spins on first deposit + 10 free spins on 2nd deposit.
Which is our favourite? We really couldn't say. Both are awesome, and both have a great selection of games.
But, if you were to twist our arm just slightly, we might point out that Vera&John casino have a slightly larger selection, and you get an exclusive bonus as a LuckyMobileSlots.com reader.
Because you're special and tis' the season to be generous, and to win.
Start Playing at Vera & John »
Exclusive: 20 Free Spins + 200% up to €100 First Deposit Bonus
T&Cs Apply