There's a total of 500 prizes up for grabs when playing Prowling Panther slot at participating casinos. The good news? You can win as many of the 500 as lady luck will allow.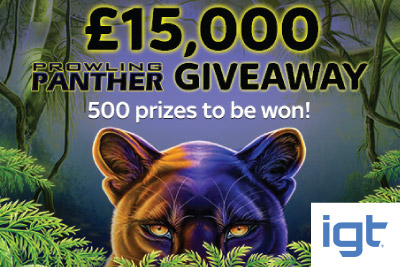 Expired
18+
Prowling Panther online slot is officially out at all good IGT mobile casinos, and the famous software provider has put together a tempting offer to get you to try out their brand new game.
It's a £€15,000 prize pot, which 500 raffle tickets will share, amongst participating casinos. These being:
Sky Vegas casino (UK & Finland only): £10 free no deposit + 200% up to £€1,000 in bonus.
Betfred casino (everyone else, but no US): Bet €£5, get €£5 in bonus on their IGT Games, or 100% up to 200 in their Playtech casino.
The good news is that it doesn't matter on which of the two mobile casinos you go and play. Your chances of winning are equally the same regardless.
The important part is the slot machine you choose to play; namely the new Prowling Panther slot, now out to play on both online and mobile phone casinos.
How to win one of the 500 prizes?
Because this is an IGT network promotion, it means that the casinos themselves don't have to do much at all, other than point you towards the new game.
It makes things simple for them and for you.
As easy as 1, 2, 3…
Play on Prowling Panther, either on desktop or mobile, your choice, between now and the 8th of February 2015.
No need to opt-in
Play a minimum of £€10 in wagers.
500 players will be chosen at random on the 11th of February 2015.
Congratulations, you've just earned yourself one raffle ticket into the 15,000 prize draw.
10 in wagers = 1 ticket = earn as many as you like
There is no limit to the number of raffle tickets you can collect during the promotional period.
Every €£10 worth of real money slot spins you make will get you one ticket. And this is wagers mind you, not deposits.
Grab your bonus and play
Sign up and get £10 free + 200% bonus at Sky Vegas
Making 10 worth of wagers, on a highly volatile slot like Prowling Panther could cost you… well…. 10 in cash granted. But also just one spin at the minimum 0.50 a bet where you get the wilds to line up and pay out 20x your bet, giving you 10 in winnings.
It can go either way with this pussy cat. Depends on how lucky you get and how much you're willing to put back into the slot machine.
How much can I win?
There are 500 prizes in total, handed out as follows:
20 players will win £100/€100
30 players will win £75/€75
100 players will win £50/€50
150 players will win £25/€25
200 players will win £10/€10
There is no order to who will get what, the raffle will be done randomly. You could win one prize of 100, two prize of 125 or the whole 15,000 if no one else plays, ever, and you bet 5,000 in cash.
Yeah, that last one might be a stretch.
But is it worth it?
We just finished writing our Prowling Panther mobile slot review, and we have to say, it's an impressive machine.
As we might have given a slight clue above, this new IGT game is not for the faint of heart. Are you familiar with the Siberian Storm mobile slot?
Because if you are, then you'll know that Panther is that tiger's sister. What we have here is a pretty high-variance slot game that's pretty unforgiving.
And the worse part is, you might not even notice, as it comes with stacked wilds, 2x multipliers and 720 ways to win.
So you'll win often enough, but if you don't watch your budget, you might end up out of cash and wondering what the hell happened.

We think it's a great slot machine – if you are brave enough
The thing is, what you're waiting for here is the free spin feature.
Reason being, you might only get 8 free spins 99% of the time, but those five reels come with twice as many wilds and that all important 2x multiplier.
Play to Win
Are you ready for 8 free spins, 720 ways to win, 5 reels, stacked wilds and multi-way xtra pays?
It can lead to some impressive wins, especially as the way these 720 paylines are set up to create their own in-game multiplier (see the review above if you're not sure how the multi-way extra feature works).
In our books, it makes it a must play slot. Or at least a must try slot, and certainly worthy of £€10 in wagers.
What about the mobile casinos?
Your choice isn't huge, but both have a lot to offer.
Sky Vegas casino is a slightly superior mobile casino, but only because it has so many exclusive games as well one casino for all it's games. Add live casino and some of the biggest software in the industry, and you can see why its one of the top UK mobile casinos around.
Betfred on the other hand, has a slightly more fiddly platform. Mostly because it assumes when you load the mobile platform that you might want to bet on sports, or bingo or the lottery.
So if you don't know your way, you might get confused and walk away. Don't. The only two tabs you need to keep in mind is the 'Games' tab, with all the wonderful IGT slots and the 'casino' tab, which host the perfectly created Playtech online games.
Plus they have multiple currencies, including euros, Canadian dollars, Australian dollars and many more.
Ok. But which one is better?
Basically, if you're in then United Kingdom, Sky Vegas is for you, if you're anywhere else, Betfred will welcome you in with open arms. Both are great platforms in their own ways.
The choice, is yours. But make it quick as this 15,000 giveaway runs out soon.